The Boys & Girls Club of Janesville has expanded its hours and services to students amid the pandemic-related closures of two city schools.
The club temporarily closed this spring when the governor's safer-at-home order closed schools across the state. It reopened this summer.
Now, with Roosevelt Elementary School closed, the club has expanded its offerings to members who attend the school.
"We really wanted to try and support the district's efforts that they're doing all school day long," local club CEO Rebecca Veium said.
In a normal school year, the central clubhouse at 200 W. Court St. is available from 3 to 6 p.m. for after-school activities, and an additional offsite program is held at Jackson Elementary School. Buses typically transport students to these two sites.
Now, the Boys & Girls Club is operating out of the clubhouse from noon to 6 p.m. for Roosevelt students and has satellite sites at Jackson and Lincoln elementary schools.
About 42 elementary school students and nine middle school students currently attend the club, about half of last year's numbers.
Morgan Faherty, a second-grader at Roosevelt, took a break from her math homework Wednesday to tell The Gazette about school at the Boys & Girls Club while her usual school is closed.
Faherty is one of five Roosevelt students who has been learning at the club during the school's closure.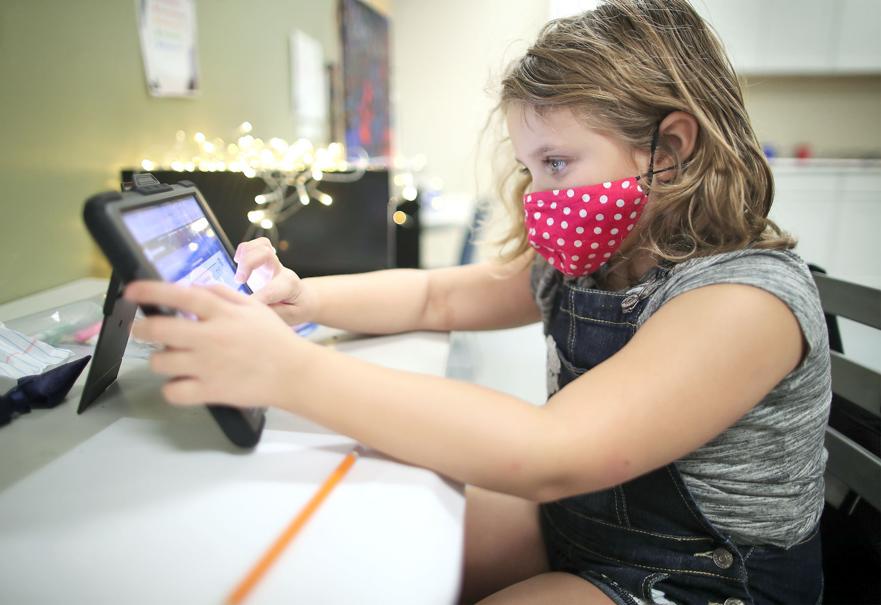 "My dad is really proud of me because I get all of my work done every day here," she said with a smile.
Faherty said she misses seeing her friends at school, but she said she enjoys learning at the Boys & Girls Club "because they help me do all of my homework."
The club helps the students from Roosevelt log in to their devices and complete homework, check deadlines, supervise homework and assist with any technical difficulties.
At around 3 p.m., the club begins to offer its traditional programming, which includes providing a snack, allowing for free play time and general enrichment educational activities in areas such as literacy, math, healthy lifestyles, character development and other topics.
The club employs two development staff members at each site and has added staff to help navigate the pandemic. Typically, the club aims for a staff-to-student ratio of 1 to 18, but this fall the ratio has been lower at about one teacher per 10 students.
Raanan Morgensen is a sophomore at ARISE Virtual Academy, the Janesville School District's virtual school. He goes to the Boys & Girls Club each week for reliable internet and help with homework in his first year at ARISE.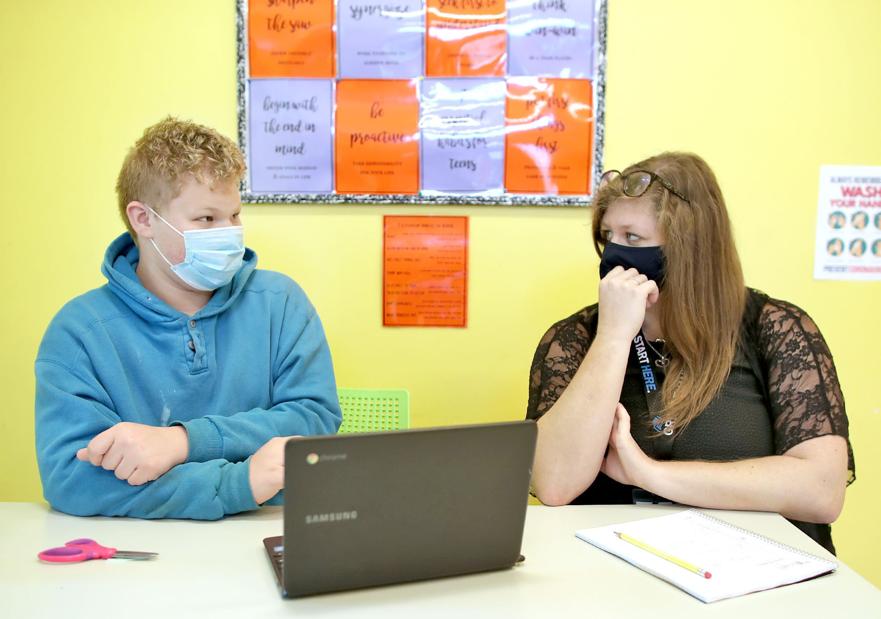 "Home can be a very distracting environment to work, but when I'm here, it has no distractions unless some outside influences have been distracting me," he said as he laughed and looked toward a room where students from Van Buren were.
Veium said a teacher recently reached out to say thank you because they could see a positive difference in one student thanks to the Boys & Girls Club program.
As students navigate learning online, giving them a place for support is essential, Veium said.
"We know that we're really adding value to what the district is offering and really helping to make sure that the kids have a way and a support system to be able to get these assignments done so that they don't fall behind," she said.