Cooking is about sensations.
Nursing is about human interaction.
It's difficult to do either of those things remotely, but Blackhawk Technical College is managing to teach students hands-on skills during a hands-off time.
The college started preparing for the possibility of online-only classes in mid- to late February, said Jennifer Thompson, executive director of marketing and communications.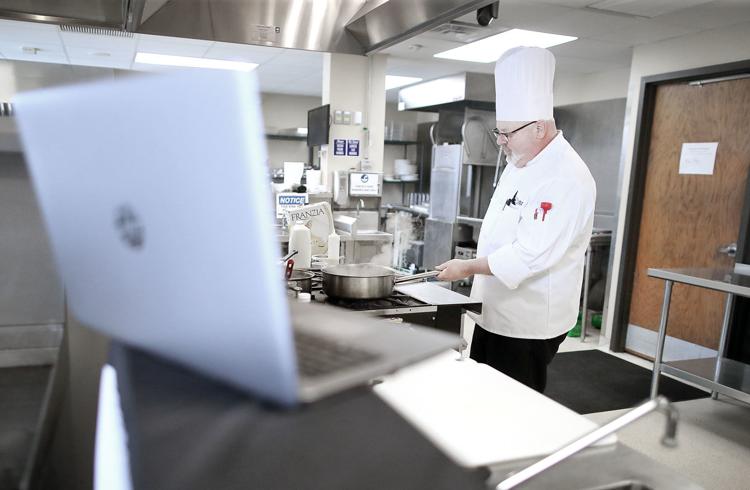 BTC's My Ed Choice program already allows students to take some classes online or through remote learning. When the college's emergency preparedness committee saw how COVID-19 was spreading around the globe, it began to plan for a shutdown, she said.
"We didn't think it would happen so soon or so fast," said Thompson, who also serves on the committee.
The school's information technology staff and its Center for Innovation, Teaching and Learning did a lot of faculty development in online learning.
While some classes such as welding have been suspended, students in such programs have been encouraged to pursue their other program prerequisites online.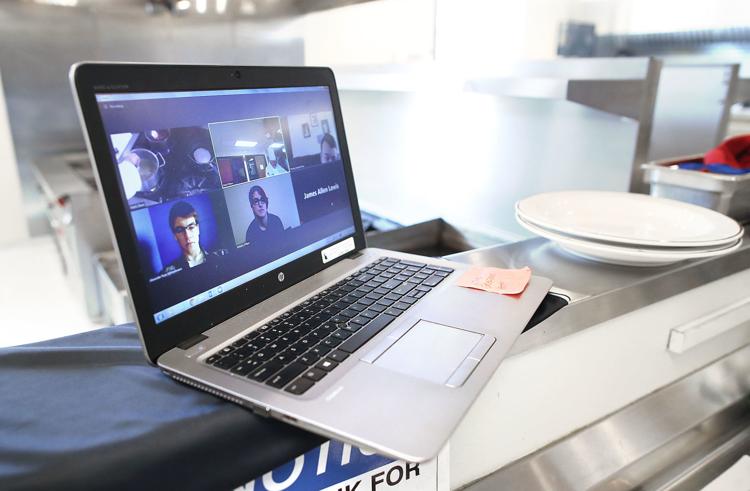 Teaching other hands-on classes hasn't been perfect or easy, but they've made it work—particularly in the culinary and nursing programs.
Chef Joe Wollinger's remote kitchen includes a camera over the stove, one near the prep area and two pointing at him while he lectures. For a while, he was also wearing a GoPro camera.
His students are in "contemporary cuisine," a course that includes researching, planning and preparing a gourmet luncheon for a select group of ticketholders.
Students pick up a basket of food at the college and do their work at home, documenting each step. When a student is close to plating the meal, everyone joins in a Zoom videoconference meeting.
"It's not an ideal situation," Wollinger said. "It's one-dimensional. You don't get an organic feel for the food, for the nature of the creations. They're not smelling it, not tasting it."
Chef Mark Olson agreed. He's teaching food science from an empty classroom at the college with two cameras pointing at him.
"It's not difficult, but it certainly is a change," Olson said.
It takes twice as long to prepare for class.
"You have to have everything ready, down to the tasting spoons," Olson said. "There's no editing."
It is more difficult for students, too. They're accustomed to the class interactions, the atmosphere in the kitchen and classroom, and smell and taste of the food. Now they're just looking at a screen.
Wollinger said the students have been "wonderful."
"Because of the gravity of the situation, they understand that this is the way it has to be," he said.
Nursing instructor Patty Aronson has been doing clinicals online. Students already have spent eight weeks in health care settings, and many of them are already nursing assistants. But performing a newborn baby assessment without an actual newborn—well, that's a challenge.
Aronson instructed students to send in photos of their own newborns.
That way, they can assess skin color, symmetry of the face, position of the ears and a variety of other markers of health.
"I've tried to make it as interactive as possible," Aronson said.
She's had students listen to recordings of newborns' respiratory rates and heart rates, which are faster than adults and sometimes difficult to count.
During the Zoom meetings, Aronson also assesses the way nursing students interact with each other.
Many of her students will take national board exams to become licensed practical nurses at the end of the semester.
She's impressed with their willingness to enter what is now a dangerous profession.
"I think it's made them more driven," Aronson said. "They all want to help, and they're so eager to keep going."
Thompson, too, has been impressed with the efforts of students and staff.
"If there's a silver lining to this, it's been watching faculty and staff really rally for the students," she said.