ELKHORN
To a local parent, Eryca Card is "incredible, invested and involved."
To another Elkhorn Area School District teacher, Card has "ignited a fire in the students and educators" in the district.
To Project Lead the Way, she is a 2018-19 Outstanding Educational Leader.
Card, a sixth-grade science teacher at the Elkhorn Area Middle School, will receive her award at a Project Lead the Way Summit in Kansas City, Missouri, from Nov. 14-16.
Card, who is the Project Lead the Way coordinator for the district's 4K-8 programming, is one of six administrators across the country to win the award. Thirty-two teachers also were recognized.
Card is in the running for National Educational Leader of the Year, which will be announced in coming weeks and presented in February.
"I was very surprised and felt very honored to be able to get an award from a company that's really premier in the STEM world right now," Card said. "It just really humbled me to see the support that I have behind me and we just have behind Project Lead The Way in our entire district."
The nonprofit Project Lead the Way offers computer science, engineering and biomedical science programming to more than 10,500 schools in all 50 states, according to its website.
"I think it (Project Lead the Way) really just changes our students' lives," Card said.
Card first came to the district in 2002. She taught fifth grade for most of her career but for the last four years has been teaching sixth grade.
She remembers a time about five years ago when a group of fifth-grade girls were making a toy for class. From afar, the students appeared to be working on the project, but she didn't think they were making much progress.
Instead of giving orders, she asked the girls to tell her about their project. Card said the girls planned to learn how to program a device for runners to pace themselves as it ran by their feet.
"That was probably a big, like, 'Ah-ha:' We need to start questioning our kids and letting them tell us rather than us always having to give them the answer or guide them to the answer," Card said. "It stuck with me, like, ever since."
Esther Weitzel, a parent in the Elkhorn Area School District who helped with Card's nomination, said her seventh-grade son, Logan, came home from school recently "grinning from ear to ear."
His STEM Club rocket is ready to launch, and his hydraulic claw from Fluid Dynamics Club is nearly ready for a competition.
Card "tirelessly runs" these activities in addition to the Elkhorn Mini Maker Faire, Weitzel said in an email.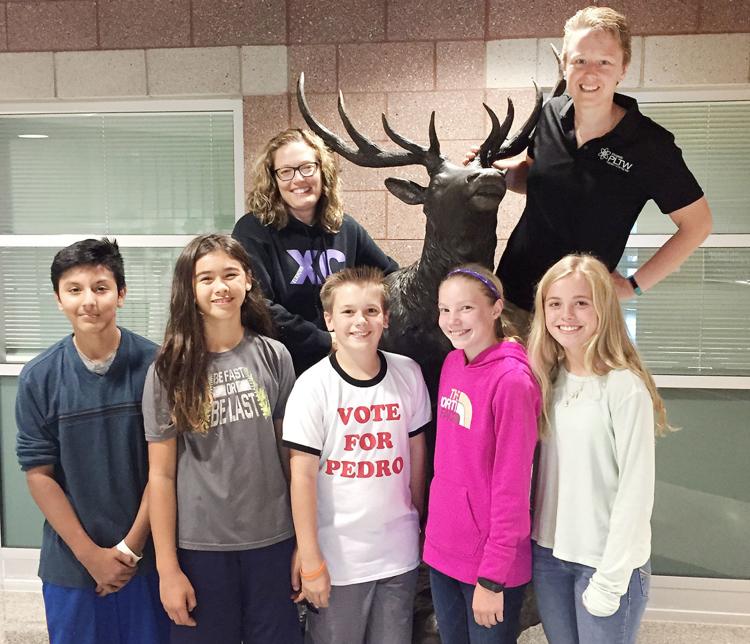 Card last year took five Elkhorn Area Middle School students to the Project Lead the Way summit in Orlando, Florida. Card remembers students being able to "talk the talk" with national and international company leaders.
While West Side Elementary School fourth-grade teacher Wendy Ellsworth said Card "transformed" other teachers to engage with students in a new way, Card credits Project Lead the Way for doing that.
Part of what inspires teachers is seeing the children succeed. The program is energizing kids and changing how they look at the rest of their lives, Card said. Kids as young as kindergarten are saying they want to be engineers, doctors and nurses.
I've seen their creativity increase, their collaboration with each other increase, their tolerance for failure (increase)," Card said. "We can sometimes succeed more from our failures … as long as we have that resilience to keep going and try to solve the problems," she said.