About 20 Craig High School students spread throughout the school's library Friday, some of them sporting blazers and white button-down shirts and others in dress sweaters and khakis.
The students were participating in a peer case study over Zoom with students from Pewaukee High School as part of Craig's Elevate program, which pairs upperclassmen with an area business to gain real-world skills through projects and mentorship.
Students were preparing to deliver their findings from a case study competition with the Pewaukee students.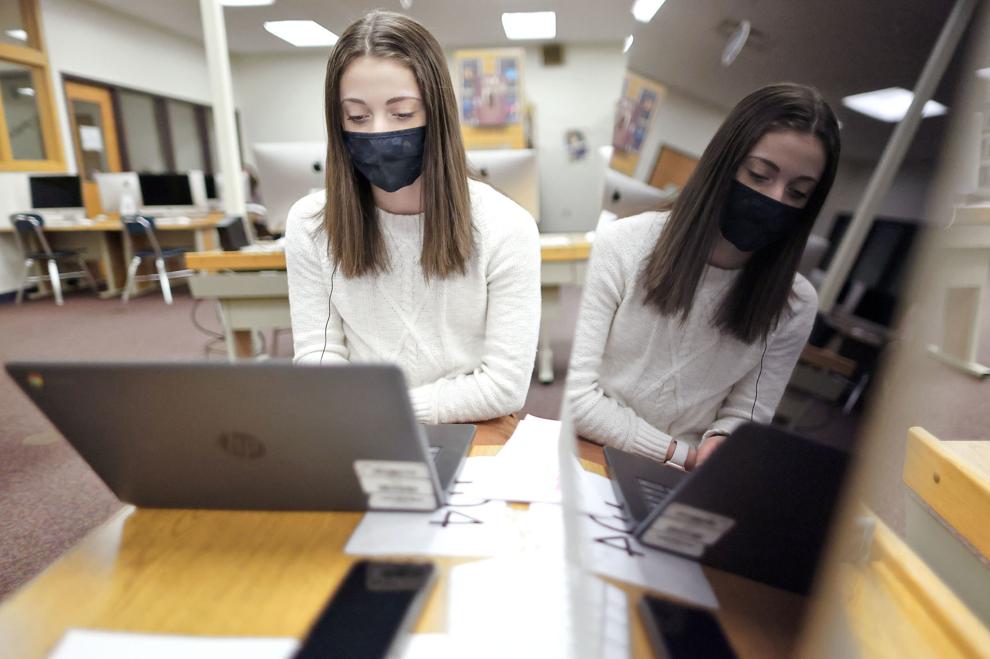 Elevate is Craig's business capstone program. Students fill three of their eight class periods for the year with courses in business communications, business finance and global business.
"The whole focus is really to be transdisciplinary," Assistant Principal Shawn Kane said of the program, now in its third semester.
"I think our teachers are really innovative in terms of how they approach the curriculum, and much of it is to prepare kids for the business projects and the mentorship experience."
Students examine multiple Harvard Business School case studies on different business scenarios and work in small groups to help an actual business solve real issues.
Last year, students worked with Zorro to develop a human resources process for onboarding new employees over the course of 30, 60 and 90 days. Students interviewed employees, reviewed company data and implemented changes.
Students also worked to simplify Downtown Janesville's gift card system through a vendor in California, which is now used by Downtown Janesville.
Tim Lindau, chair of Forward Janesville, is a mentor in the Elevate program. He said the students have impressed him.
"As you get older, you kind of find it amazing how from generation to generation, the older generation always looks negatively on the younger generation. And I don't think we're any different, our generation. I sit down and talk with them (students), and it's like, 'Man, these guys are great,'" Lindau said.
"And I learn about what their interests are in school, about what they do in their free time, what their goals and objectives are and how they line up their strategy for their career already in middle or high school, and the trajectory is set. I mean, it's impressive," he said. "These kids are really, really impressive. And it's fun, to really get to know them and know what's going on in their world. I found that to be invaluable."
Business education teacher Brandon Miles teaches some Elevate courses and oversaw Friday's competition. He said Elevate has brought new value to student-led education.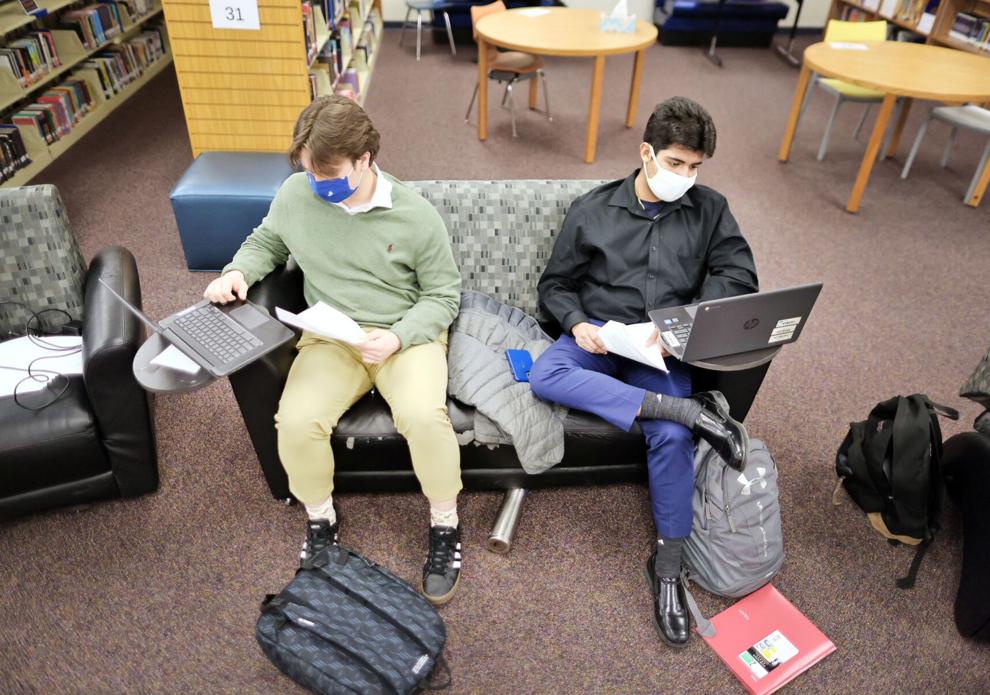 "As educators, I think we've always seen that high school students can bring a lot to the world outside of these walls, and it's nice through Elevate that we're able to do that. And I think the businesses that partner with us, they definitely see that value, too, which then makes the kids feel good about it, too," Miles said.
More than 30 businesses participate in Elevate in various ways. The program is geared mostly toward businesses, but mentors represent many career fields.
"I always tell them there's a business side to every type of career field. ... So even if these kids tell me they want to be a nurse or a physician or something like that, there's a business side to it," Kane said.
Elevate offers students a chance to get a taste of the field they hope to study in college. For some, it validates their interests; for others, it prompts them to look elsewhere.
"It's good for a junior to find out he doesn't want to be an accountant as a junior rather than as a sophomore in college," he said. "If you find out in high school that accounting isn't your pathway, but you always thought it was, it's better not to pay $50,000 in tuition before you find that out."
For junior Melvin Garcia, the program solidified his interest in the trades.
"I for once felt like it was an opportunity for me to experience a career that I might want to pursue," Garcia said. "And it felt like for the first time, it was something that I was actually going to use, like real-life experience, because sometimes in school I'll be learning stuff that I just don't know if I'll need."
Garcia said his Elevate mentor got him interested in real estate and is the first person who persuaded him to read a book from cover to cover. Garcia hopes to be an electrician and property owner someday, so the real estate perspective has broadened his interests.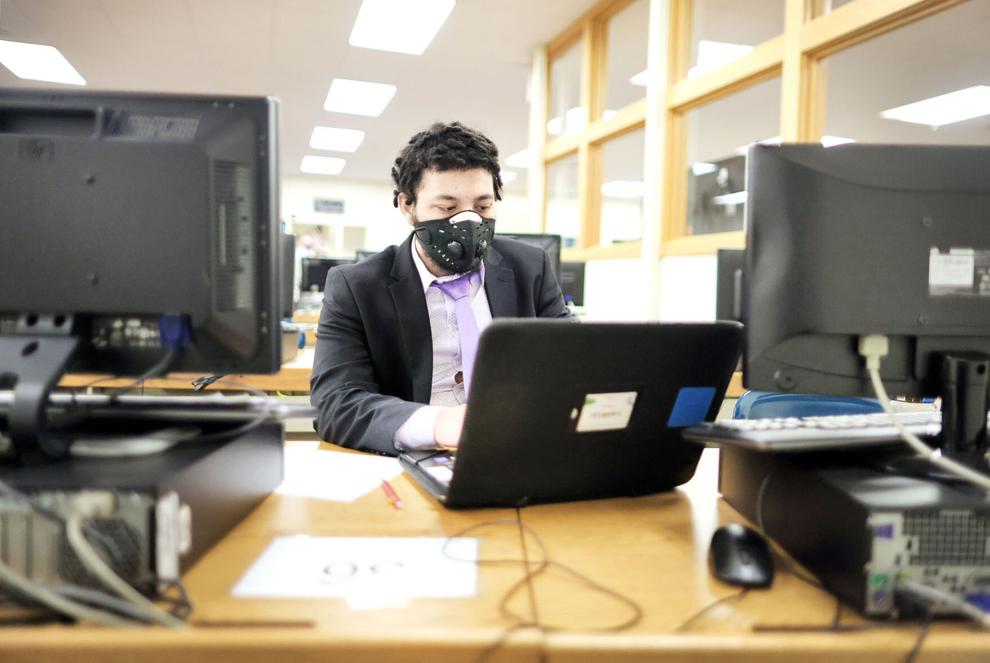 When Elevate first began, Craig teachers borrowed ideas from Pewaukee High School to get the project up and running. The two schools continue to work together.
Kane said the program has moved the concept of education past textbooks and white boards.
"The popular opinion out there is kids are falling behind, and this is another way to show that our kids aren't falling behind," he said. "They're accelerating ahead.And I think our students are going to take whatever circumstances they're in, and they're going to make it work."
Junior Aubrey Haworth is set to graduate early this year, so she wanted a view of the real world before heading to college. She hopes to become a doctor.
"I want to go into the medical field, but I also wanted to experience the business side of things just in case I decide to change or if I want to go into a management position in the medical field. So I think it's really helping me with that view of things," she said.
Haworth said the program has prepared her for college next year.
"I think I've learned a lot in finance, economics, the culture of all of it. We also have an English portion, so I've learned a lot about speeches and public speaking, and I think it all can kind of tie into any job I want to go into one day," she said.
Another 31 students are signed up to participate in Elevate next year. Miles said the program will continue to evolve as it exposes students to all sorts of real-world skills.
"I would just say confidence as well, where they've worked with real-world, successful business people and have a mentor that they've grown a relationship with," Miles said. "And they have this interpersonal experience now that a lot of students their age don't have on top of that. I think they're better prepared for not only the real world, but college, too."