When Paola Delgado was in middle school, she decided to have a life-changing conversation with her mother.
Delgado, then around age 13, came out as a member of the LGBTQ community.
"That didn't run by her so well," Delgado said of the conversation. "We just had a lot of fights, and even when I was younger, we just fought a lot. And one day, I was like, 'Yeah, I'm done.'
"I have four other siblings who I kind of wanted to set an example for."
Delgado, a 19-year-old from Beloit, is the first recipient of the IDEAL Scholarship through the Blackhawk Technical College Foundation and was honored Tuesday at the college.
Her mother worked third shift, meaning Delgado often had to get her four siblings ready for school and eventually had to transport them to school. Neither of her parents spoke English or went to high school, so Delgado was her siblings' homework tutor.
"It was hard because it was child after child, and well, school didn't come first for me. They came first. Dinner on the table came first."
After Delgado came out to her mom, fights became a daily ritual.
Eventually, Delgado couldn't handle it anymore. She left home and bounced from one friend's couch to another's spare bedroom, finally landing at Robin House—Project 16:49's transitional home for young women in Beloit—last October.
"I could finally have a home," she said.
"I always thought about it as the whole Peter Pan kind of thing where some of the girls are now some of my best friends. ... It made me realize there's more kids like me who've struggled just like I have, or even more."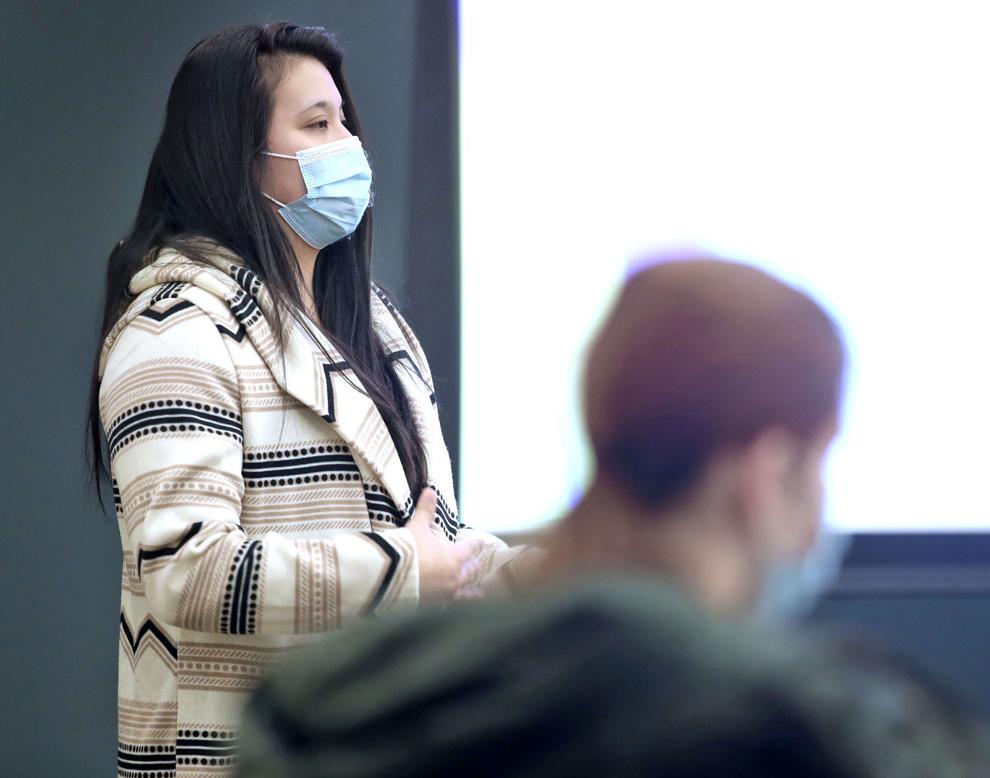 An IDEAL future
The scholarship gives Delgado tuition, a stipend for living expenses, an educational mentor and a paid internship, which she is enjoying as a community service officer with the Janesville Police Department.
Delgado said the scholarship made college a possibility for her.
"It means a lot to me because it's just, like, I represent those kids who are like me where it seems like it's impossible to reach their goals, you know?" she said. "I really thought it (college) was impossible for a very long time. And this scholarship really kind of enhances that it's possible, that it's actually real life, and sometimes you've got to go through things to kind of get there."
Career in policing
Delgado hopes to become a police officer, a goal inspired by a former Beloit Memorial High School teacher, Jessica Schweizer, after Delgado decided not to enlist in the U.S. Navy so she could stay nearby for her siblings.
Janesville Police Chief Dave Moore said the scholarship benefits both Delgado and the department.
"This is just a wonderful opportunity really for both Paola and the Janesville Police Department. We have struggled to attract and hire minority candidates," Moore said. "And this is just a wonderful opportunity for us, the JPD, to bring a great minority candidate into our organization and eventually, hopefully, hire Paola as a police officer."
Delgado said her teachers have served as parental figures when she didn't have someone to fill that role. At Blackhawk Tech, she is getting needed support from professor William Walsh, who is her IDEAL Scholarship mentor. The two talk weekly to go over Delgado's career plans.
Walsh, who worked in law enforcement for 27 years, said Delgado will have success in that field.
"She brings a depth to the conversation," he said. "We're talking about policing in the modern-day society when not a lot of people really want to be a cop. So it's a blessing that young minds still have that desire to serve their community.
"And when we get into these deep conversations on police interaction with the public and building that relationship, Paola exemplifies that with her life. Just the whole depth of her life and her experiences brings a maturity to the conversation and to the class that enriches the conversation."
Delgado said she hopes to inspire children and help them find their reason to live. She thinks she can do that as a police officer.
"I can really make a difference and set more standards as an officer," she said. "And that was also another big point where I was like, 'Yeah, I need to go into the criminal justice system. I would like to make that difference, even if it's just for one kid.' I always say that I don't need to change the world, I just need to change one kid. Because that's what one teacher did for me."
As far as her mentor can see, the scholarship will be better off now that Delgado is its first recipient.
"Overall, Paola is the spark, but she's also going to be that test for the scholarship," Walsh said. "She doesn't know it, but she's carrying a lot of weight for those who are going to do this behind her. She's going to be the standard.
"And what a great person to have as our standard, as our brand-new, first-time recipient."