Blackhawk Technical College is expecting a 10% drop in enrollment for the 2020-21 school year but a bump in the years afterward as the coronavirus continues to hobble the job market and economy.
When the Great Recession hit the U.S. and the General Motors assembly plant ended production in the late 2000s, the college saw a large influx of newly unemployed students looking for new careers.
College President Tracy Pierner isn't expecting a similar enrollment boom with COVID-19.
"Generally speaking for technical colleges, enrollment patterns exactly match unemployment rates," he said. "As unemployment goes up, our enrollment goes up. We serve a broader spectrum of students; therefore, people look to us for retraining to get back into the workforce when unemployment hits."
Unemployment has risen during the pandemic, but the virus has caused uncertainty about health and safety. BTC's enrollment is expected to drop this year but then rise about 10% higher than a typical school year, according to a preliminary data analysis done by the college.
"We do believe there will be an increase in the midterm," Pierner said. "Long term really depends on the economy and what happens with a vaccine and the future of COVID.
"It isn't going to be anything like the GM days because our economy isn't going to go into the tank like it did during those days," he said. "There isn't any single player around in our area that would have that type of impact, so I wouldn't be surprised if we see a 10% incline on the backside of this, too."
Enrollment in online classes is up 20%, Pierner said. He thinks the length of the pandemic will dictate the eventual need for retraining workers.
Prior to COVID-19, the college's enrollment was on the rise despite a decrease in area unemployment. That was thanks to new programs and efforts to connect students with employers.
The biggest factor in the current enrollment drop isn't new students, Pierner said; it's current students withdrawing from school because they're suffering financially.
"We had a larger than normal withdrawal rate, which means people were hit hard, probably losing their jobs, and now they're sitting on the sidelines. So we're hoping they get back into the game," Pierner said.
Pierner thinks the pandemic could make technical colleges more attractive to traditional students who normally would consider a four-year university.
For 21-year-old Madison Schultz of Janesville, BTC provides an opportunity to continue learning even though her university is closed for the summer.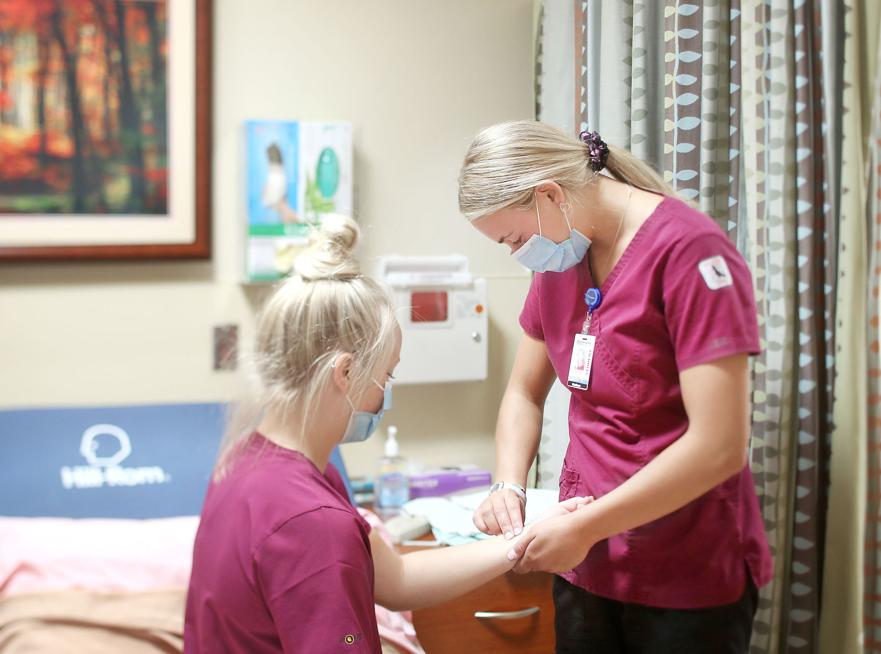 Schultz is studying biomedical science pre-medicine at Concordia University in Milwaukee, with hopes of becoming a nurse practitioner. Being able to take a certified nursing assistant course at BTC this summer has helped her stay on track.
"I was not able to take any classes up at school in Milwaukee because everything is closed down, and this way I could stay home and live with my parents," she said.
She hopes to get a job as a CNA when she returns to Concordia this fall. She said BTC's health care courses are important during the pandemic.
"Just because there is a pandemic doesn't mean that people don't need care," she said. "It doesn't mean that they have COVID and they need care, it means people are still having heart attacks and strokes. There's a million reasons why we still need people fighting to be in health care."
Schultz likely is not alone. Pierner said it might make more sense financially for a college freshman to take classes at BTC than to travel to a four-year university to take online classes.
If enrollment does rise after this year, as expected, the college will be ready, Pierner said.
"It's about working intimately with our business sector to make sure we understand their needs and then pivoting and delivering what they need in terms of the education and training, but doing it in a way that allows for high quality but also the safety of our students," he said.