Liz Bryant was surrounded by men when she walked into her welding classroom at Blackhawk Technical College for the first time a few years ago.
Bryant had expected that because welding is a male-dominated field. But when the teacher walked in, suddenly Bryant wasn't worried about a gender gap.
That teacher, Bobbi Bishofberger, is the chair of the college's Manufacturing, Apprenticeship, Technology and Transportation Division.
"She pulled up a chair and sat down on it backwards. She said, 'Hi, I'm Bobbi. I'll be your instructor,'" Bryant recalled.
"And I was sitting there like, 'Wow, I've never really met such a badass welder before.' I think it was more comfortable for me to have a female teaching it. I was super fortunate to have her as my first welding teacher."
In 2017, women made up just 4.5% of welders in the United States, according to the Bureau of Labor Statistics.
Bishofberger hopes more women will be attracted to the trades.
She knew from a young age that welding would be her life's work. She grew up racing cars and spending her free time at area racetracks with her family. Most of the maintenance work was done in the family garage.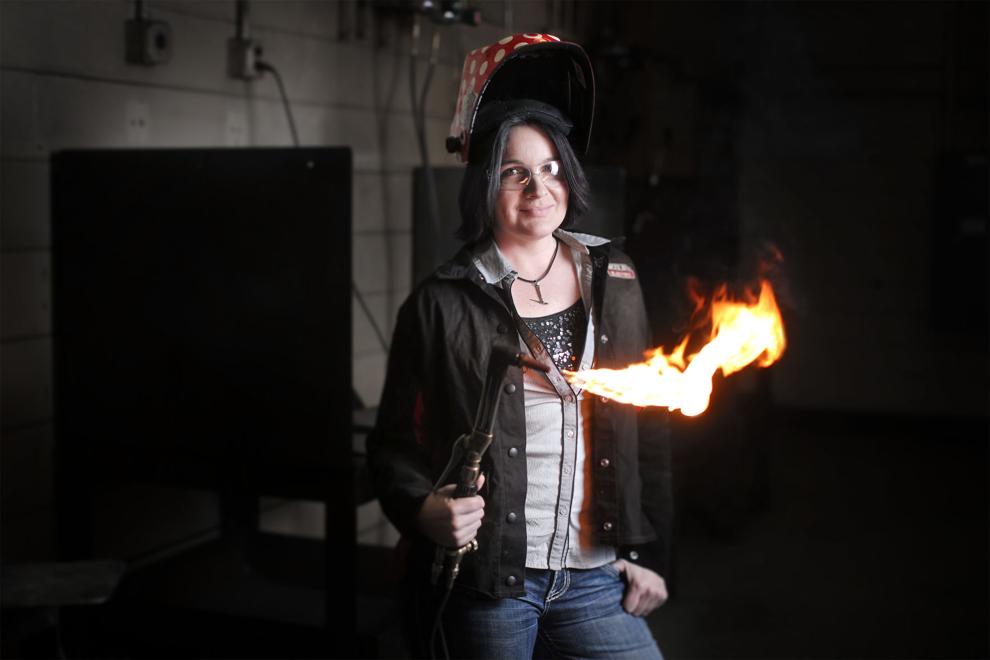 Welding "was the one thing that my family didn't have someone who was good at in the garage," Bishofberger said.
"When I was in high school, I started racing, and none of us were really good at welding. So I took a class and found out it was something I loved, and I was a natural at it."
After high school, she enrolled at Blackhawk Tech for her welding certificate. She went on to earn associate and bachelor's degrees before heading to work in the automotive industry, where she programmed robotic welding lines for car manufacturers across the country.
When traveling got old, Bishofberger decided to get into teaching. She started at Blackhawk Tech in 2014.
"I pretty much wanted to be a teacher since my first day attending Blackhawk as a student," she said. "It was just a cool job, and it was always like, 'Someday down the road I'll get into it.' I just never thought I would do it this young."
Bishofberger currently teaches welding blueprint reading and the mechanics of learning for welding. She also helps in the college's welding laboratory.
The number of women in welding classes continues to rise, Bishofberger said.
"We are seeing a lot more women, especially in the welding program. When I started, there would be maybe one or two a semester, and we're up around 10 to 15 now, so we're really seeing an increase in the number of women in our program," she said.
To keep that number climbing, Bishofberger said it is important that workplace equality training continues to improve in the trades. She believes sexism or gender inequality is perpetrated mainly by individuals, not the industry or companies.
"From stories I hear of inappropriate jokes and the culture of nude pictures up on the toolboxes, all that kind of stuff, I think training who's already there on what's respectful and how do you show respect to any gender" is the way to ensure respect for all workers, she said.
As a teacher, she tries to tailor her classes to students' interests as much as possible.
"I hope they take away what they want to take away," she said. "We want students to identify what skills or what field of welding they want to go into, so we want them to identify which way they want to go, and we will get you pointed in that direction, and we want to get you working as soon as possible."
Some students say they wouldn't be where they are today without Bishofberger.
"It's empowering knowing there's another woman who has been through being surrounded by a bunch of men and pushing through a stigma and is now the chair of the department. It's easier to keep going through school, and it's empowering to know I can do it because she did it," said Lily Hall, an aspiring welder at Blackhawk Tech.
Bryant feels the same way, saying she chose to continue welding because of Bishofberger. She now works in metal fabrication for an independent living company in Oconomowoc.
"I think she really is the heart and soul of the place."