TOWN OF ROCK
A 31-acre farm field near Blackhawk Technical College could be transformed into a training course for drivers of trucks, buses, police cars and fire engines.
On Friday, the Blackhawk Technical College Board approved spending $610,000 to buy 34.8 acres adjacent to the college. If everything goes as planned, the college hopes to build an emergency vehicle operators course.
The vote came at the same meeting the board approved its budget for the 2018-19 school year. That budget includes a 5 percent decrease in the tax rate, from $1.20 per $1,000 of equalized property value to $1.14. That means the owner of a home valued at $125,000 will pay an estimated $142.50 in taxes to the technical college.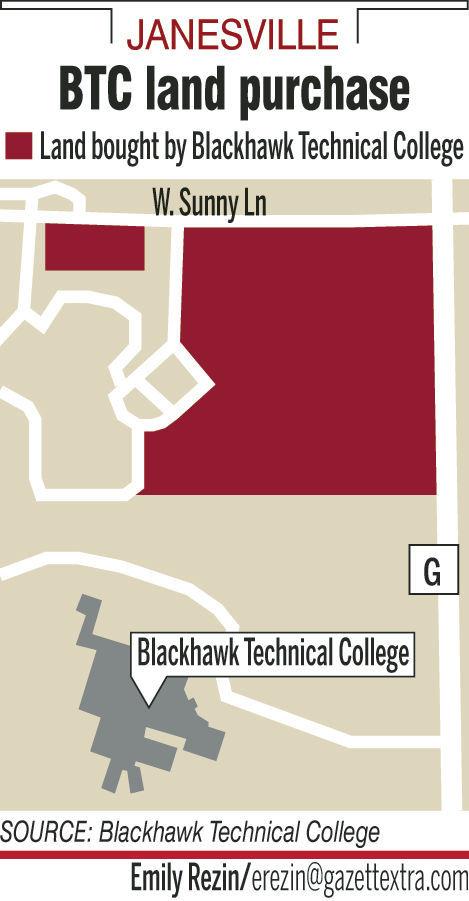 The total budget increased from $53.52 million last year to $53.93 million this year, a change of 0.8 percent.
The money used to buy the land for the new course did not come out of this year's budget. Instead, it was paid for with surplus funds from last year, College President Tracy Pierner told the board.
"The surplus came from unfilled positions," Pierner said. "It's about our struggle to find talent."
The majority of the land, about 31 acres, is at the corner of County G and Sunny Lane Road, next to the college. The remaining 3 acres are between the two driveways of Rock Valley Community Programs on Sunny Lane Road.
When built, the course would serve students in the college's police academy and truck driving programs.
In addition, police and fire departments could use the course for training and certification. State law requires all police officers to get at least eight hours of training in emergency vehicle operations every two years. School bus companies and touring bus companies also could use the track for instruction.
Volunteers and professionals driving ambulances and fire trucks and tankers also are required to undergo EVOC training.
Emergency vehicle training courses usually include an oval track with a number of curves, a skid pad and a large area for general training. The land is currently being leased by Hughes Farms.
Pierner told the board that because they don't plan to build immediately, he hoped to work with Hughes Farms to keep the land in production for as long as possible.
Pierner said the track would have to be phased in over several years. The cost, not including the amount already spent on the land, could be close to $2 million. The state restricts the amount technical colleges can spend on new buildings or acquisitions to $2 million over two years, Pierner said.
The plan, and any spending that goes with it, still has to be approved by the local board and the Wisconsin Technical College Board.