After a steep learning curve to begin the school year, both teachers and families of first-year students at ARISE Virtual Academy say the good outweighs the bad.
The Janesville School District's online school experienced a boom in enrollment and staff size this school year as COVID-19 fueled uncertainty about students' safe return to classrooms.
The school currently serves about 2,300 K-12 students, far surpassing last year's enrollment of 243 students. Teachers have been in high demand as a result: The school has 112 teachers this year, a big jump from the 12 teachers—seven full-time positions—it had last year.
Assistant Principal Jenna Rosienski called teachers the "heart" of success at ARISE this year because the curriculum is the same. She said professional development will be offered throughout the year to help teachers, but early indications are positive.
"I think with any growth like we've had in any educational system, you're going to hear negatives and positives," Rosienski said. "Our job is to help families navigate that, and I believe we're doing that.
"From my administrative lens, going from 200 to nearly 3,000 students brings many challenges and obstacles, but I believe we've put organizational systems in place to help our students, families and teachers be successful."
With the growth came challenges for new teachers and new students.
"It's night and day. It's two totally different ways of teaching," said Katie Egger, a teacher of 30 years who is teaching kindergarten at ARISE this year after spending last year at Madison Elementary School.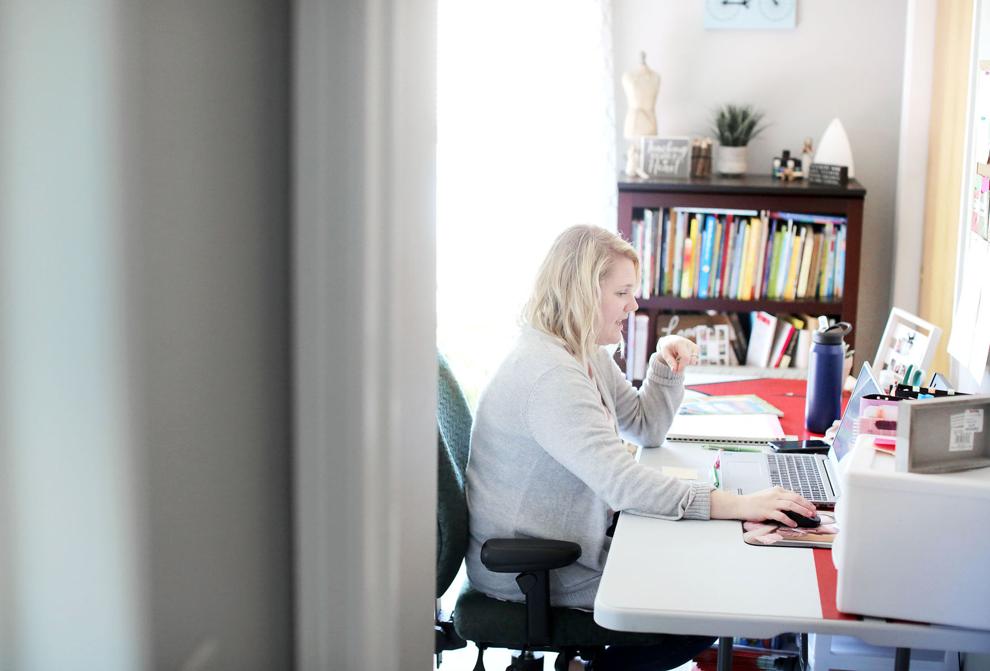 Egger made the switch to protect some family members who are in the high-risk category for COVID-19. After early difficulties with the platform, technology and finding the best way to communicate with families virtually, Egger said she enjoys every day at ARISE.
Egger begins checking emails each day around 6 a.m. She then does grading and Google Meets with her students to review topics and conduct team-building activities such as sharing. Some days end around 4 p.m. and others at 10 p.m.
"I would love to stay with ARISE," she said. "I love the relationships that I'm building with the family and the staff members."
Kayla Silha, also in her first year of teaching at ARISE, has experienced differences, too, but a lot of it depends on how willing a family is to seek extra help.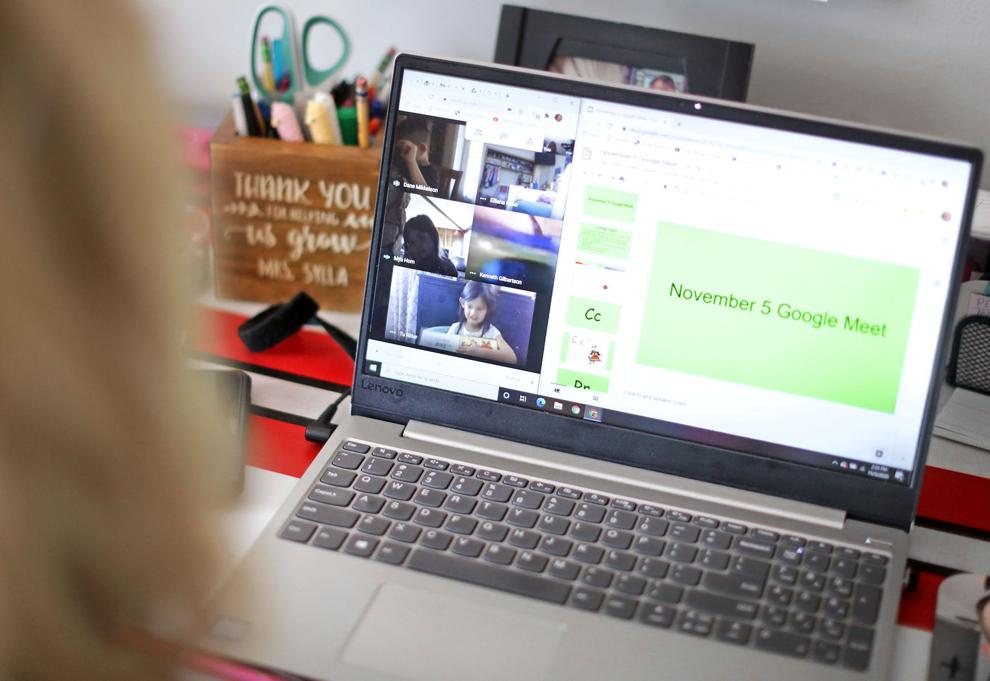 "It has changed quite a bit," Silha said of the two teaching experiences. "There's not as much of that face-to-face time as we're used to. It's harder to work with students and make that connection with students. It can sometimes be harder to work with them if they are struggling on a concept or falling behind. But it can also be easier to work with them one-on-one and help them catch up on things, because it's flexible."
Silha checks her gradebook each morning and resends work that needs to be done (students at ARISE must score higher than 70% for work to count) before beginning her Google Meets with students.
She loves the opportunity to teach without the risk of virus exposure.
"The start was very tricky, just like anything new. It took awhile to adapt to the learning curve," she said. "Some parents were pretty frustrated, too, but now that we have it under our belts and we've been doing this for awhile now, I love it."
For the Hedgecock family, the experience was similar.
Laura Hedgecock has two children who pivoted to virtual learning at ARISE this school year. Adele, in kindergarten, and Ava, a second-grader, both took about a month to adjust.
"The first month's learning curve was challenging to get our schedules figured out and how much learning the girls can do in a day, breaks and all of that," she said. "But by about mid-October, we got into a groove, and now they're doing awesome."
Hedgecock said the biggest challenges were learning how to use technology and learn online, as her daughters had little previous exposure to technology.
The family also took some time to find the right spot in the house to ensure the girls were productive and not distracted.
Adele has a Google Meet with her classmates and teacher around 8 a.m. each day, and Ava has one at 9:30 a.m. The girls work about four days a week with their mom and dad and spend one day with their grandma.
The Hedgecocks switched to ARISE because Laura works as a nurse and understands the gravity of getting COVID-19. Her husband's parents are in poor health, and the family wanted to ensure they would be cared for and wouldn't be exposed to the virus by the kids.
That and the uncertainty of school made the decision easy, Hedgecock said.
"Last spring when schools were shut down and we had to go to online learning, I didn't feel like the girls were challenged by that," Hedgecock said. "I wanted to make sure that my girls got the best education they could, and I was fearful that when school came back it would be shut down at least once."
Adele and Ava both said they still enjoy school even when it's on a computer. Some days are better than others, though.
"It's not the same," Ava said. "Kind of difficult and kind of easy."
"I like my math, and some are easy, some are hard, but I like my quizzes and all of it," Adele told a reporter.
And while it took a little while to get here, both the Hedgecocks and teachers say the effort was worth it.
"This is a whole other world that I didn't anticipate my family going through at this point in our lives, but the teachers have been so accessible, and we just love it," Hedgecock said.
"I'm very happy with our decision on a lot of different fronts. … To be able to sit next to your child when they learn something new for the first time—all parents love that. … To sit there and watch your kindergartner put phonetics together and read words and your second-grader do difficult subtraction problems and see that light bulb go off, it's very rewarding."
Silha, the first-year ARISE teacher, agreed.
"I would just say that I am thankful for the opportunity to be able to do this as a community. At first it didn't seem like the greatest option, but after doing it I truly enjoy my job, and I still feel connected to the kids and families."