A 16-year-old girl says a Janesville police officer used excessive force when he took her to the ground during a fight last month, leaving her with a broken rib and a slightly punctured lung.
Police Chief Dave Moore said officer Glen Hageman told everyone to stop yelling multiple times and had to react in an instant when he saw Angelina Nelson push someone else outside a home on Linn Street.
Moore said the officer used proper technique to "decentralize" her, taking steps to protect her as she hit the ground. He said the department's review of the incident found Hageman's actions to be "appropriate" and within policy and training.
What complicated the effort, however, was when someone pushed Nelson, which Moore said put Hageman off-balance, leading to an "awkward and hard landing" on the sidewalk.
"Police use of force is not necessarily pretty, but it is almost always appropriate and effective," the chief said. "If there are concerns with this use-of-force incident, those concerns are with my leadership and the state of Wisconsin training protocols."
Nelson, who is about 50 pounds lighter and at least 6 inches shorter than Hageman, agrees the officer was doing his job. But—given their size disparity—she said he should have done something other than "slamming me face-first on the ground."
"I'm a little girl. He is a grown man," she told The Gazette. "I did not deserve that whatsoever. And especially to be in pain right now. I shouldn't still be in pain. That's wrong."
With permission from Nelson's family, The Gazette reviewed medical records, police reports and body camera footage from the Oct. 17 incident. The video and reports were redacted to remove identifying information of other juveniles or victims in the incident.
Police use of force and what is or is not "excessive" force resurfaced in the national conversation in the last several months, mostly brought about by police interactions with Black men or women (Nelson is white).
Nelson was left with several physical injuries after going into the concrete, but she said she flinches when someone comes up behind her. She's been having anxiety attacks, worse than normal. She said her heart starts racing when the TV is too loud.
"Everything is different for me now," she said.
Going to the ground
Hageman's body camera footage starts with him pulling up to the 500 block of Linn Street shortly before 1 p.m. Saturday, Oct. 17.
Nelson and others were at the Linn Street address where they used to live to resolve a matter over belongings. An argument started and turned physical before police arrived, according to witness statements in the police reports.
When Hageman pulled up, people were outside and yelling at each other. As he walked up to everyone, Hageman four times told people to stop yelling, according to video and audio from his body camera.
Nelson moved toward someone else mostly out of view from Hageman's camera, and in the video she appears to push the person twice. As Hageman grabbed Nelson and turned to bring Nelson down, the other person pushed Nelson, which is what Moore said led to a worse fall.
Hageman in a police report wrote that what he did was the "minimal and most effective" method, adding that "any possible injury suffered by Angelina was unintended and an unfortunate result of landing on concrete, which could not be controlled or anticipated."
Moore said the body camera video shows the last push, which he said otherwise could have gone unnoticed. The video also led him to believe Hageman properly attempted the decentralization technique.
While using force, he said, it's always possible someone is hurt. But he said officers are trained in ways intended to keep someone as safe as possible during such a take-down.
Such efforts include an officer leading to the ground with his or her knee and holding the subject's head and torso.
But Nelson's face still appeared to hit the concrete. 
Moore said officers have to consider officer-suspect dynamics, such as a size disparity. But he still said Hageman did what he was supposed to do in this instance.
When asked, Moore said it was possible Hageman could have opted for a bear hug or something else, but Hageman had to quickly take control of the situation.
It was about 25 seconds from the moment Hageman first told everyone to stop yelling to when he took Nelson to the ground, according to the video.
"This was a very dynamic and fast-moving circumstance," Moore said.
Hageman has been with the department for 20 years, and Moore said after looking through his file the officer doesn't have any use-of-force violations on his record.
When asked what his message to the family or the community would be after this incident, Moore said every use-of-force incident he can recall across the nation starts with someone not following an officer's directions.
Still, the chief said, no one wanted this to happen.
"I've talked with officer Hageman, and we all wish that this had a different and better outcome," he said. "We wish this was an outcome without injury."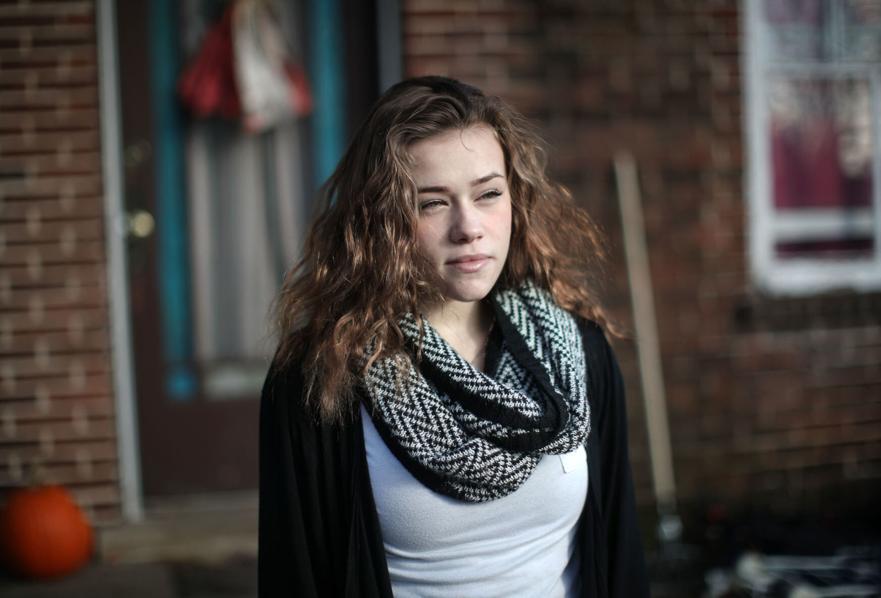 'Why did you do that?'
After Hageman brought her to the ground, Nelson immediately started crying and shouting in pain, as family members tried to console her and see if she's OK, the video shows.
"My head hit the ground," she shouted through tears. "My face hurts."
"Why would you throw me like that?" she asked.
"Because you attacked somebody," Hageman shot back before he radioed to summon an ambulance and a supervisor to the scene.
As she got to his police car, Nelson again asked why Hageman did what he did, saying that she was "just a little girl."
"I grabbed you and decentralized you," Hageman responded.
"No, you threw me onto the ground," she said. "Why did you do that? My face hurts."
Nelson said it was "scary" to be in the back of a cop car, and she said her 13-year-old sister was also put in handcuffs.
"Her wrists were so bruised," she said. "She's 13 years old. Are you kidding me? They didn't arrest my mom. They didn't arrest my aunt. They arrested two little girls."
Nelson was taken from the scene by ambulance to SSM-Health St. Mary's Hospital, Janesville. Her back and ribs still hurt, making it hard to just lay in bed, she said.
She said she doesn't trust police anymore, and she thinks Hageman should be fired.
"I just got brutally hurt by somebody that should be protecting us," she said during an interview.
Nelson was referred to juvenile authorities on two counts of disorderly conduct, according to the police report. Hageman also tried to recommend a charge of resisting an officer against Nelson, but a supervisor overruled him.
It does not appear that anyone else is facing disciplinary action from the incident.
Nelson grew up in Janesville, but her family has been recently staying in Milton. She has studied with Rock Charter School.
Before this all happened, she would go on runs with her dad every morning. But she said a broken toe from this incident is keeping her from running just yet.
She loves to draw and paint, but her arm can't stop shaking.
"It's hard to get my straight lines back. Like, I've got to use a ruler now. I haven't used a ruler in so long," she said.