The second trial of a man charged with brutally stabbing a 43-year-old Janesville woman to death got underway Monday with the anticipated weeklong trial set to play out in Rock County Court after a mistrial was declared in 2019.
Julian D. Collazo, 24, is charged with first-degree intentional homicide in the stabbing death of Christine H. Scaccia-Lubeck, who was found dead in her Janesville home Dec. 9, 2017.
Rock County District Attorney David O'Leary with Assistant Jerry Urbik are once again attempting to prove Collazo's guilt and plan to call witnesses including Scaccia-Lubeck's mother and multiple Janesville Police Department officers and detectives.
A key difference to this week's trial compared to the previous one is that a woman who was convicted in a related case, Nicole R. Kazar, 27, will testify. Kazar was sentenced in May 2019 for her role in driving a car that belonged to Scaccia-Lubeck as she and Collazo's attempt to leave the area.
O'Leary said he anticipates Kazar will testify Tuesday, July 20.
Collazo and Kazar were arrested together in Cape Girardeau, Missouri, in the days after the homicide. Authorities learned shortly after the murder that the pair were involved in a romantic relationship and that Scaccia-Lubeck was also involved with Collazo.
Authorities have said they did not previously suspect Kazar to be involved in the stabbing, but defense attorney Jeffrey Jensen told jurors Monday he plans to show that it was in fact Kazar who stabbed Scaccia-Lubeck and that Collazo took responsibility to protect his love interest at the time.
Monday's testimony centered on building a picture of the crime scene for the jury with Diane Somers, Scaccia-Lubeck's mother who lived next door, recounting her last day interacting with her daughter.
"I walked in the dining room and I noticed spots of blood in the dining room and on the floor," Somers said. "I saw her feet in the doorway of the front bedroom and I called her name. I reached out and touched her. She was cold, and then I called 911. I don't remember much after that."
In her testimony, Somers said Scaccia-Lubeck had gifted kitchen knife sets to family members, with the prosecution linking a missing green kitchen knife to the case.
Janesville police Sgt. Steven Carpenter was tasked with mapping out the crime scene and describing the home in the 400 block of River Street. Janesville police officer Jeremy Wiley told jurors about Scaccia-Lubeck's vehicle being missing and about the areas authorities found blood splatter in the home.
The longest testimony given Monday came from recently retired Janesville Det. Ed Van Fossen, who explained various aspects of the case to jurors, from how the department handled its initial evidence gathering to showing the jury various evidence exhibits tied to the case, including shoes allegedly worn by Collazo and clothes collected from Collazo and Kazar when they were arrested.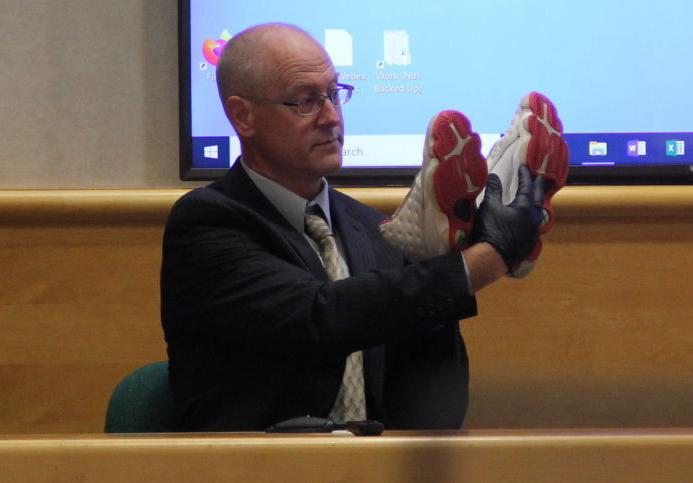 Key pieces of evidence for the prosecution appear to be a pair of white Air Jordan sneakers worn by Collazo that are allegedly the same shoes that left imprints in the blood stains at the scene of the murder— along with a pair of blood-stained pants allegedly worn by Collazo.
Monday's testimony ended with Janesville Det. Chris Buescher going through phone records containing calls made by Scaccia-Lubeck prior to her death and the messages sent between Collazo and Kazar after the stabbing.