Police confirmed an officer-involved shooting near the intersection of Interstate 90/39 and Highway 14 on Thursday afternoon.
Both an officer and a male who was holding a knife were transported for medical treatment, police said.
"The officer was transported and is OK," said Sgt. Joshua Norem of the police department. He would not elaborate.
The suspect, who was shot, is expected to survive, Norem said.
Norem would not say whether the suspect is an adult or a juvenile. He said more details would be available at a news conference, which has not yet been scheduled.
In a news release, police said they were called to a traffic crash at 2:45 p.m., when a male exited the vehicle and armed himself with a knife.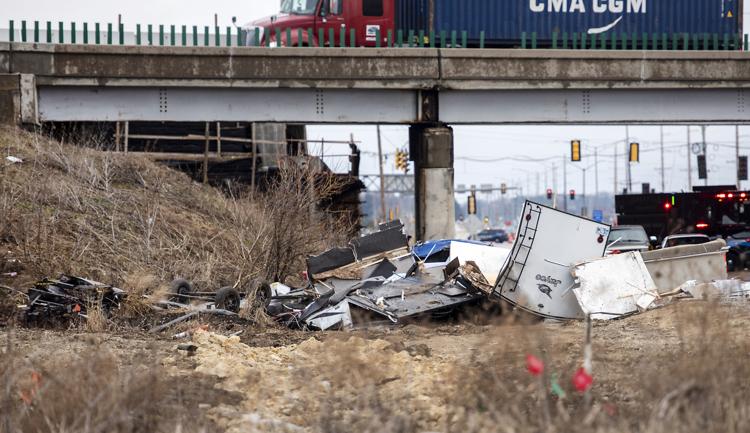 As the officers tried to take the man into custody, a Janesville police officer fired at the male wielding the knife, according to the release.
The male "was immediately transported to a local medical facility for treatment and is expected to survive. An officer was also taken to a local medical facility for treatment," the release states.
Janesville resident Candi Rodriguez was at the drive-thru of a nearby Taco Bell restaurant when she saw police cars speeding past and went to see what was happening.
From a parking lot perhaps 60 to 80 feet away, Rodriguez saw a man, maybe in his 20s, on the embankment that leads up to Interstate 90/39, she said. Police were below him.
"He had something in his hands, but I couldn't see what, exactly," she said.
The man looked as though he was trying to climb up the steep embankment to Interstate 90/39.
Rodriguez said tire marks made her think the crash had occurred on the Interstate.
Rodriguez thought one officer had a Taser in his hand. She could hear what sounded like officers yelling.
Traffic streamed by on Highway 14 between Rodriguez and the police as the incident played out.
Then she heard two gunshots in quick succession, she said. A short time later, she saw the man put in an ambulance.
A man wearing the insignia of the state Division of of Criminal Investigation was seen at the scene later. The DCI investigates officer-involved shootings in the state.
Typically, local police discuss the incident, and then officials remain silent until DCI issues its findings to the district attorney, who decides what happens next.