Firearms taken from unlocked vehicles, gun shops challenge authorities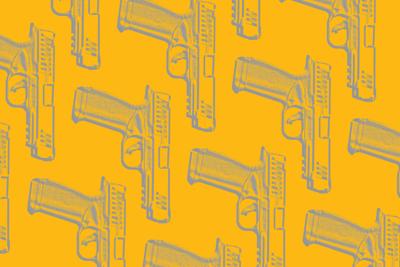 JANESVILLE
The first burglary of a gun shop just outside of Janesville escaped most people's notice.
People will remember the highly publicized burglary in April 2017 when Joseph Jakubowski broke into Armageddon Supplies on Highway 14 in the town of Janesville and took 18 firearms, leading to a massive manhunt.
But the burglary about eight months before at the same shop is interesting because two of the six handguns stolen ended up in big cities—one in Milwaukee and the other in Chicago.
The incident is one of many examples of local guns being stolen—some from cars that were left unlocked—and then showing up in big-city crimes. Experts say locking up guns at home and in vehicles and increasing security at gun shops would go a long way in keeping local guns from falling into the wrong hands.
Weapons recovered
Milwaukee police responded to a disturbance the day after the August 2016 burglary at Armageddon. Officers went to a residence where they found a suspect and two guns under a mattress. One was a handgun stolen from Armageddon the day before. The other was an AK-47 rifle, according to a criminal complaint.
The suspect, Tyree D. Martinez, 20, was charged in the Armageddon Supplies burglary. It wasn't his first trip to this rodeo. He was convicted for a burglary of a Green Bay gun shop in July 2016 and sentenced to three years, six months in prison.
When Green Bay police caught Martinez on Aug. 28, 2016, he had a Glock handgun that was reported stolen in Rock County a day earlier, according to the criminal complaint.
Chicago police found another gun from the burglary during a drug investigation and arrested a suspect on a charge of felon in possession of a firearm, said Capt. Todd Christiansen of the Rock County Sheriff's Office.
It wasn't the first gun from Rock County that ended up in the hands of Chicago police, but local cops are also concerned that stolen weapons will be used in local crimes, Christiansen said.
The CTR burglars
Another local case is that of the young men accused of burglarizing CTR Firearms in Janesville on Jan. 31, the same night they are accused of burglarizing the Max Creek Outdoors gun shop in Oregon.
The firearms at CTR were locked in a vault, so none were stolen, but burglars got away with 17 guns and a silencer in the Oregon break-in.
An informant told police some of those weapons were taken to Chicago, according to the criminal complaint against the two Madison 17-year-olds accused in the break-ins.
A juvenile suspect in the case told police that some of the remaining guns might have been taken to a relative's residence in Milwaukee, according to the complaint.
In Milwaukee last year, police seized about 2,700 firearms, roughly 14 percent more than in 2016, the Milwaukee Journal Sentinel reported.
Milwaukee gun seizures for years have outpaced the rate-per-100,000 population of Chicago and other large cities.
Shops just one source
Gun shop burglaries in southern Wisconsin represent just one small source of stolen guns that show up in big-city crime statistics.
From 2012 through 2015, 251 guns were stolen from stores in Wisconsin, according to federal data reported by the Center for American Progress.
In that same time, 11,102 guns were stolen from private Wisconsin owners.
Janesville and Rock County law enforcement both report an increase in recent years of thefts of guns from cars.
"It seems like a lot of people are storing their handguns in their vehicles, and they're turning up missing," Christiansen said.
Concealed-carry thefts
Just last month, a gun owner left his Glock 9mm in his car parked at his rural Janesville home. The gun was later found in possession of a Beloit man who was arrested after he was seen walking through farm fields in the town of Fulton.
"I would say probably more guns are stolen out of cars than residences and stores," said Det. Dale Stutika of the Janesville Police Department.
Some people who don't want to carry the gun—perhaps because they are going into places where concealed carry isn't allowed—stash them in consoles or under seats.
"I don't know what they're thinking," Stutika said.
"Car shopping" is what local cops call theft from cars. The "shoppers" love unlocked cars.
Thieves probably are not targeting cars for guns, but they find them when rummaging for other things of value, Christiansen said.
"It's just not very smart to leave them in the car, whether locked or not," Christiansen said.
It's better to leave them in a gun safe at home, he added.
Officers say guns stolen from cars became a nationwide concern over the past decade as concealed-carry of firearms became more popular. David Chipman, senior policy analyst for the gun-control advocacy organization Giffords Law Center, agreed.
Chipman, a former ATF agent, said criminals in Detroit figured out that suburban sports fans would leave their firearms in their cars during games, so they'd break into cars in stadium parking lots.
Black-market guns
Stealing guns is attractive to criminals because it's so easy to re-sell them, Chipman said.
Stolen guns hide online among thousands of legitimate guns offered for sale on firearms-sales sites, Chipman said. That makes law enforcement's job more difficult.
Stutika said locally stolen guns have ended up in most Midwest states, some of them after being used in shootings.
Drug users also trade guns for drugs. The difficulty of tracking handguns and the ease with which they can be carried make them staples for criminals, Stutika said.
One thing that makes guns tough to trace is poor record-keeping; gun owners often don't keep track of the serial numbers or take photos of their guns, Stutika said.
"We'd recover a lot more guns if we just had serial numbers, trust me," Stutika said.
Chipman said universal background checks would help law enforcement tell the difference between legal gun sales and sales between potential criminals, Chipman said.
Sure, it would be inconvenient for law-abiding people, Chipman said, but the reward would be prevention of tragedies.
Chipman admitted more gun regulations would still leave a black market in guns, but he said stricter gun-sale regulation would make it easier for police to distinguish legal gun sales from illegal ones.
"It would make our country a lot safer," he said.
Solutions
"This is something people can solve," Chipman said. "If you secure your gun in a car, lock it in the trunk."
Installing an aftermarket car gun safe is another option.
"It's just getting people to do the right thing," Chipman said.
"Let's face it—if you carry a gun in your vehicle, you need a way to lock it up," agrees the website Arms Bearing Citizen.
Chipman said criminals also target gun shops.
"These people understand that most of these dealers are not securing their guns," Chipman said.
New Jersey law requires gun shops to secure firearms after hours, and it's seen only five gun shop burglaries in the past five years, Chipman said.
Rep. Lisa Subek, D-Madison, introduced a bill in the last legislative session that would have required gun shops to store firearms in safes when the store is unattended.
It didn't get far in the Republican-dominated state Legislature.
Chipman said it shouldn't take a law: "We as American patriots have got stop waiting for government to tell us what's right and just do what we know is common sense."