The median defendant in Walworth County who had to pay court fines and fees paid more than in any county in the state—and the county's figure almost doubled the state's median, according to 2011-15 data published Monday.
The median amount that a convicted defendant in Walworth County Court paid in fines and fees during those years was $930, according to data compiled by Measures for Justice, a group that seeks to make reliable criminal justice data more available.
The statewide median was $518, and in Rock County that figure was $548.
The next highest county below Walworth County was Forest County at $853. The group listed both of those counties as outliers because their numbers were so high when compared to the data for the other 70 counties in the state.
Gipsy Escobar, the director of innovation for Measures for Justice, said in an interview that the most recent set of data is for 2011-15 because it takes years to collect, review and ultimately audit the data.
She also said Measures for Justice is highlighting the need for more accessible data, adding that the group hopes to have policymakers use the data to inform their decision-making.
Mackenzie Renner, the head of Walworth County's state public defenders, said many of her office's clients are dealing with poverty, homelessness or joblessness when they enter the criminal justice system.
Another charge that approaches or exceeds $1,000 can be devastating.
"I find numbers like that very disheartening," she said.
About the data
The median—the middle data point in a list of numbers—is a measure that isn't swayed by outliers at either end, which is not the case for the mean (average).
Court fees and fines is one of several measures that the group collected data on for all 72 counties in the state. The group published its Wisconsin data on Monday, and it is trying to do similarly for the entire country.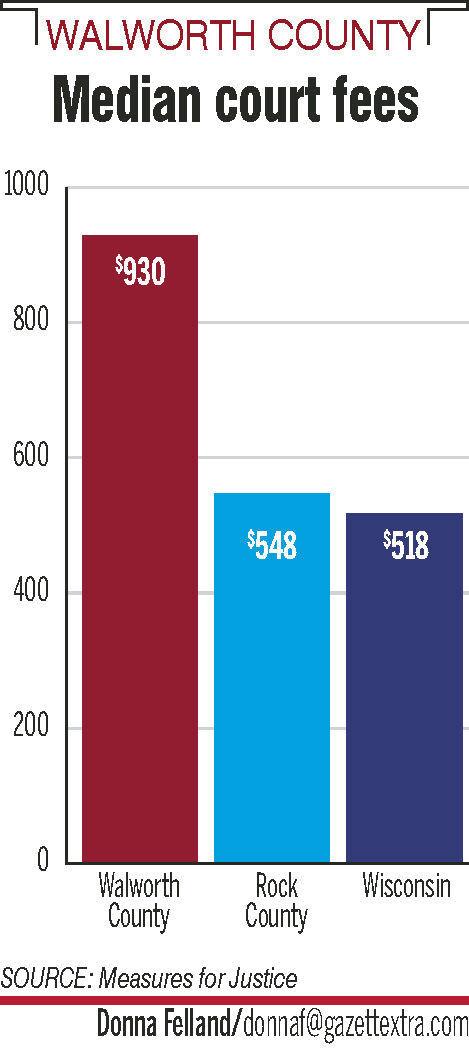 But it's a slow, labor-intensive process.
Julie Grace, a policy analyst at the Badger Institute, a conservative policy group, said in a news release that "good data" is needed to make informed decisions on criminal justice.
"Measures for Justice is a leader in providing this type of information, but tracking it down is often a slow-going, complex process," she said. "Wisconsin policymakers should consider legislation requiring detailed, uniform data collection so the effectiveness of programs and spending decisions can be assessed."
Escobar said Measures for Justice wants to bring transparency to the criminal justice system through data. But the collection process to get the data published Monday and other state's data is "challenging" and "very resource intensive."
The group bought bulk data from the Wisconsin Court System, which Escobar said is pretty comprehensive when compared to other states. Some jurisdictions, she said, were still keeping records on paper.
But hurdles still exist. For example: That data through the Wisconsin Court System now costs $12,500 to review for a year.
Escobar said the data is first collected and organized into a uniform structure so staff can compare across other states.
Then she said the data is subject to an internal audit (a more senior researcher), an external audit (an academic or outside researcher who has experience working in criminal justice in the given state) and a stakeholder review (officials in the state, such as the Department of Justice or local prosecutors).
The group has had to suppress a measure before after learning of problems during the stakeholder review, she said. It's all to ensure that the data has had multiple sets of eyes on it before publication.
In 2017, the group published data on six states, including Wisconsin, that it started collecting in 2014. The data reflects cases from 2009-13. The goal is to have 20 states' worth of data by the end of 2020, she said.
But she added that Measures for Justice is working to speed up its process to publish more up-to-date data and to do so on a year-by-year basis instead of five-year cohorts.
Escobar said the fines and fees data accounted for felony, misdemeanor and criminal traffic cases that resulted in a conviction. There were some exclusions—such as open cases, dismissed cases or people who didn't have to pay anything—but the total number of cases to find the median was 6,438.
Court fines and fees are used to fund several areas in the criminal justice system.
Some examples listed by Measures for Justice on what can be included are DNA testing, administrative costs such as copying and filing fees, public defender fees, probation or supervision fees and electronic monitoring fees.
Escobar said the "most egregious cases" are usually the ones that make it to the news, but there's more going on that the public should know about.
"Injustices happen on a regular basis that we don't know about because we don't have the data," she said.
'Jaw-dropping'
Renner said many of her office's clients would consider nearly $1,000 in added court fines and fees a "jaw-dropping" amount.
She said she did not know Walworth County led the state in that measure.
"It's an added financial burden for these families that are already struggling," she said.
Other county officials could not be reached by press time or said they needed more information before commenting. Therefore, it is not clear if the county has changed practices or not.
Renner said she hopes that if it hasn't changed already that it will in the future.
Some people, she said, are committing crimes just to get themselves out of poverty.
"The added financial burden on any criminal defendant, but especially one that is already in poverty, adds to the stress and can ultimately lead to higher levels, potentially, of recidivism," she said.
Update: This article was updated Aug. 12 to include a new position title for Gipsy Escobar.