Anyone who doubts that necessity is the mother of invention should check out SCC Fitness's new approach to leg day at the gym.
For some of its group exercises, SCC Fitness is using its parking lot and terrace along West Court Street downtown to physically distance those who are working out in the COVID-19 era.
The goal: Use every square inch of the gym's new location,including the concrete curb along the street, where instructors run members through a high-octane routine of reverse lunges and step-ups with kettlebell weights.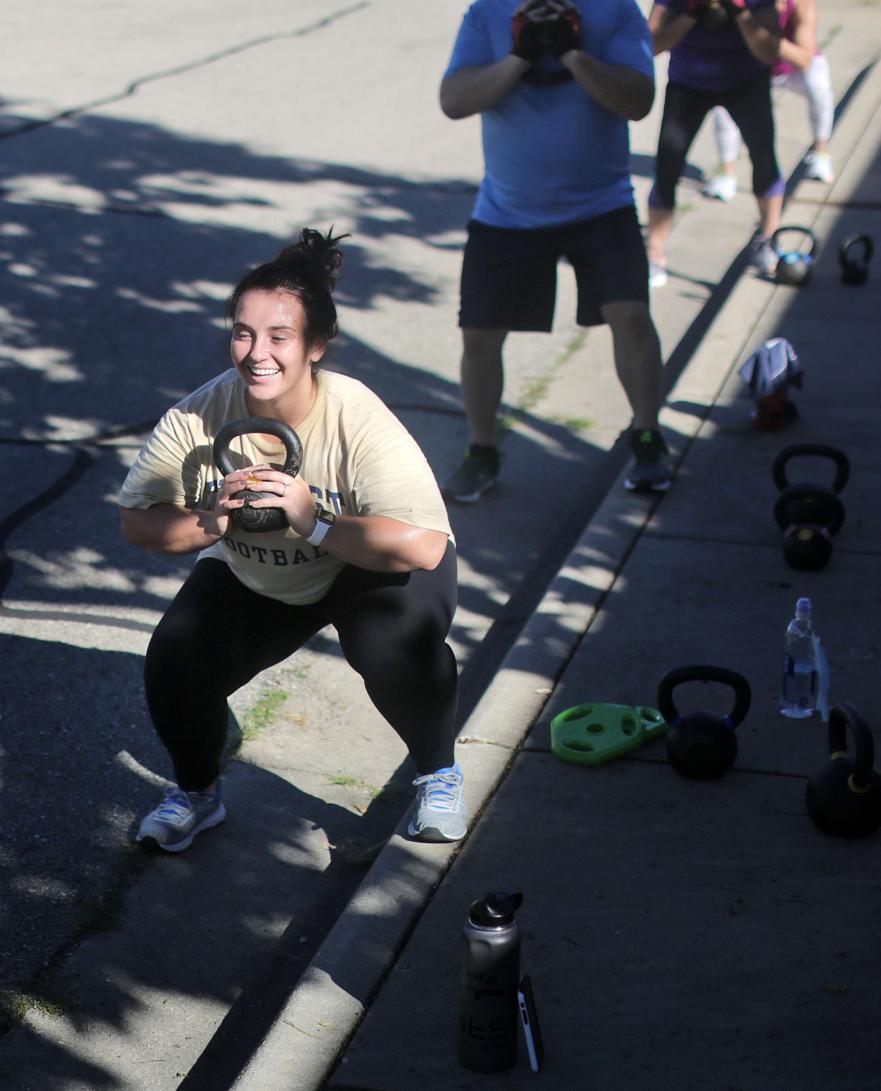 This spring and summer, precious few new businesses have launched locally, and existing businesses have taken a cautious or even defensive approach to operating in the pandemic.
The few businesses that have opened—or like SCC Fitness, undergone a dramatic relaunch—during the pandemic say they've faced a slew of unprecedented changes and hurdles that would render obsolete any DIY business startup manual written before February 2020.
SCC Fitness has been open for three years, but the gym hit the reset button in June by moving from West Milwaukee Street to a new space on West Court Street, just a few blocks away.
If not for the pandemic, SCC Fitness might not have turned to the curbside as a venue to burn quadriceps and socially distance members. The COVID necessity has led to one perk.
"We get a lot of attention out in the parking lot," co-owner Cody Helgeson said. "A lot of looks from people in traffic driving past. It's lot of people honking if they see somebody they know, or if they know us. So it's been kind of fun to be out there."
In late June, Dave and Sharla Walker opened Sharla's Coffee Stop, a new coffee shop in rehabbed space in the former Milton College's Whitford Memorial Hall in Milton.
Sharla Walker, who has a background in marketing, real estate and mortgage banking, said she initially intended to launch a mobile coffee truck. The couple pivoted when they saw the tall ceilings, wood paneling, arched windows and intimate nooks at the circa-1909 Whitford Hall.
To them, the space screamed "coffee shop."
In early February, when the Walkers committed to opening the shop, COVID-19 was still viewed by national public health officials as a problem affecting mostly China and parts of Europe.
By May, the U.S. was mired in the COVID-19 pandemic, and the Walkers were knee deep in launching a coffee shop they'd wanted to start for years.
They found themselves delaying the grand opening partly because the pandemic had upended the construction and manufacturing industries. Local contractors were tied up with home improvement projects, and manufacturing shutdowns bottle-necked the supply chain for the coffee-making appliances the Walkers needed.
The bigger hurdle might have been the uncertainty. How would they manage a new coffee shop—a natural human gathering place—in a pandemic that has kept people mostly home?
Sharla said she can tell some customers are tempered by a general fear of the unknown, which is driven by the pandemic.
"I'm Midwestern, and this is Wisconsin. You always shake hands. You hug," she said. "But you can't do that right now. That's one of the hardest, most awkward things on the human side of this pandemic."
Dave, a former nursing home employee, said he's following cleaning and sanitation standards similar to those used in the health care industry.
He believes the shop's layout—it's split into a few private rooms and nooks and an open loft—offers seating that's adaptable to whatever social distancing limits COVID-19 might require.
The couple plan soon to open a walk-up service window, which they hope pays dividends this fall when Milton School District staffers return to schools.
So far, the topic of mask-wearing—given the state's recent public masking mandate—has been the thorniest issue. The state mandate requires masks in public unless people are eating or drinking.
Inside a coffee shop, most people are drinking coffee—a difficult thing to do while wearing a mask.
Sharla said one customer was unhappy that some people, including Dave, at times were not wearing masks.
In a review last week on Google Maps, a Milton resident wrote that he and his apparently immuno-compromised fiancee "love the location and space" of Sharla's Coffee Stop but complained that "unfortunately, the owner's husband, Dave, doesn't seem to be enforcing the statewide mask mandate after it went into effect (or before)."
"We're disappointed and don't feel safe being there, which is a shame. If they followed the health practices set in place by the state, it would actually be a really nice coffee shop," the reviewer wrote.
The Walkers said they blanched at the Google review—one of few the new business has seen thus far, and it was far from positive. They said they took the review to heart and met it head-on.
Sharla said Dave, who serves customers java, smoothies and their signature nitrogen-infused cold brew, has a "medical condition" customers might not be aware of that she said exempts him from the mask mandate.
Dave now wears a plastic face shield at all times at the shop, the couple said.
"Under normal circumstances, you'd go into a new coffee shop business wanting to know, 'What do people think of the coffee? Is it good? Did we mess it up? Do you not like our scones?'" Sharla said. "But along with that now is the big, new question you maybe didn't have before this year. It's 'Do you feel safe?' Of course we want people to feel safe."
With a new, larger and more adaptable gym location, SCC Fitness had hoped to see an uptick in new members. That has not happened, co-owner Tracy Schuh said, although the gym has maintained stable membership through the pandemic.
Being in a new location is a bit like starting over, but SCC's parking lot workouts and a virtual workout option have helped retain members who are leery of being in public or are physically uncomfortable working out in masks.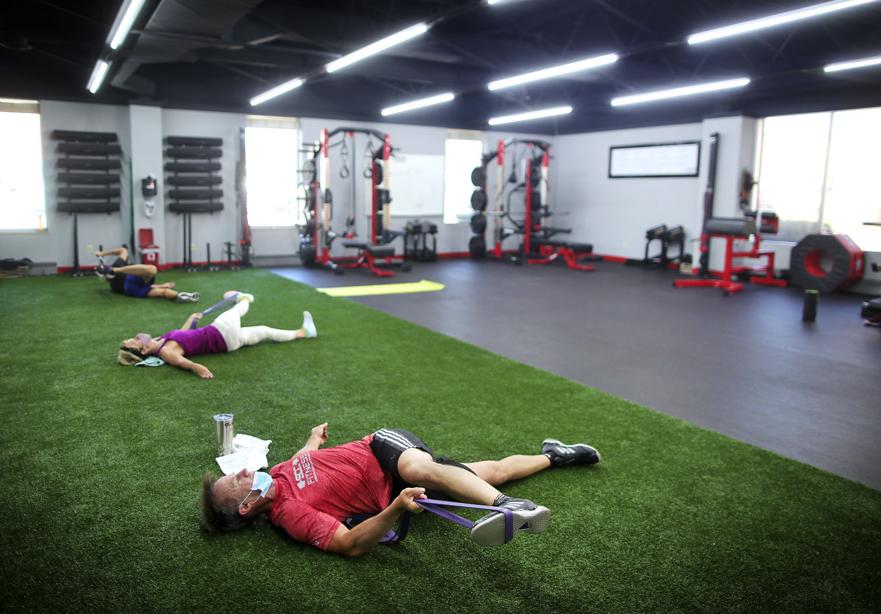 Schuh and Helgeson attribute the loyalty to a core group of members who consider the gym's operators as family. They said that has helped bridge political and philosophical divides among members over the paramount concern of all businesses: how customers respond to ongoing social distancing, including mask-wearing.
"They understand that we care about them, and they understand that if we'd have to close due to a COVID outbreak, that will affect our families at home and their fitness family, too."