JANESVILLE
It's unlikely Valentine's Day will pass without at least one neighbor to Centerway Floral stopping in to order a spouse or partner a bouquet of roses.
The mom-and-pop floral shop's co-owner, Tonya Williams, said the 50-year-old shop has been regarded as a neighborhood fixture in a residential stretch of Centerway and Milton Avenue, just uphill from downtown Janesville.
In the age of internet flower sales, Centerway Floral and the nearby Floral Expressions on East Milwaukee Street stand as the only two walk-in florists remaining in Janesville. In the 1990s, there were eight or nine such shops, Floral Expressions owner Brad Harnisch said.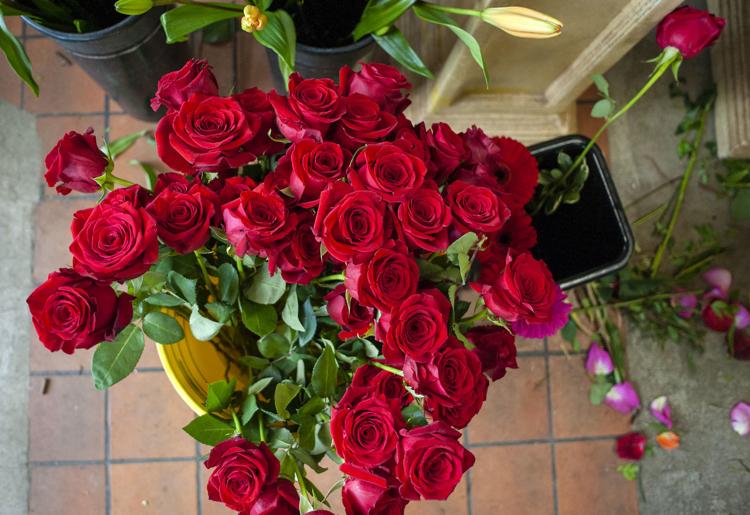 Harnisch and Williams said the contraction of the local flower shop industry has helped the two remaining shops stay afloat. That's in large part because the volume of local demand has grown in the wake of closures of other florists. Around Valentine's Day, that demand outpaces—or at least stays astride—the growth in online ordering of flowers.
In short, Harnisch said, Valentine's Day and other flower-centric holidays continue to be lively and busy for the two local shops.
"You can never have it down to a science. It's still always a gamble," Williams said. "We still tend to be a go-to for local customers. I mean, we have standing orders every year. Always. And orders come in all week, all the way up to Valentine's Day."
Harnisch said this year he made an initial order from his floral suppliers for 2,000 red roses. He took into account that Floral Expressions might see a 10% to 15% drop in sales this year. That would have nothing to do with the "Amazon effect" of online sales orders. Rather, he said, it's that Valentine's Day falls on a Friday—a late-week lover's holiday that might tempt couples to spend their Cupid dollars on dining out, dancing or even a trip out of town.
"In 32 years of doing this, I've come to learn that people tend to do other stuff on a weekend Valentine's Day than they do on a Valentine's Day that's in the middle of the week," Harnisch said.
Harnisch said he'd gotten plenty of orders early in the week. He'd slated Wednesday and Thursday this week as heavy-lifting days for his East Milwaukee Street shop's staff. All hands would be wrapping and readying mounds of red roses for delivery Friday.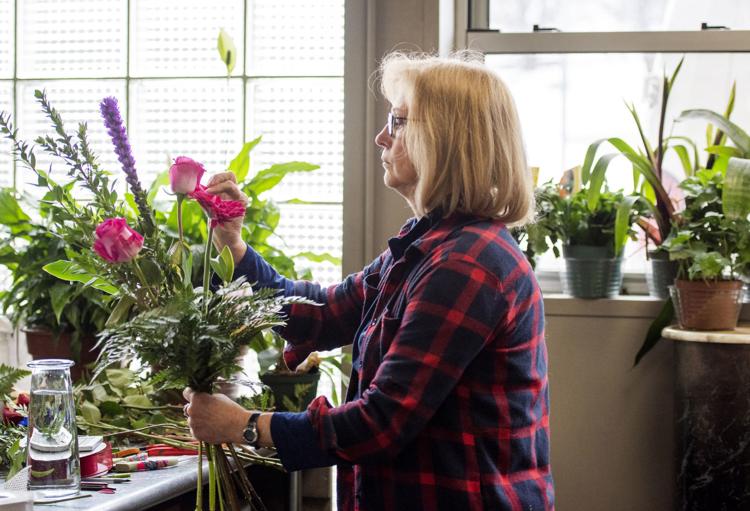 "That's the calm before the storm. On Friday, comparatively, the doors of the shop will blow off," he said.
This year, Williams said, Centerway Floral is scheduling its Valentine's Day delivery runs differently so fewer flowers have protracted rides in delivery vans.
That's because the weather on Friday is forecast to be subzero. It means delivery vans with heaters cranked to devil's-eye red rather than a sultry St. Valentine's pink.
"Flowers, especially roses, don't tend to like a lot of heat. You've got to protect your precious cargo," Williams said.
It'll mean a busier day with potentially more runs. But Harnisch claims the extra work and care proves mom-and-pop floral shops have a higher regard for the quality and condition of a $60 or $100 flower order than online sellers might.
There's a difference, he said, in clicking on a stock thumbnail image of roses on a website and a walk-in customer physically perusing the status of the roses he's about to buy. The difference is that the customer can see, smell, even feel the flowers.
Harnisch pointed out Floral Expressions runs online flower orders, but he said the shop's e-commerce doesn't seem to deter people from stopping in to order a few dozen of Casanova's finest petaled beauties.
"I think people kind of miss the opportunity a local florist can give them. We can give them a better product. We can give them more for their money, more quality than they do when they go online."
One walk-in customer—a man in his late 20s—walked into Floral Expressions earlier this week. He ordered a half-dozen coral-colored roses and a half-dozen red tulips. He peered at the roses to make sure he liked their Caribbean hue. He then walked back his choice and went with a half-dozen peach-colored roses instead.
And he tacked on a box of chocolates. And a teddy bear. Turned out Floral Expressions doesn't sell teddy bears. The shop's staff promised the man—a millennial in jeans, running shoes and a running jacket—that if he brought in a teddy bear, Floral Expressions would "incorporate" it into his flower and chocolate arrangement.
A) You can't do that online.
B) Isn't that sweet?