Janesville's east side is fast becoming Kwik Trip-dominant.
To be sure, the city's south, north and west sides are home to a half-dozen Kwik Trip-owned properties, too. But the east and northeast sides have emerged as the areas where the La Crosse-based convenience store chain is making its most aggressive bids for growth.
And there's more to come.
Kwik Trip has unveiled plans to build a 10,000-square-foot gas station and convenience store on a commercial lot at 1030 N. Wright Road, near the intersection with East Milwaukee Street.
That's just one mile east of the former Maurer's Market lot at 2822 E. Milwaukee St., where the company already is building a 10,000-square-foot Kwik Trip. The East Milwaukee Street Kwik Trip, which was announced last year, will open in August.
And as soon as this fall, Kwik Trip is slated to open another 10,000-square-foot store off Humes Road, just west of Target. That store also was announced last year.
That makes three new Kwik Trip stores on the east side. Plans filed with the city planning department indicate that all three locations will be larger-format stores with car washes, liquor sales and larger in-house kitchens.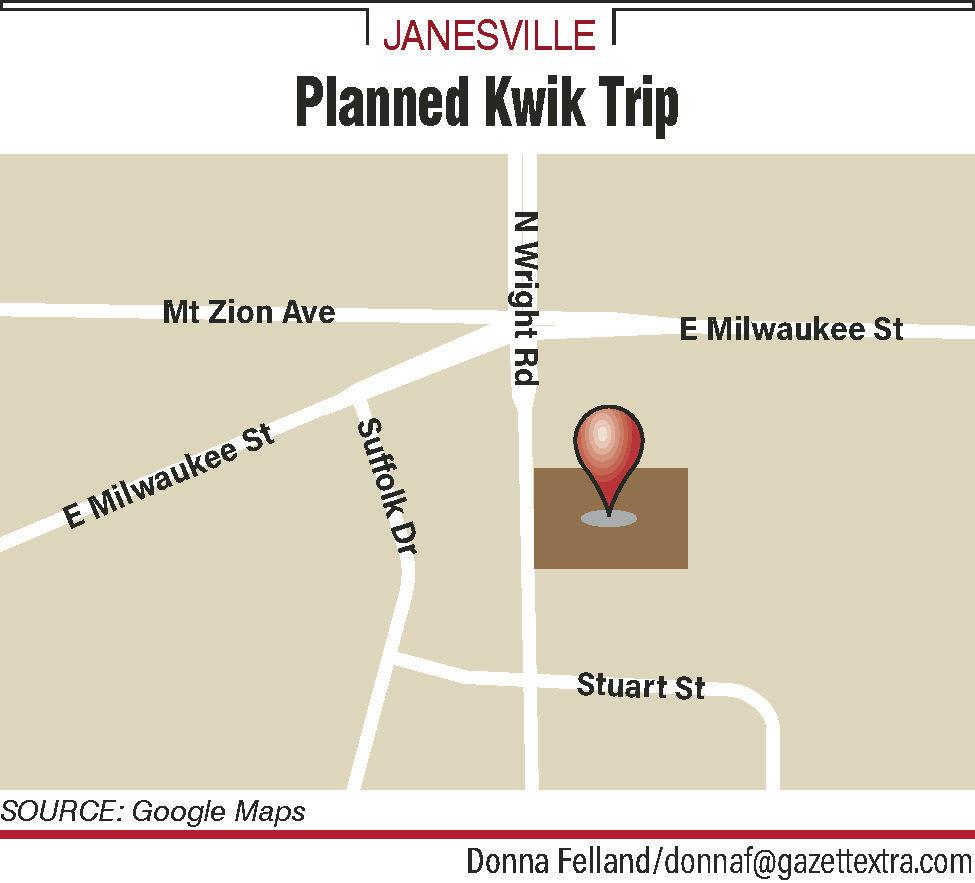 The larger format and in-store kitchens are part of an ongoing shift into sales of more fresh and prepared food, Kwik Trip spokesman John McHugh said.
While McHugh said he hasn't yet seen detailed plans or a description of the Kwik Trip proposed for Wright Road, he confirmed that it would be a larger-format store like the ones being built on East Milwaukee Street and Humes Road.
He said companywide, Kwik Trip plans 40 new locations in the next two years—all of which are larger-format stores the company calls its "generation three" stores. Alongside that are 20 store rebuilds over the next two years that transition stores to the larger format.
"Because of our increased food presence inside the store, it's really demanding that larger square footage," he said. "So I don't know of any of those (new stores) that's not going to be a gen-three store going forward."
City Planning Director Duane Cherek said Kwik Trip intended to submit preliminary plans to the city this week on the emerging Wright Road project.
Cherek said the Wright Road parcel has "underlying commercial zoning in place" for a convenience store. However, Kwik Trip would need a zoning ordinance change to add that stretch of Wright Road as a commercial corridor in Janesville where gas stations are allowed.
There's no estimated timeline yet for a groundbreaking on the Wright Road store. A public hearing on zoning tweaks to allow the store is slated for May 24, according to a city memo.
The two stores—Wright Road and East Milwaukee Street—are located in an East Milwaukee Street corridor that already is home to two Stop-N-Go gas stations now under Kwik Trip's ownership.
Those stores are still branded Stop-N-Go, but both stores—along with two others on East Racine Street and Center Avenue—carry some Kwik Trip food products.
In all, Kwik Trip's development schedule could bring Janesville's total number of stores to seven. If the company continues to operate all the Stop-N-Gos it bought in Janesville last year, it could be running 11 Janesville stores at some point in the next two years.
McHugh said it's likely the Stop-N-Go stations will continue to operate as Stop-N-Gos because they're not large enough to fit Kwik Trip's emerging concept for its stores.
Cherek said the proposed zoning change would remove a stretch of Franklin and Jackson streets downtown from the list of streets that allow gas stations. Cherek said that stretch hasn't seen a proposal for a new gas station in decades.
He said Franklin and Jackson streets were designated as gas station friendly largely because the two streets were once heavily used by commuters who worked at the former General Motors assembly plant on Janesville's south side.