Layers of frozen snow still cover the ground, but come the spring thaw, three developers could break ground on four new industrial facilities that collectively total 460,000 square feet.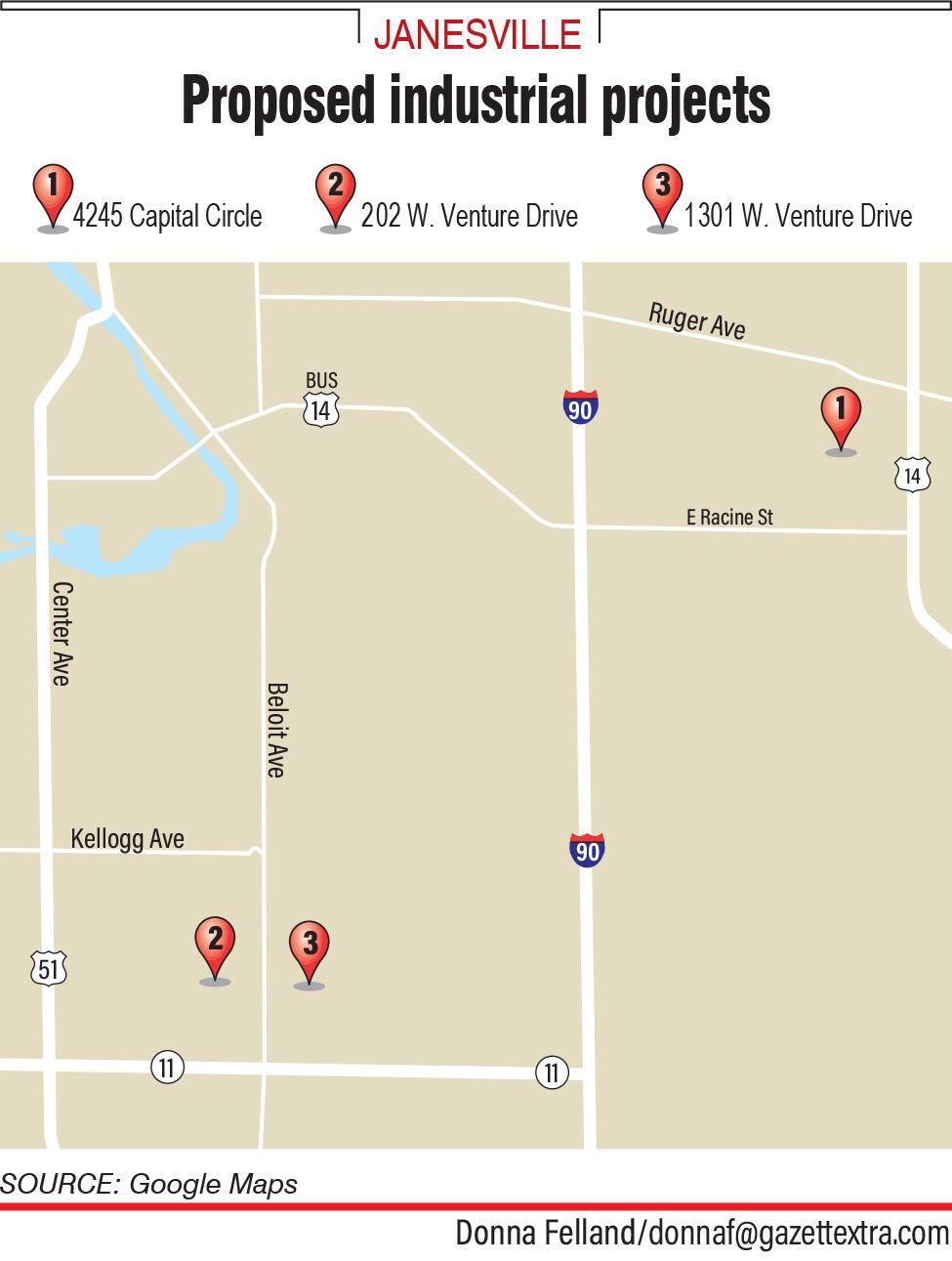 The city of Janesville's economic development office announced it plans to take three tax-incentive agreements to the city council Monday.
One of the deals would help Milwaukee developer Zilber Property Group build on speculation a pair of 178,000-square-foot industrial buildings on 24 acres of city land at Venture Drive and Beloit Avenue.
Just southeast of that project, Beloit paper tube manufacturer Western Container Corp. plans to build a 43,000-square-foot manufacturing facility at 1301 W. Venture Drive. The facility is part of a corporate expansion for Western Container, and the city hopes to offer tax incentives, Economic Development Director Gale Price said.
In a third deal, Badger Property Investments would develop a 60,000-square-foot industrial building at 4245 Capital Circle in the city's east-side industrial park. That development is planned as space that industrial or distribution tenants might lease, Price said.
Collectively, the three tax- incentive deals would be worth a total of $2.8 million in land and incentives.
The impetus for the city to get involved in two of the three projects, Price wrote in a memorandum, is that demand for new industrial space continues to be strong, and "almost all" existing industrial space is occupied.
Price said Monday will be the first time he has ever brought three tax-increment financing agreements to the city council at once. That is brisk activity coming out of the depths of a yearlong pandemic, but Price said the flurry of developer interest does not surprise him.
The three deals are among at least a half-dozen conversations the city has been having with developers this winter, and Price said more industrial projects could be on the way.
"You've got a number of factors," he said. "One is that we're continuing to see a flow of interest in manufacturing in Wisconsin. You've got some pent-up demand—people didn't move forward on projects last year. And interest rates, the cost of money to do development is low right now."
It's not the first time Zilber and Badger Properties have built large-scale industrial facilities in Janesville on spec.
Badger Property, which is underpinned by Janesville-based commercial real estate investors, has developed several properties in the east-side business park in the last five years. It has seen most of those spaces filled with tenants before the projects were completed.
Zilber in 2020 finished a 303,000-square-foot industrial and warehousing space at 3020 Beloit Ave. that is now mostly filled with tenants, city officials have said.
For that earlier project, the city awarded Zilber a tax-increment financing deal of $2.4 million over 10 years. The project was expected to create more than $12 million of added property value.
The new deal being proposed Monday for the pair of 178,000-square-foot buildings would be similar, totaling about $2.34 million. Under that agreement, the city would give Zilber the 24 acres of land at 202 W. Venture Drive, which are valued at $845,000. Plus, the city would offer a "pay-as-you-go" TIF incentive of $1.5 million for construction of the two buildings.
Repayment to the city would roll out over a 10-year period, and according to the memorandum, the deal would generate about $12.8 million in increased property value.
In the memorandum, Price wrote that both Zilber and the city believe that, "Similar to other recent speculative buildings, these structures could be leased before completion as demand for industrial space remains strong within Janesville and Rock County."
Here is a look at the details for the other two incentive agreements the council will consider:
The city would award Badger Property Investments an up-front, tax-increment financing incentive of $170,000 and would give Badger the 5.2-acre property at 4245 Capital Circle so it could build a 60,000-square-foot manufacturing/warehouse facility there. The deal would be paid back over six years, and the project would boost the property value by $2.4 million, according to the memorandum. Under the deal, the building would have to be completed as a "shell" by the end of this year.
The city would give Western Container a 4.8-acre parcel worth $164,654 under an industrial incentive package. That package would be repaid over five years through increased property value after Western Container built and began using a 43,000-square-foot paper tube manufacturing facility, according to the memorandum. Under the agreement, Western Container would be required to complete the facility by the end of this year.