SHINE Medical Technologies continues to make progress toward becoming a fully functioning manufacturer. Friday, it hosted Janesville leaders to a grand opening of its corporate headquarters on its campus on the city's south side.
SHINE plans to become one of the few producers of radioisotopes for use in medical treatments and diagnosis. About 200 employees—many of whom had never met face-to-face because pandemic constraints kept them working at home—moved into the new headquarters office building Aug. 2.
"When you're trying to do something this complicated and this hard, having people face-to-face again is tremendously helpful," SHINE founder and CEO Greg Piefer said.
Piefer later told reporters that SHINE's manufacturing process is uniquely complicated.
"No one's ever built anything like this before, and you try and put all the details into a real thing, you just miss stuff. You can draw it out on paper, you can even make CAD (computer-assisted design) models, and when you build it in the field, it doesn't quite look the way it's supposed to or doesn't quite perform the way it was supposed to, and so you have to adapt to that, real-time, and that takes a tremendous amount of effort," Piefer said.
The work also includes managing suppliers who are making first-of-its-kind equipment for the project, he said.
"It really just requires people to put in a lot of hours and a lot of high mental-capacity hours, which can be quite draining," Piefer said, adding that it's good to give workers a nice environment.
SHINE has been leasing office space in downtown Janesville buildings. Those offices have now been vacated, Piefer said.
No one was seen wearing a mask in the building during the grand opening. The county health department recommended July 30 that people return to wearing masks in indoor public spaces because of an uptick in COVID-19 infections.
"We support those who wish to wear a mask but don't require them," company spokesman Rod Hise said.
City government, law enforcement and officials of private groups attended the ceremony and toured the new facility, much of it a vast sea of low-walled cubicles with big windows on three sides of the single-story, 35,000-square-foot building.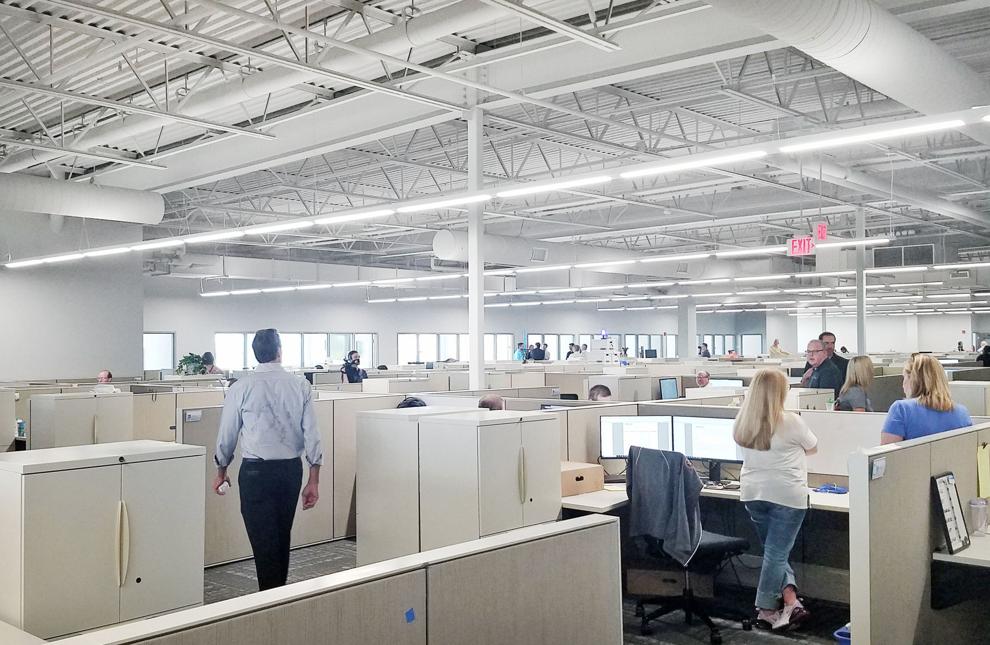 The cubicles, all in the same room, appear to be roughly the same size. The space is designed to encourage communication and creativity, Piefer said. Executive offices were behind walls with doors that opened onto the main floor.
Piefer said the open space "represents the transparent culture we like to have here."
That transparency includes SHINE's relations with city government and the community, Piefer said.
The building, built by J.H. Findorff & Son at a cost of about $10 million, boasts a small lunch room and a modest physical exercise room.
Piefer thanked Findorf and T5 Real Estate Solutions, which financed the construction.
The headquarters features large windows facing the still-being-built manufacturing facility, a massive, concrete structure that juts out of the prairie between Highway 51 South and the Dollar General warehousing operation.
The manufacturing building is where SHINE plans to make Molybdenum-99, an isotope used in medicine the world over. It is slated to begin making test batches in fall 2022.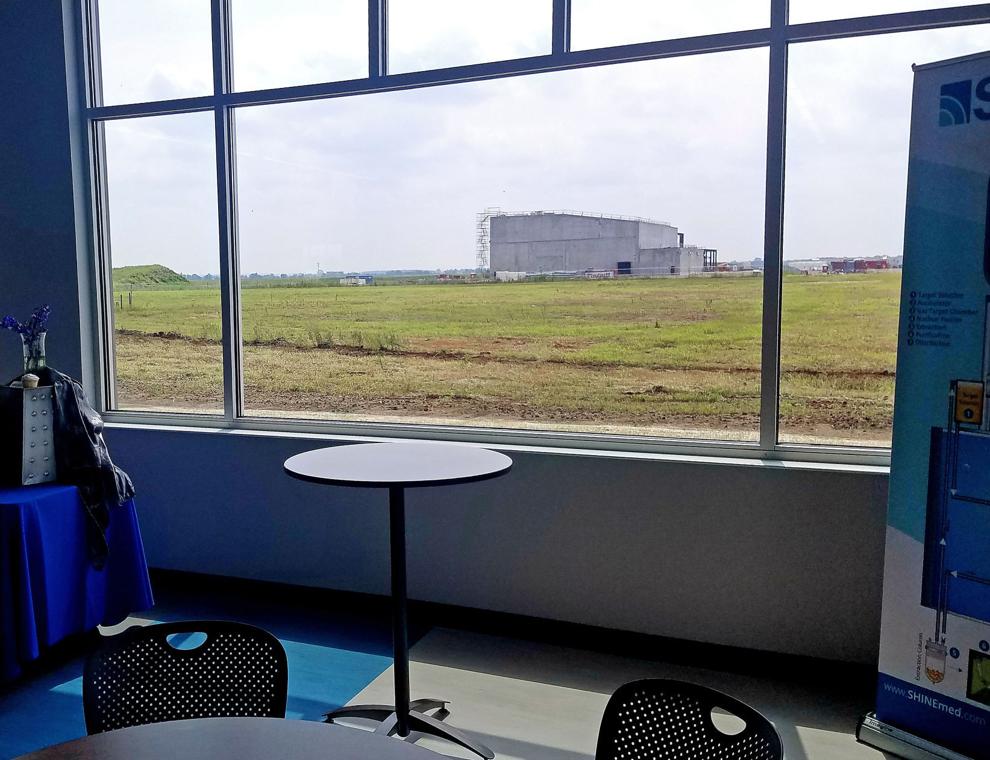 SHINE has been taking shape since before 2012, when the city council approved $5 million in incentives and agreed to guarantee private loans of $4 million. That year, officials hoped to start production by 2015.
The city has added incentives along the way, including tax incremental financing. Piefer praised the support from city taxpayers and the community.
"I know it's been a long road, and we still have a lot of work to do," Piefer told his guests Friday.
Gale Price, the city's economic development director, said the city council's decision in 2012 was about taking a risk on "the prospect of Janesville being the North American, if not world, hub of medical isotope production and research (that) could make all the difference in the world for the future of this community."
Dignitaries attending included local law enforcement, city officials and Paul Ryan, the former speaker of the House of Representatives, a member of the SHINE board of directors.
Piefer said the company's payroll is about 350, after a merger in April with Fitchburg-based Phoenix LLC.
About 80 more employees will be needed to run the Molly-99 production facility on a 24/7 basis, he said.