Inside Retro City Rockade, next to a window shaded from the glare of day with decorative corrugated steel, stands a true original.
It's a circa-1978 stand-up arcade video game console that's beyond classic, old enough that it uses a mirror to reflect the screen to a player's eye level.
Retro City Rockade co-owner Kevin Weeden said it's the only all-original, working model he's seen of "Space Invaders," a shoot-'em-up game set in outer space. It's of the earliest arcade video games ever produced—and one of the consoles that launched the golden era of video game arcades in the 1980s.
Weeden and co-owner Matt Martinson, both children of the 1980s who now are in their mid-40s, seek to bring back the excitement of classic arcade games at Retro City Rockade.
They hope the new arcade at 1944 Center Ave. will fuse blast-from-the-past video games with another local favorite: beer.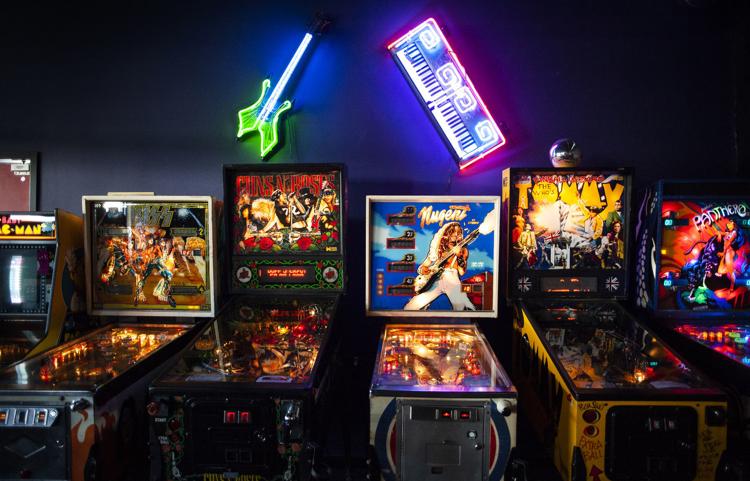 Retro City opened this week after a two-year-long overhaul to a vacant storefront between Bazinga Classic Pub & Grille and the El Ra Bowl bowling alley on the south side.
Martinson, an over-the-road truck driver from Evansville, and Weeden, a flooring contractor from Edgerton, say they aim to get a class B beer license to sell beer to patrons from a small bar built into Retro City's main arcade room.
That would make Retro City a so-called "barcade"—part video game arcade, part bar. For now, while the arcade awaits a liquor license review by the city of Janesville's Alcohol License Advisory Committee, the future beer bar runs as a snack canteen. The arcade is open afternoons and evenings to all ages.
A cover charge of $12 gets customers access to the arcade that lies through red doors beyond the arcade's storefront, where classic Atari, Nintendo and Sega games are sold.
The gate fee for the arcade is good for all day, and all the games are set to "free-play," which means players and the arcade staff don't have to deal with cash, change and quarters.
"Old arcade games that didn't work right sometimes had full change buckets inside, or quarters were jammed in them. Canadian quarters with dirt or something on them that didn't fit right and jammed. We don't have to worry about that problem," Martinson said.
Inside Retro City's urban/rock and roll-themed arcade room are more than 50 of the best-known and most beloved arcade video game consoles, games that in the 1980s shaped the cultural consciousness of millions of Generation-X teens. Games at Retro City range from "Pac-Man" to "Qbert" to "Donkey Kong" to "Galaxian."
The arcade even has an extreme rarity: a "Baby Pac-Man" console that allows players to toggle between playing a Pac-Man video game and an analog pinball version of the same game.
"Rare. It's just rare to see. You'll never see anything like it anymore, anywhere," Weeden said. "Play it here, because it's the only place you probably ever will. I can almost guarantee it."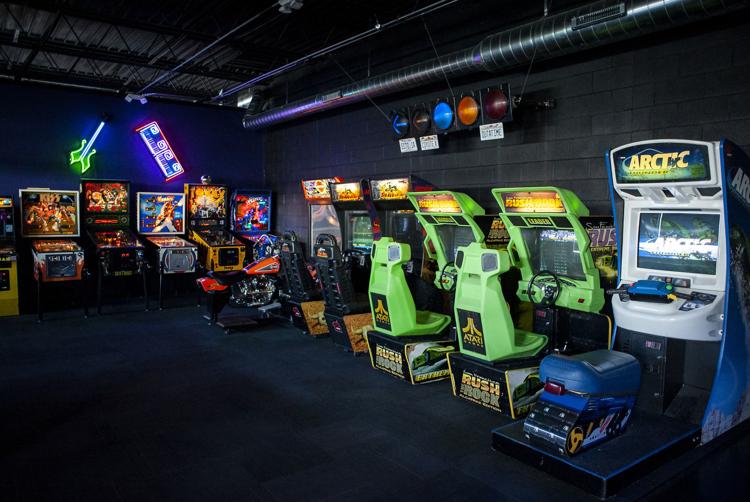 Sprinkled in, and going along with Retro City's rock and roll concept, are a handful of classic, music-themed pinball games including a Guns n' Roses game that plays the 1987 hit single "Welcome to the Jungle." One of the game's plungers that fires pinballs is shaped like a pistol handle. The other plunger has a molded fiberglass handle shaped like a red rose.
"There's been a lot of people coming in playing the Guns n' Roses game," Martinson said. "It pretty much lays out what we're all about here. Classic games. Rock and roll. I've got that Guns n' Roses song kind of stuck in my head now."
Martinson and Weeden, both arcade video game buffs, spent years buying refurbishing the games.
Video game arcades slowly waned in popularity starting in the late 1980s when home video game consoles such as the Nintendo Entertainment System became as ubiquitous as televisions. In the past eight or 10 years, video gaming has migrated heavily to personal devices such as smart phones.
Martinson said so-called "barcades" have breathed new life into the concept of playing a video game outside of the home. They've become popular over the last decade in larger cities, appealing to 40- or 50-something people who feel nostalgic about darkened video game arcades full of buzzing, beeping sound and mesmerizing light delivered in 8-bit color.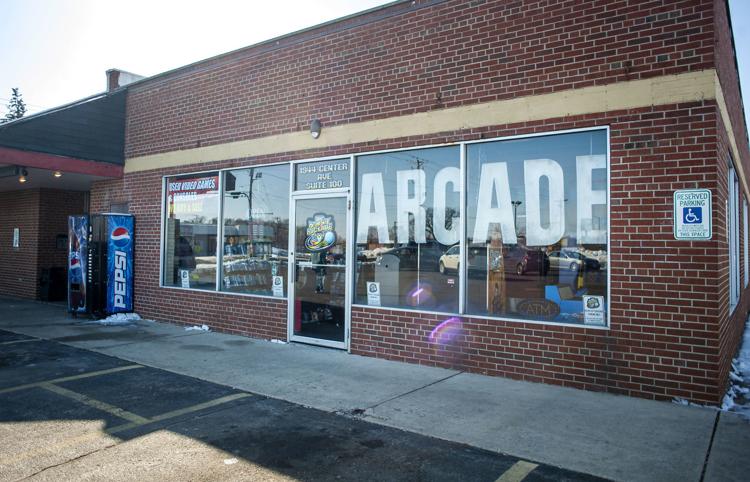 "At night, we've seen people peering in the windows at the arcade game lights," Martinson said.
Weeden said he's seen 40-something dads bring their children into the arcade. "The kids look at it like a hands-on museum full of stuff they never saw before. It's great, because we're keeping these old games from disappearing."
Weeden and Martinson said the Alcohol License Advisory Committee's members seemed unfamiliar with the of concept barcades. The liquor board late last year shelved a beer license request from Retro City.
Committee members said they'd review the request after Retro City provided a more detailed business plan that showed beer sales wouldn't be the top revenue source at the arcade.
In Janesville, class B beer licenses require their holders make less than 50 percent of their sales off beer.
Weeden said owners of Bazinga, the tavern next door to the arcade, are "supportive" of Retro City's bid to be a barcade in part because it could bring more foot traffic to the south side. He and Martinson believe Retro City's policies (the arcade is closed to minors after 9 p.m., and children must be supervised by an adult) are safeguards for an arcade that also sells beer.
The city's liquor board last year OK'd a liquor license request by Wildwood Movies 16 that allows the movie theater to sell alcohol to moviegoers. The theater is required to install an ID scanner to check ages of patrons who buy alcohol.
Martinson said he hopes the city will embrace a new type of arcade business that's taken root in other parts of the country.
He said he and Weeden looked at other parts of the city but decided the city's south side was underserved for entertainment compared to downtown and the north side's Milton Avenue and Highway 14 strips.
"There's less to do on the south side. This is something to do," Martinson said. "It works in everybody's favor."