Local car dealerships are showing signs of revival after months of being knocked around by the chaos COVID-19 has unleashed on the auto industry.
But amid the recovery, some dealers say the inventory of new cars is slim, and monthslong auto plant shutdowns earlier this year have continued to create a bottleneck in the influx of new vehicles.
That has caused ripple effects that at least one dealer thinks might last through the end of this year.
State data for new car registrations shows that in Rock County, the COVID-19 shutdown flattened auto sales to their lowest ebb since the Great Recession. A Gazette Economic Dashboard analysis shows dealers here registered 1,504 new vehicles sold during the second quarter.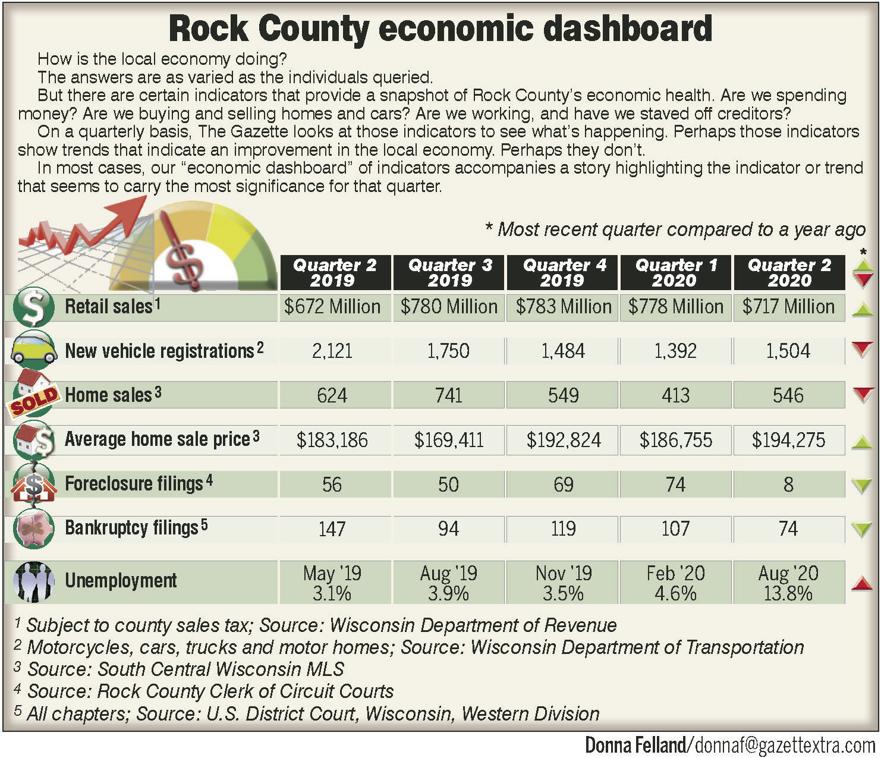 The last time Rock County recorded so few new vehicle registrations was in 2010, when the local economy was reeling from the Great Recession and the closure of the General Motors assembly plant.
Bob Clapper, who operates GM dealership Bob Clapper Automotive, said his sales numbers show car-buying has picked up over the last month. In March and April, during the statewide safer-at-home shutdown, Clapper's dealership experienced a major slowdown, but as the state reopened this summer, he began to see a rebound.
He estimated sales through July were up about 2% over last year.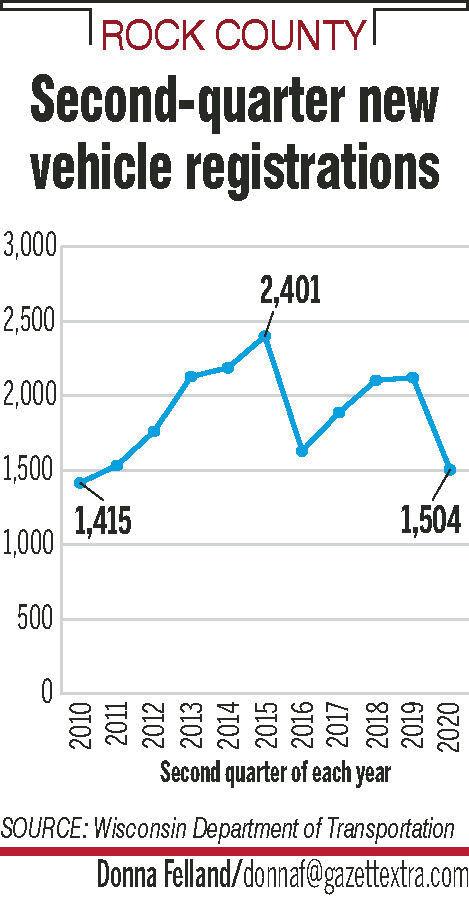 That kind of uptick comes as automakers and dealers continue offering enticing prices and financing deals to try to goose new car sales through the pandemic. Still, the uptick is somewhat surprising, Clapper said, given the dearth of spring sales and the overall shock of COVID-19 on the retail market.
In what another local auto seller, Rock County Honda sales manager Tim Thompson, attributes to pent-up demand during the shutdown, a flurry of sales some dealers have seen is putting the local auto market back on an even keel—at least in terms of sales volume.
Thompson said traffic picked up after the safer-at-home mandate was lifted in late May.
"Around Memorial Day, it was like turning on a faucet, and it's been that way since," he said.
Inventory is another story. At least for now, a resurgence in car buying has created a shortage of new vehicles at some dealerships in Janesville and nationwide.
For instance, Clapper said it has become something of a treasure hunt to find even one of his dealership's most popular small SUVs, the ubiquitous Chevrolet Equinox.
As of last week, there was exactly one new Equinox at the dealership.
"We usually have about 40 Equinoxes," Clapper said. "It's things like that that make it hard for us to figure out how it is we're selling the same number of cars as last year."
Clapper, who has sold sedans and pickup trucks since the days of vinyl car seats, said it usually takes automakers at least a month to get auto plants back up to full bore after a shutdown of any length.
Some national analysts estimate it could take American automakers eight weeks or more to begin to catch up on shipments of new cars.
That could be an unwieldy period for auto selling until late this year.
"Our new car inventory won't fully recover probably until the end of the year," Clapper said. "It's getting better, but the manufacturers still have to refill the entire country."
Several auto dealerships did not respond to Gazette inquiries about sales, inventory and the blend of new and used sales.
Clapper called the breakdown of new versus used vehicle sales a "mix." Amid the pandemic, he said his dealership is embracing online sales and so-called "contactless" delivery of vehicles to buyers' homes.
He has started to see more trade-ins of newer vehicles plus other anomalies the dealership doesn't normally encounter.
Last month, Clapper said staff worked on two car deals that involved customer trade-ins of Honda motorcycles.
"Seeing two of those in one month, that's unusual for us," he said.