When the curtain of the COVID-19 business shutdowns first fell, Virks Liquor owner Aman Kaur witnessed something she has seldom seen at her Janesville store's drive-up window.
A man nearly filled his pickup truck bed with 30-packs of beer. Seventeen 30-packs (that's 510 cans of beer), to be exact.
That happened during a frenzy of panic buying that hit in mid-March as word came down the state would force many businesses to shut down amid a response to the novel coronavirus pandemic.
Since then, Kaur said, the frenzy has eased as customers began to realize there is enough beer and liquor to go around.
Liquor stores have continued to remain open and are considered "essential" businesses under Gov. Tony Evers's COVID-19 orders. They're among businesses and retailers allowed to operate under guidelines the state said are intended to maintain public health and well-being and to preserve core functions of statewide and local economies.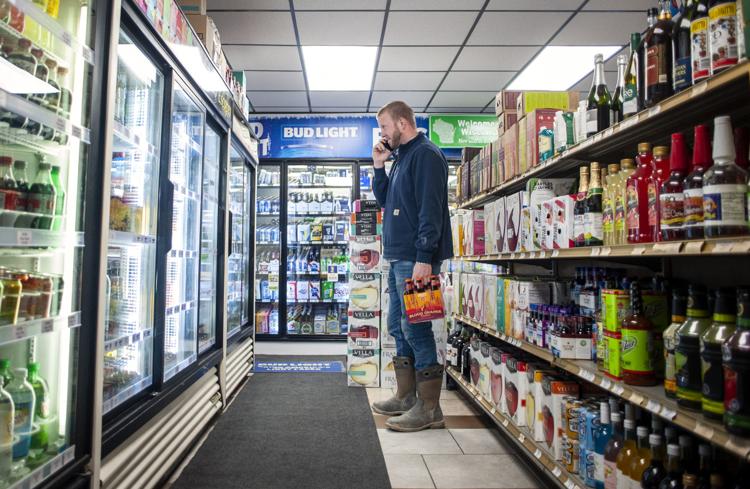 In Janesville, liquor store owners such as Kaur said they're catering to a clientele in the midst of a public health emergency and an economic storm that has shaken up every facet of their lives—including such normally simple decisions as picking up a six-pack of beer at the store.
Some are people looking to break up the doldrums after weeks of exile inside their homes during a safer-at-home order the state says could remain in place at least through the end of May.
As some customers grabbed bottles of Tito's vodka and sixers of New Glarus beer, Grain N Grape owner Balwant Singh stood next to a stock of Franzia wine-in-a-box stacked as tall as a man at the end of an aisle.
Singh said the box wine is selling at a much brisker pace than normal at his liquor store on the city's east side. Bulk buying is one strategy people are using to limit their liquor shopping trips to avoid possible exposure to COVID-19, he said.
"They get the large box of wine, a couple boxes, and they don't have to come back to get more of that as soon," Singh said.
Kaur's Virks Liquor is one of the few stores inside the city that operates a drive-up window for alcohol sales. She said there's an uptick in customers using the drive-up so they don't have enter the store.
"They say what they want—a 30 pack of beer or a bottle of wine—and it comes through the window like a food drive-up order. The window's very popular right now," she said.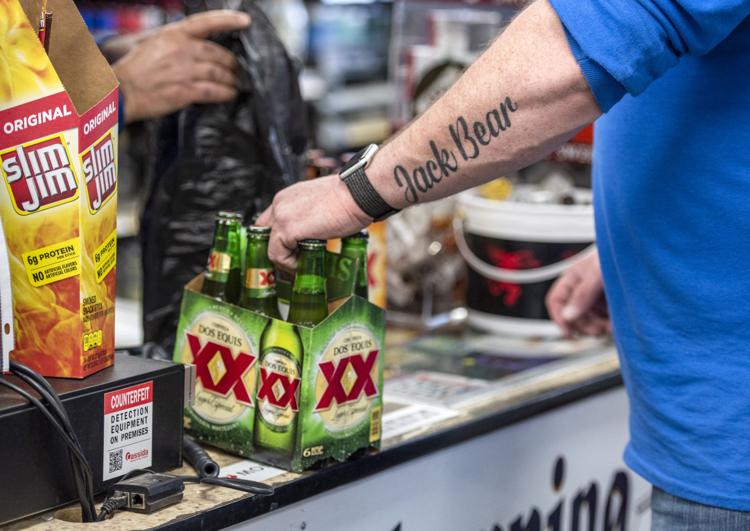 As the pandemic rolls on, Badger Spirits owner Alice Blue said her south side liquor store has seen a trend of bulk buying recently replaced by customers branching out with single bottles of higher-end or specialty liquors to make special mixed drinks at home.
She said people are looking for a slice of comfort and familiarity in their lives during an unstable time.
"We've been selling a lot of chocolate martini stuff lately. Some of your high end things are going a little faster, a lot of tequila goes out, I think that might have been because we'd had a little bit of warmer spring weather and people started thinking about margaritas."
Some new clients, liquor store owners said, are displaced regulars of local taverns ordered shuttered under the state's temporary public shutdown. That's brought anomalies in customer behavior that don't jibe with the state's temporary ban on public gatherings.
Over the last week, Janesville police records show, three liquor sellers were cited for failing to adhere to state social distancing requirements. The problem, according to reports, is rooted in customers congregating in close quarters at liquor store and gas station electronic gambling machines.
Kaur, whose store doesn't appear to have electronic gambling, said "it makes sense" that during the pandemic local authorities would dissuade people from playing store gambling machines because the games "are really not essential."
"I think those customers might be people who would normally be bar customers who are used to sitting there in the bar drinking for hours and playing the gambling games. You're limiting a store to 10 people in a small area ... but those gambling machines can be set up pretty close together with people playing a game very close to one another," Kaur said.
Singh said he tries to limit his store's customer flow to no more than seven people at a time at Grain N Grape. The clerk at the sales counter now is working in a plastic-shielded terrarium similar to checkout lines at supermarkets.
All the liquor store operators interviewed said the biggest challenge is constantly disinfecting the stores' beer cooler handles, which are touched by dozens of customers an hour.
Blue's crimped her regular hours some. She said she's trying to operate under a single shift because a few of her employees are staying home. She said they're uncomfortable working a checkout counter during a pandemic.
Singh said he's had a few recent break-ins at his store, the most recent one this week. According to Janesville police reports, officers investigating a break-in alarm at the store found a set of boots and a ball cap at the scene but no culprit.
Singh believes the state's decision to deem liquor stores as essential serves to stanch possible public disorder by people who might become frustrated they can't buy liquor.
Singh also believes that if the state had abruptly shut down liquor stores during the pandemic, it might have created an unintended burden on health care systems if people with alcohol addiction became ill from physical withdrawal.
A Rock County Health Department spokeswoman did not immediately respond to questions from The Gazette about alcohol addiction and potential short-term health consequences of withdrawal.
The spokeswoman wrote in an email that the health department has received no rationale from the state about the decision to deem liquor stores as essential businesses.
Blue said she wasn't tuned into whether there were lobbying efforts by the beer and liquor industry to keep liquor stores open during the pandemic. She said her objective, like all businesses operating during the pandemic, is to try to stay open and pay the bills.
"Why are fast foods essential? Why are car dealers essential? Why are gun shops essential? I question the 'essential' decision on liquor stores and other things myself. I do," Blue said. "But the state says we can be open, and so we're open. You can look at all of this as a hard lockdown, but it's really not. This really is not a hard lockdown in this state."