About one-third of Janesville—the entire industrial belt on the city's south side and the entire downtown—is blanketed by a little-talked-about federal designation.
The land is "in the zone."
Janesville has more acreage than any other southern Wisconsin community designated as federal opportunity zones, but only recently has investment started to trickle in.
Tax consulting firm Baker Tilly has helped steer more than a dozen investors to reinvest capital gains in Wisconsin opportunity zones. One of the investors has put money in an opportunity zone in Janesville, but Chase Inda, an opportunity zone expert and tax partner with Baker Tilly, declined to discuss the specifics of the investment.
He described opportunity zones as a program "local governments should trumpet."
In Janesville, three census tracts have the designation intended to spur economic growth by allowing private investors and developers special tax breaks to invest, develop or build in the zones.
With as much land as Janesville has in opportunity zones, it might be good news the federal government after two years finally has forged a full framework of rules governing how the zones lessen or eliminate capital gains taxes for investors.
Officials said opportunity zones haven't spurred much private investment, in part because it has taken years for the IRS to write rules for the program. Yet, some local economic development experts and accountants think opportunity zones could be poised to make a difference locally.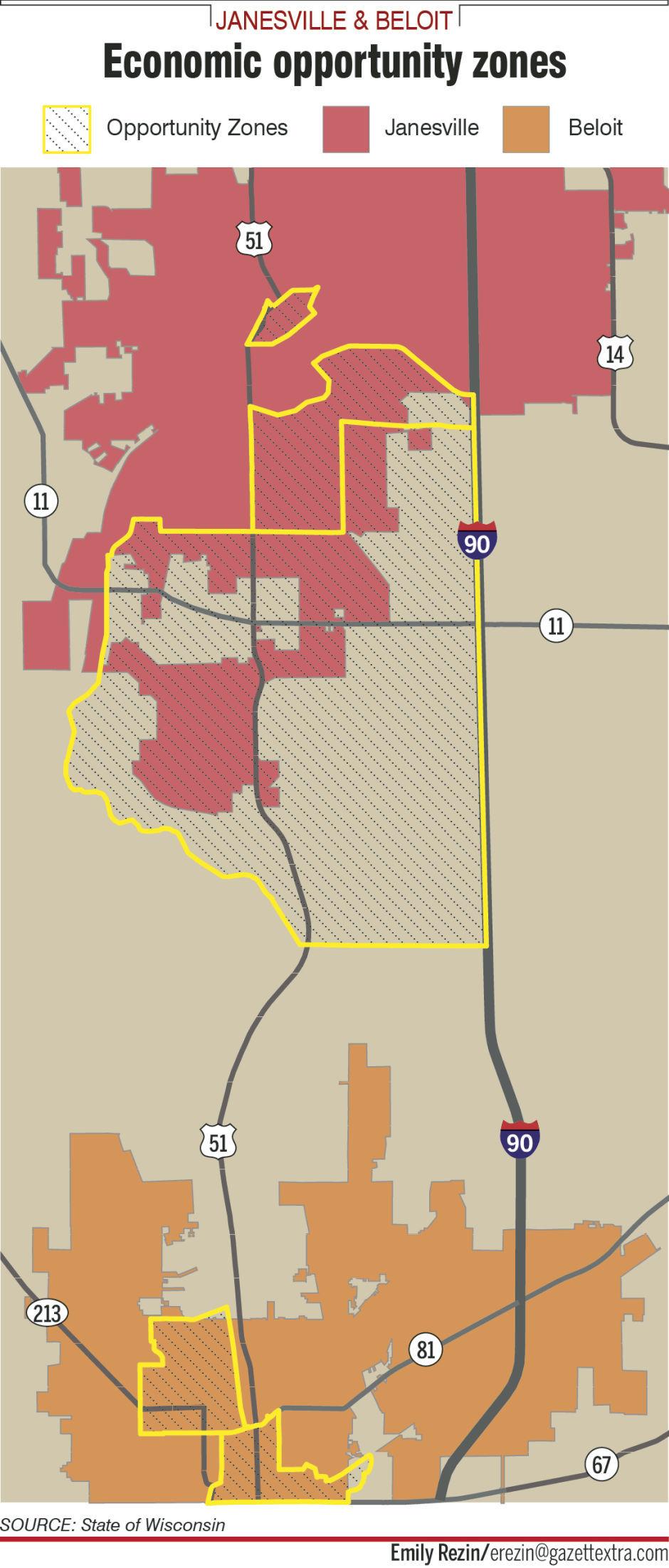 Brought into existence out of a federal tax relief law passed in late 2017, opportunity zones are the newest federal tax incentive tool, joining municipal tax incentive programs such as enterprise zones and tax-increment financing.
In Janesville, opportunity zones encompass the entire, 250-acre former General Motors plant site. The city's entire south-side industrial and commercial park is also in an opportunity zone, as is the city's central downtown.
All three zones have had some degree of economic distress in the years coming out of the Great Recession, but all three areas are now seeing tens of millions of dollars of private and public investment for redevelopment, including emerging plans for large-scale apartment developments.
City Economic Development Director Gale Price said lack of final federal rules cast uncertainty over opportunity zones, but the city has seen interest from business people considering putting money into an opportunity fund.
The city hasn't had any opportunity zone deals signed since federal rules were released in December, but some investors or developers who've inquired were planning big-ticket projects—perhaps $20 million to $60 million, Price said.
In the past, investors who sold real estate and looked to shelter their profits from capital gains taxes rolled their profits into other real estate, a so-called "tax trade" that investors have used for years.
Inda said the opportunity zone program is the first federal program that allows investors to plow profits from the sale of stocks into a new investment while sheltering the profits—and any future gain from the new investment—from capital gains taxes.
Wisconsin capital gains taxes—taxes on profits from the sale of stocks or real estate—cost investors about 5.5 cents for every dollar. Federal taxes on capital gains siphon an additional amount.
The opportunity zone program requires investors to use capital gains to set up an opportunity fund.
Money from the opportunity fund then would be used for projects within the opportunity zone.
Opportunity zones eliminate 20 percent of state and 10 percent of federal capital gains taxes on money investors place in the zones. After 10 years, those investors would pay no capital gains tax on money cashed out of an opportunity zone.
"That's the real needle mover. It's that 10 years from now you can sell that asset and not pay taxes on it," Inda said.
Price said investors who might be interested in an opportune zone must have capital gains to invest.
"You actually have to create a capital gain to take that money and reinvest it," Price said. "If you're not ready to cash out some stocks or a real estate property, then you're not going to get in on an opportunity zone."
Price and Inda said the most common projects seeing investment in opportunity zones include multifamily housing and apartments and industrial and commercial real estate development or expansions.
Price said some opportunity funds he's heard discussed are real estate development plans he called "very big-ticket projects."
Jennifer Sereno is chief of public affairs for the Wisconsin Housing and Economic Development Authority, the agency that administrates opportunity zones at the state level. She said 68% of opportunity zone investment nationally has been rooted in new housing development.
Lower taxpayer risk
Unlike many tax incentive programs, taxpayers wouldn't incur financial risk in opportunity zones. That's because the capital put into those zones would be almost all private funds.
Governments would have to spend only on marketing local opportunity zones and working with investors interested in the programs.
Price, Inda and Rock County Economic Development Manager James Otterstein said opportunity zones can be used in combination with any number of state or local tax incentives as part of a larger financing package that investors call a "braid" or "capital stack."
Inda said it's another tax incentive tool that can be used to bridge funding gaps in projects that are caused by rising costs of construction and land acquisition.
Bill Mears, a Janesville real estate broker and economic development expert, said he's not heard much recent talk about investing in local opportunity zones.
"That program was much-touted a few years back when it was created by law. You had plenty of politicians talking a lot about it, but it hasn't really resonated with the investment community on a large scale. It's just too bad it took the federal government forever to get the regulations and rules to a point where it could really begin to generate some economic activity," Mears said.
"Meanwhile, as people sat around and waited, life kind of went on."
Inda said some local investors aren't used to tax programs that could tap out-of-state investors for local projects.
"Some local investors might have a Rolodex of 50 other local investors they've partnered with on other projects in the past. With opportunity zones, they'd have to get used to the idea they might find investment partners from out of state. It's a national program."
Inda gave a hypothetical example: A Hawaiian investor could be eyeing Janesville.
"Imagine Janesville getting a $10 million investment in a housing project from some investor who lives in Hawaii. That would be unique and new and exactly what the program was designed to achieve," Inda said.
"It's why I think local governments should trumpet this program from the mountaintops."