When a few developers planned to build a set of new homes on speculation this summer—spacious custom homes with 3,000-square-foot floor plans and $400,000-plus price tags—some local builders might have had questions.
Would buyers come in the midst of a pandemic that had shut down big swaths of commerce and frozen segments of the local and national economy for weeks?
That question was answered quickly.
State data shows that the number of permits for new single-family housing starts jumped by more than 50% this year in Rock County. In some spots—including Janesville and the Lake Koshkonong area—homebuilding activity more than doubled compared to the last few years.

4BZ Carpenters owner Kevin Blaser was working this week to finish siding a 2,700-square-foot custom house on Castlemoor Drive on the city's northeast side. He said the new home—initially planned as a speculation house—sold in October within a week of being listed. Its foundation hadn't even been poured yet.
"Three people had a bidding war over this house. It sold and sold in a week," Blaser said. "Actually, I think it was less than that. It took maybe five or six days."
The Seattle-based buyers were looking to move closer to family and live in a more affordable area of the country. For the price they paid, they got walk-in closets, custom granite countertops and hardwood floors, and a spacious, fully built-out basement.
Continued demand for new housing in Rock County has fueled a construction boom. Hundreds of new apartment units have been built in Janesville this year, and single-family housing starts haven't exactly taken a back seat, data shows.
The state Department of Safety and Professional Services, which tracks local and countywide permits for new housing starts, says builders have pulled 350 permits to build new single-family homes in Rock County in 2020.
The data shows that 160 of those permits were for homes in Janesville—a whopping 227% jump over housing starts last year.
About 75 more permits were issued this year for homes in the town of Fulton. Building houses in the rolling hills west of Lake Koshkonong has continued to be popular with Madison-area residents who want upsized new digs for a lower price than they might pay in Dane County, local analysts say.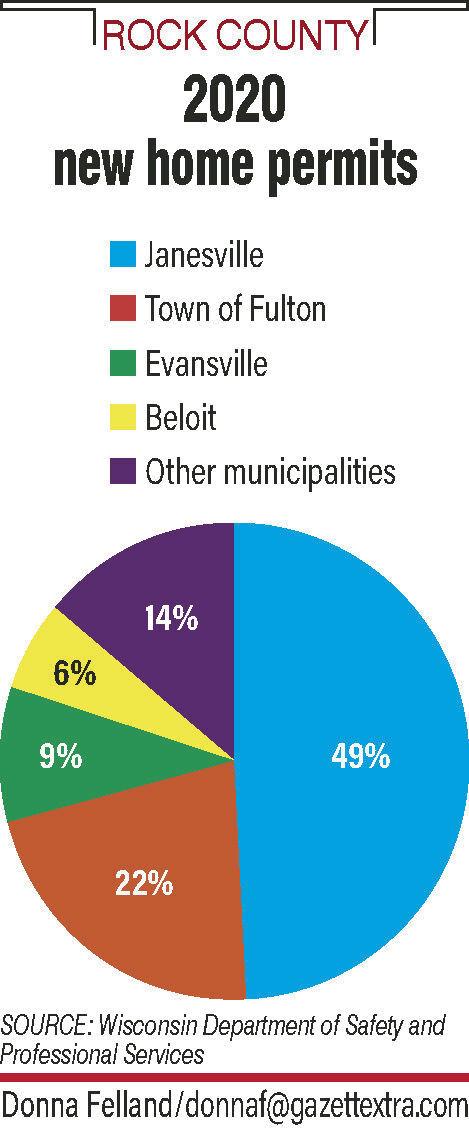 Janesville Economic Development Director Gale Price said the city's permit office counts 103 permits for single-family and duplex housing starts on file through December. That's a lower number than the state recorded but still a double-down on building compared to the last few years.
Price said local economic development officials believe that buyers' hunger for new homes and "ridiculously low" mortgage interest rates have created a wave of renewed interest in homebuilding.
Construction of new homes—and the forces behind it—seem to have overridden the dampening effect that COVID-19 has had on other parts of the economy.
Price said planning department officials tell him the number of development plat plans filed with the city hasn't been this big since before the Great Recession and housing crash in 2008.
Many of those new developments are going on northeast-side property earmarked for housing for more than a decade—including some swaths of land where earlier developments stagnated during the Great Recession.
Meanwhile, average lot costs have begun tipping upward, with average prices near $50,000 per lot in some areas of the city.
"I can tell you it's the hottest market we've seen since before the GM assembly plant closed," Price said.
"It's representative of the greater economy here in Rock County. There's jobs to be had here. Look at how quickly we found lower unemployment after safer-at-home was lifted. That's a nice inclination to have at the end of a rough year laden with a wildfire pandemic, political uncertainty, and shutdowns of businesses and public school buildings."
Local builders say they're feeling the same confidence, although Price and builders both say that prices for materials—a major factor in the cost of a new home—are a wild card.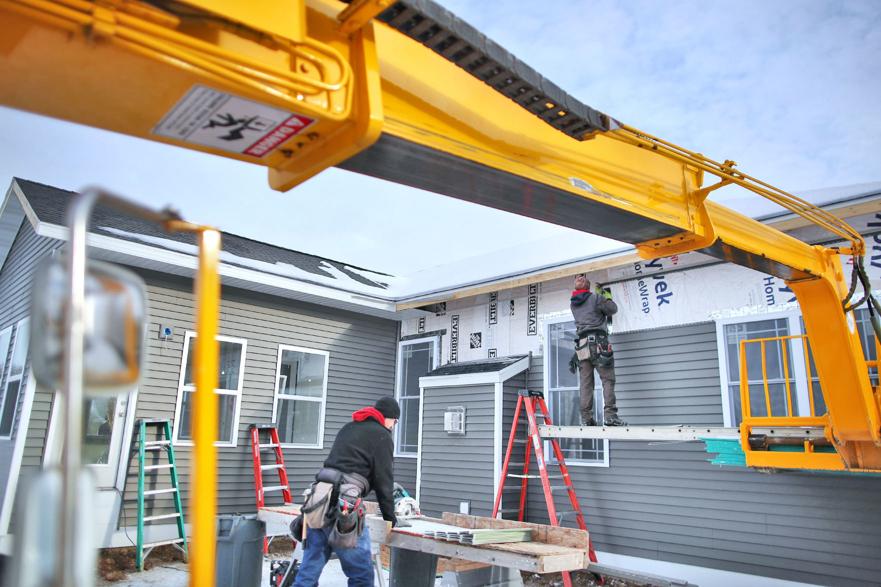 Blaser said he has seen wild swings in the cost of lumber, with prices for wood sheeting and framing materials sometimes almost double. That's in part because lumber mills nationwide endured shutdowns earlier this year, and they've been slow to ramp back up to meet the emerging demand for new homes and home improvement projects.
Price said that is the one factor that could dampen housing starts in upcoming months—particularly if developers can't do projects at a price that fits the market demand or allows them to make a profit.
"We know lumber has gone up 20% since September. In the past, that's the kind of stuff that throws people off. If it wasn't for the low interest rates, that (material costs) would be problematic," Price said.
Meanwhile, Blaser said some builders are making do in a long, busy season with a labor shortfall that has been a challenge the past few years and hasn't eased during the pandemic.
Price said it is hard to predict whether the current building wave has crested. But based on a bunch of new permits that filtered in late this year, plus potential local industrial developments on the horizon, it's unlikely the current trend will slow right away.
"I have no reason not to believe it's going to continue forward," he said, "because the demand and the activity has just continued to march forward in the face of this pandemic."