Tuesday night shortly before closing, word arrived at Southern Wisconsin Interpreting & Translation Services of an emergency need for interpreters.
A facility elsewhere had a COVID-19 outbreak.
The company's Delavan office has someone available 24/7 for such emergencies. The facility with the outbreak needed interpreters on site to cover four languages for its employees, said Sarah St. John, a manager with the Delavan company.
Given the health implications, she said interpreters had to drive from as far away as two hours to get to the facility at night because clear and accurate communication is vital during a pandemic.
Interpreters and translators probably are not among the first professionals who come to mind when thinking of first responders or "essential services" during these times. But Saul Arteaga, director and founder of Southern Wisconsin Interpreting & Translation Services, said their work benefits the whole community.
"The public needs to understand interpreters are a necessity," he said.
Poorly handled interpreting of spoken words or translating of written materials can lead to misunderstanding. And that can have dramatic effects during a health crisis.
For example, if someone at the facility with an outbreak didn't understand English and didn't have the help of a trained interpreter, could there have been a misunderstanding? What if that employee stopped at the store on his or her way home instead of immediately quarantining?
But Arteaga cautioned against using a family member or another untrained interpreter to convey messages. He said that can bring subjectivity into the equation, such as wanting to filter out messages that might cause pain or fear.
"We know that this (COVID-19) information needs to get out quickly and that the information needs to be accurate," St. John said. "So using qualified, trained professionals to perform these translations is very important."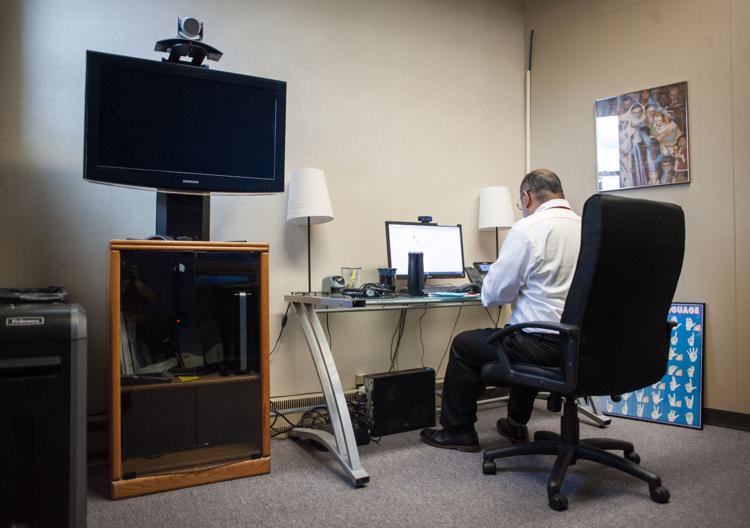 Like other businesses, this local company founded in 2002 is struggling.
Before the pandemic, about 90% of the company's services were in person, Arteaga said. So pretty much that amount of business disappeared.
"We saw the phone ring every hour with cancellations," he said. "There was no work."
While there were fluctuations day-to-day, Arteaga said, they used to have about 20 interpreters working appointments in a given day. Now, he said, they are using three.
But even if their staff is smaller, emergencies still happen. There are still outbreaks or urgent requests from Child Protective Services.
St. John said they are reaching out to public and private health officials to express how trained professionals in this field are necessary.
Although in-person services were the preference, the company has shifted more to operating over the phone or through video. The company also has a discount for translating COVID-19 materials.
When the company does need someone to go on site, St. John said, their employees are to follow that location's rules and regulations. The company tries to learn in advance if there will be personal protective equipment, for example.
And Arteaga stressed that if an employee doesn't feel comfortable going to a site, perhaps because they live with their elderly parents or are personally at-risk, they don't have to.
"We understand," he said.
The work continues, though. St. John said interpreters provide essential support to government, health care and law enforcement.
Interpreters for decades have worked to be taken seriously and appreciated, Arteaga said. He is worried the pandemic will force others to use less reliable avenues now and keep it that way the future.
"We are afraid that this might set us back," he said.