Could it be something sweet, like the wares of a professional baker or sodas crafted by one of the oldest businesses in town?
Or will it be something more practical, like sanitizing wipes or accessories for helping people take the trash out?
Or will it be the art of a longtime local muralist?
Whatever it is, residents can help decide what is the "Coolest Thing Made in Janesville" by voting in the third annual contest conducted by the city's Economic Development Department.
Since 2019, the city has held the voting in October as part of the statewide recognition of Manufacturing Month. After the first two rounds of voting, the field of 64 contestants was narrowed to five. The third and final round began Monday and runs until Oct. 18. The winner of the contest will be announced Oct. 19 and receive a plaque during the first Janesville City Council meeting in November.
Kelly Mueller, economic development assistant and project manager for the contest, said the event is a great chance for the city to highlight manufacturing in the community.
"It gets the community involved in our local businesses, as well as brings awareness to the businesses the community may not be aware of," she said.
Winners of the contest aren't the only businesses to gain additional exposure. The contest process involves "media blasts" designed to draw attention to each contestant. Economic Development Coordinator Nancy McDonald said this generates a significant amount of local attention. She said the city's social media game "was pretty strong" throughout.
"To be selected by the community as being the maker of the coolest thing made in Janesville, I think that's a pretty big deal," she said.
Each of the five contestants has unique products and all contribute to Janesville in their own way.
Gray Brewing Co. craft sodas
For finalist Sarah Gray of Gray Brewing Co., whose handcrafted sodas were selected to be in the top five "coolest" things, being nominated speaks to Janesville's tradition of being a strong community-driven area.
"We have so many different family run or locally owned businesses here in town (and) I think it's great that the city of Janesville has put this on," she said.
Founded in 1856, Gray Brewing Co. has embedded itself in the rich history of Janesville by providing quality alcoholic beverages and soda. Sarah and her brother Fred are fifth-generation owners who have carried the mantle and keep creating products for locals to enjoy.
Garbage Commander bin hauling hooks
Another family business in running is Garbage Commander, owned by Kurt Marling and co-operated with his son Dave. The duo creates hauling hooks for people to tow their garbage bins. Born out of the need to efficiently move his bins down a long, steep driveway, Kurt, 65, developed the device in 2014. His hooks can be attached to most engine-powered vehicles to safely and easily transport garbage bins from one point to another.
Kurt runs his business out of his rural Janesville home, allowing him the space to produce the devices. He is amazed by the success he has had running a business in the e-commerce world, especially coming from a generation where brick-and-mortar stores were the gold standard.
"You can take an idea, develop it, refine it and then take it to the market," he said. "And through a website, you have endless customers."
On being in the running for a local award, Kurt's son Dave said he is going to make a bigger deal of winning than just carrying around a plaque.
"It's something my father invented and we're trying to make a business out of it and it's validating," he said. "That gratification of something we're doing (being) looked at is pretty neat."
Halo Sanitizing Wipes
Finalist Jill Henderson was unaware her Halo Health Sanitizing Wipes qualified for the contest, let alone knew she was being nominated.
"My significant other was looking at his friend's (Facebook) page and said 'Hey, you know, we've been nominated for this list.' It was such a cute surprise," she said.
A clinical consultant who specializes in infection prevention, Henderson started making her wipes during the height of the COVID-19 pandemic when she was assigned to work in Washington, D.C., and found out her hotel had completely run out of sanitizer.
"We were really in a horrible situation, and it was an international hub," she said. She then took it upon herself to make her own wipes and wound up making enough for the entire hotel.
Seeing the importance of people maintaining proper hygiene, especially in public during a pandemic, Henderson took her newly made product back home to Janesville and started selling the wipes at the farmers market in town.
"I started this as a real small project with friends and family where they would purchase, and my family was like 'Oh my gosh, she doesn't stop,' but it was a coping skill to work through the frustration with COVID-19," she said.
While Henderson does make money through sales, she considers herself a not-for-profit since she gives away as much of her product as she sells.
"It purely is an artisan effort, just to make sure people stop bypassing sanitizing stations at grocery stores … because it smells so horrible," she said.
The wipes have various scents, which she says encourages people to actually use them.
"So now we have a bubble gum scent that's kind of been a hit at the farmers market," she said, before cautioning children to resist eating them. "I do state very clearly 'For the love of God, please do not ingest.'"
James Richter art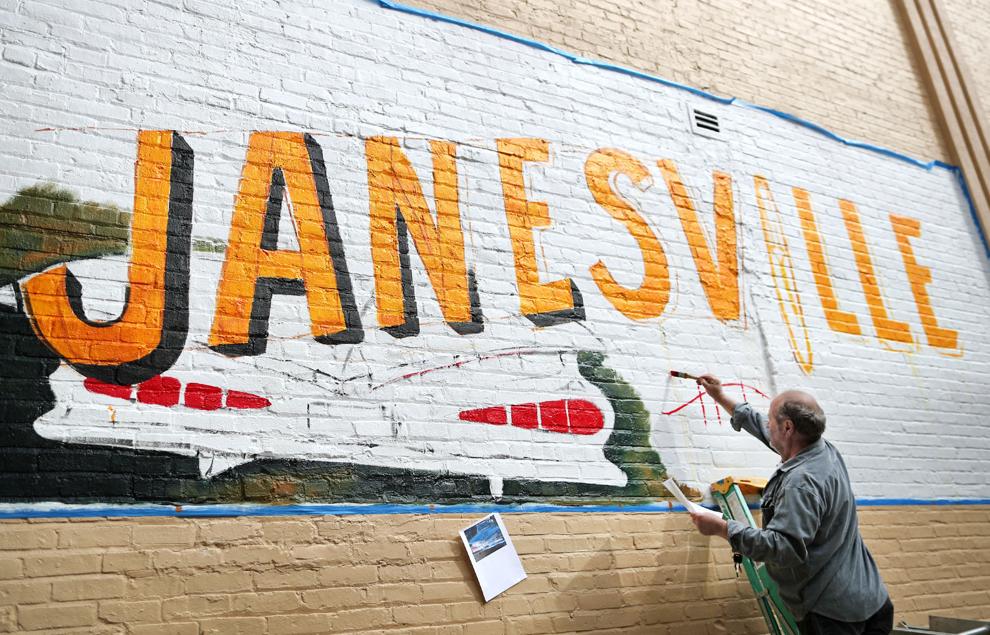 James Richter's mural work has been a fixture in Janesville with works featured prominently throughout the city. Among the many pieces are "The Circuit," a classic car painting on West Milwaukee Street, and the Janesville postcard piece in an alley off North River Street. According to his website, Richter's career has spanned more than 50 years, and he has created various works of art throughout Wisconsin and across the country.
Hailey's Sweets and Treats
Finally, Hailey's Sweets and Treats rounds out the list of contestants and features a decorated baker who has made a name for herself in Janesville over the past seven years.
Hailey Smith started her bakery in 2014 and since then has won Gazette Reader's Choice awards in 2017 and 2020 in addition to awards in Wisconsin Bride Magazine's "Best Of" contests in 2018 and 2019.
Smith said in a statement her business is "honored to even be nominated, as Janesville has many amazing products and companies."
"I absolutely love creating edible works of art for many special occasions, so it warms my heart to know the community loves our sweet treats," she said.
Those wanting to cast a vote for one of the five contestants can do so at bit.ly/3BaYxgG.