Kari Reents is showing her customers now where they should enter Velvet and Tulle, her West Milwaukee Street boutique, when construction reduces the street to gravel this spring.
From the end of March through part of July, Reents' customers will have to use the back entrance to her store at 217 W. Milwaukee St. That's when the first leg of a $5.9 million replacement of West Milwaukee Street will peel up the road and sidewalks on her block and leave nearby Franklin Street closed to traffic for weeks.
Reents, who owns two storefronts, said she and other West Milwaukee Street businesses are fully aware of the impending disruption as construction moves from River Street west to the Five Points intersection this spring, summer and fall.
She said many of her neighbors choose to look on the bright side: The project is being done in two sections, and that means that at least portions of West Milwaukee Street will remain open.
Work starts on the street's east end in late March, with private utility work coming first. In early April, contractors will begin the street tear-up, according to timelines the city and the project's contractor, Rock Road Companies, have given businesses.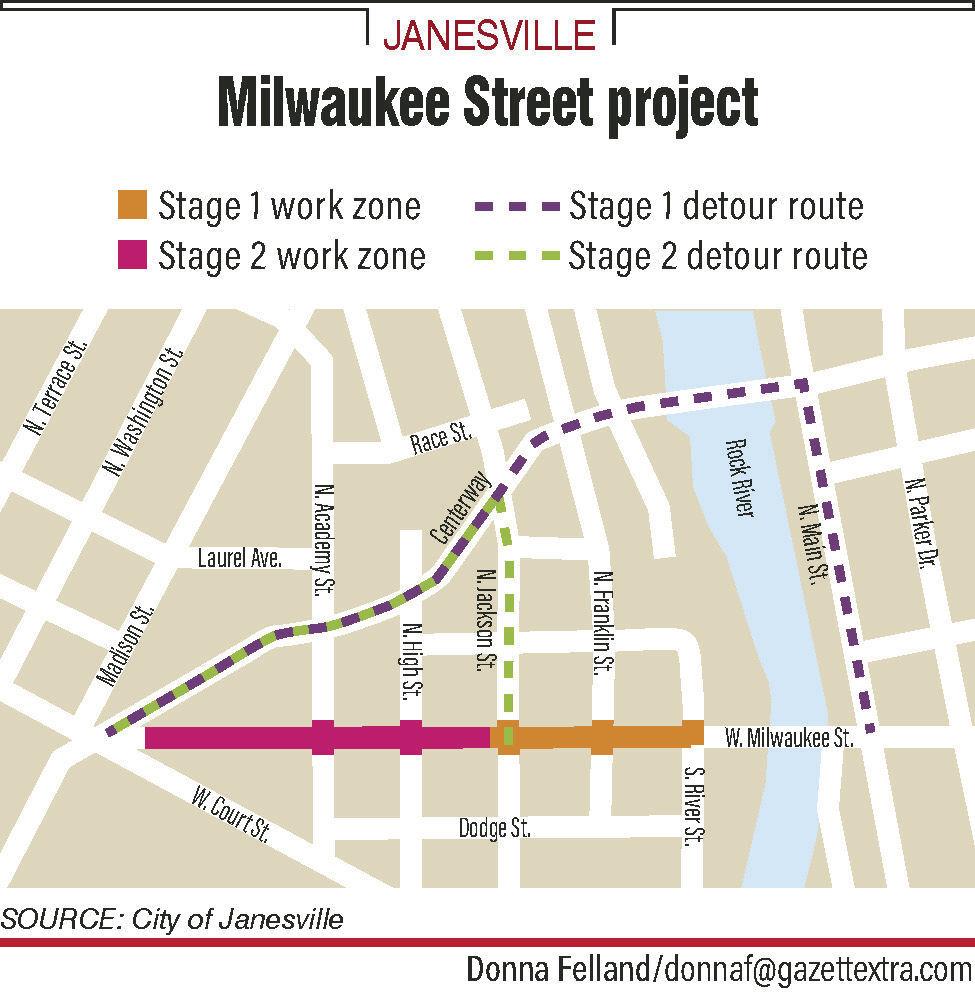 The state will oversee the project, which aims to make West Milwaukee Street more pedestrian-friendly and improve traffic flow.
Reents is on an ad hoc panel of business operators, city officials and Rock Road Companies project leaders. The group has been meeting to discuss strategies to cope with the construction, ranging from directional and detour signs to slogans to communication between work crews and businesses.
Up the street from Reents' boutique Thursday, a crew was hanging an enormous sign on the west side of the vacant former First National Bank. It reads: "You may call it a dream … we call it a plan."
The sign is sponsored by ARISEnow, a public-private group that includes Forward Janesville and Downtown Janesville Inc. and is focused on revitalization downtown.
Reents, a new member of Downtown Janesville Inc.'s board, watched workers hang the sign. She said it is emblematic of how many West Milwaukee Street businesses are forging ahead through the lingering COVID-19 pandemic and into a spring and summer of on-and-off street closures and construction.
"During all of this, we're telling each other and our customers, 'Hey, when this is done, West Milwaukee Street is going to look awesome. We're going to be in a bit of pain, yeah. But if we find ways to get through that, what we'll have at the end is going to be really nice,'" she said. "We're just giving ourselves the tagline 'Milwaukee Street Strong.'"
The first part of the project, which runs through part of July, calls for a full replacement of the street, water service and sidewalks between River and Jackson streets.
The second leg will encompass the section from Jackson Street west to Five Points.
Those sections of West Milwaukee Street will be closed while under construction but open to traffic when they're not.
For weeks, area businesses have been mapping out strategies to drive traffic into storefronts inside the construction zone. Downtown Janesville Inc. has worked up a slew of ideas, including directional signs that are geared to guide shoppers into the construction zone on foot.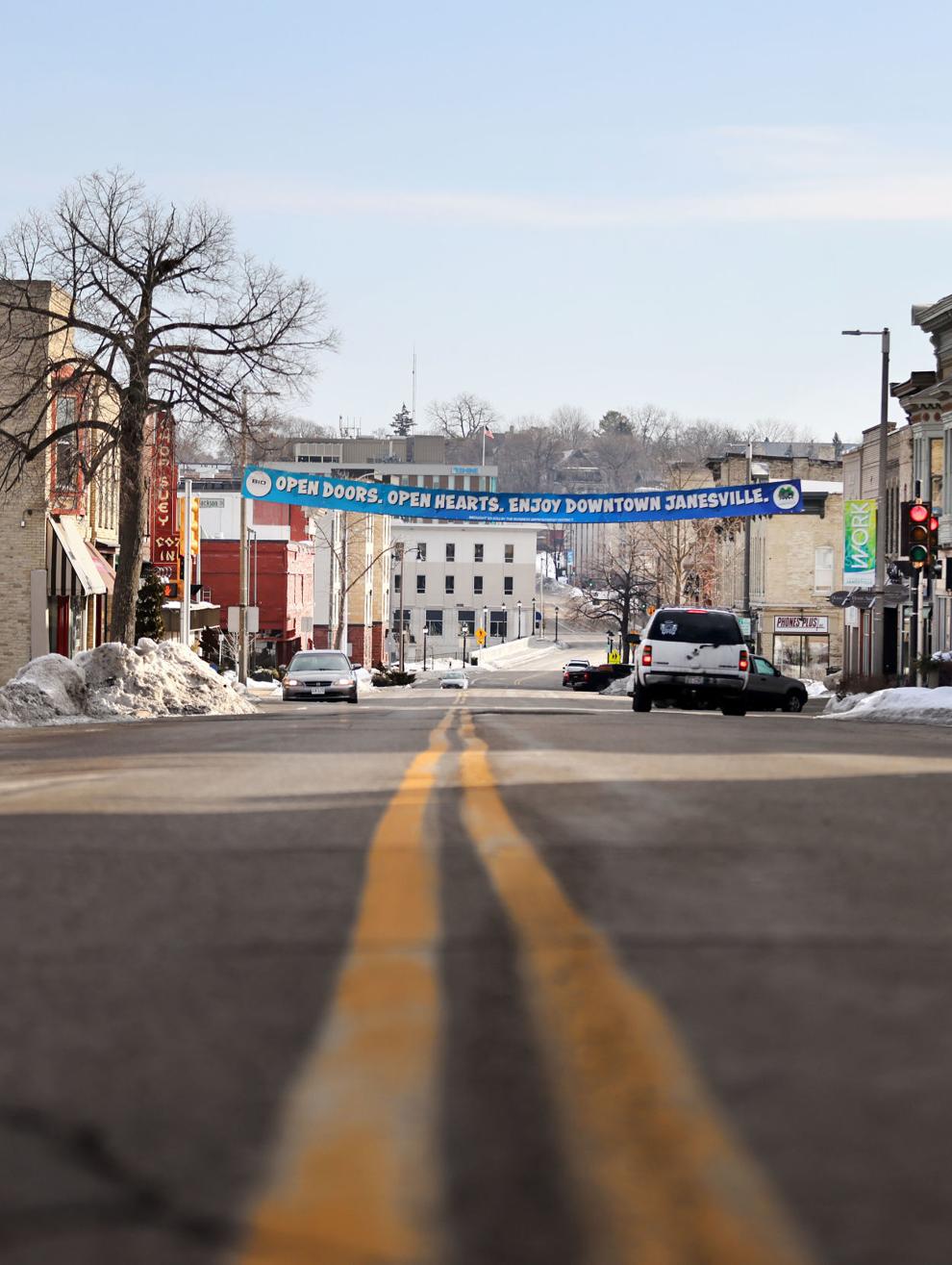 Downtown Janesville Inc. Board President Ann Roe said people trying to reach businesses on the west side of downtown will have to learn "new neural pathways" for a while, including using River and Jackson streets as conduits in and out of the area.
Signs that Downtown Janesville Inc., the city and business groups are planning could help.
"It will be fun signage, as in, 'Hey, you're standing at the corner of River and Milwaukee, so you are 500 steps from the entrance to shop or restaurant X, Y, or Z,'" she said. "It's giving people a sense of perspective, helping them sort of guide their steps, quite literally."
Reents has been working on an upgrade at Velvet and Tulle to make the store's rear entrance more welcoming to customers. For a time, that will be where her store's shopping experience starts.
In addition to handing out fliers that show accessible parking lots, Reents said she's showing customers the work she is doing to give the store a more back-to-front feel during the street project.
"I think it's just making sure that we communicate that, keep pushing the message that the back entrances are going to be there," Reents said. "As far as the reaction I've gotten, people are like, 'This is really cool.'"