JANESVILLE
Some local General Motors history will have a new home along the Rock River in downtown Janesville under plans announced Friday.
Blackhawk Community Credit Union unveiled its intention to build a 130,000-square-foot, four-story development that would include a General Motors "legacy center" along a stretch of riverfront just north of Hedberg Public Library.
If the project comes to fruition as planned, it would be one of the largest developments in downtown Janesville in years. It comes at a time when revitalization of the riverfront is starting to heat up with multiple new private and public projects taking shape.
Blackhawk's Legacy Center would showcase memorabilia and history from the GM assembly plant's nearly century-long run.
It would include collected and curated relics and pieces of architecture from the GM plant, which is under demolition for redevelopment by the plant site's new owner.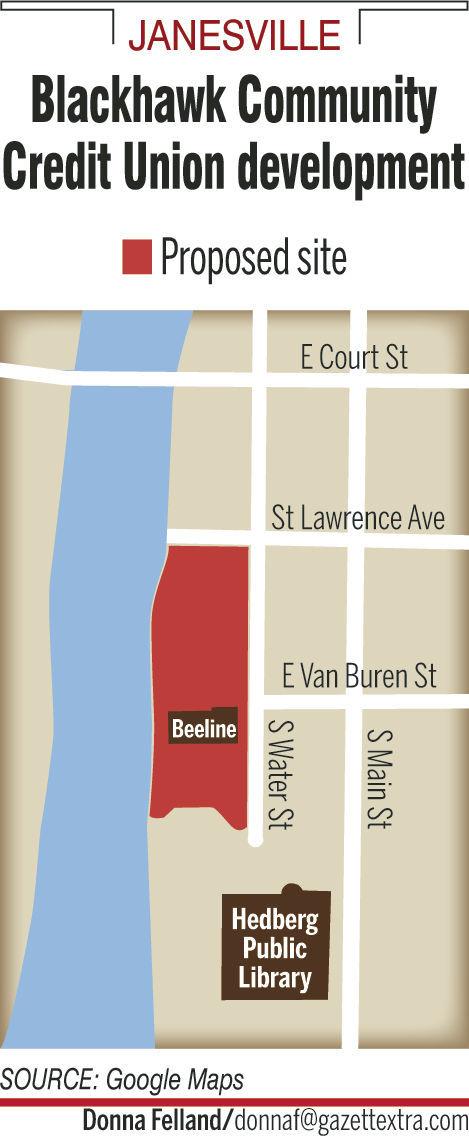 The plans
Credit union CEO Sherri Stumpf said the credit union plans to break ground in fall 2019 on the new corporate headquarters, branch credit union and conference center with a 10,000-square-foot GM Legacy Center being part of a $30 million investment the credit union plans over the next decade downtown.
In all, the proposed development would take until 2021 to complete. It would spread across 2.5 acres of riverfront the credit union intends to buy along South Water Street, Stumpf said.
About 60,000 square feet of building space would be for use by other tenants. Some options for the development, Stumpf said, include restaurants, retail shops, law offices and condominiums. Under a partnership being worked out now, UW-Whitewater could locate classrooms there.
The development would span most of the former Rock County Jail site, two other city lots and a parcel that now houses the soon-to-be-vacated Bee Line Wheel Alignment automotive garage.
The Bee Line property sold in February, and it's now owned by Jeff Hazekamp, a former principal for Janesville architectural firm Angus-Young Associates. Hazekamp also owns adjacent land near the old jail site to the north. The parcels make up the site of the development announced Friday.
The development site would be called SOCO, short for "South of Court Street."
Blackhawk Community Credit Union's headquarters and branch office, according to credit union estimates, would ultimately employ about 200 people downtown, and that doesn't count other tenant businesses that might operate inside it.
Stumpf said the credit union's assets have nearly doubled since 2011, from $320 million to almost $600 million. It now has 50,000 members. Stumpf said the credit union needs a new headquarters to support projected growth over the next 20 to 30 years.
The credit union would continue to operate its West Court Street headquarters as an expanded branch, but Stumpf said it would likely sell or lease its Kennedy Road branch.
The legacy
At first, the credit union intended to build a standalone legacy center to house local GM memorabilia and give former GM employees—many of whom are credit union members—a place for their past to be remembered and honored.
In March, Stumpf said it was possible a legacy center would be coupled with a new credit union branch.
The development unveiled Friday would be much more vast than that earlier concept, and Stumpf said leased space for other businesses would offset costs to build it. Some discussions for prospective tenants are just taking shape, she said, because the credit union for months has kept the project and its potential locations under wraps.
Designs for the development show a sweeping, multilevel building with panoramic views of the Rock River.
Stumpf said the SOCO site and the GM legacy center would embody the perseverance of a city that was rocked when GM pulled out in 2009 and left the city reeling in a recession. The city has begun to bounce back. Signs of that progress show in a diversifying local economy but also in steps public and private stakeholders are taking to revive the downtown.
"We could have gone to a lot of different communities," Stumpf said. "Blackhawk is an old business founded in Janesville and built by the people here. I went to the board and said, 'We're going to build this.' We thought there is no greater commitment than putting this back in the community, in downtown Janesville, and being a part of the revitalization that's going on here.
"The people of Janesville are resilient. We believe the city is a model for how other American cities can revitalize. This is a turnaround story that started with the oldest running GM plant built in 1919," she said.
Stumpf said Commercial Development Company, which now owns the GM plant site, and local GM employees and other collectors have stepped forward to donate or make available relics from the plant's past for the legacy center.
There's one set of curios Stumpf finds most fascinating.
It's a set of billfold IDs from the 1933 World's Fair in Chicago. The billfolds were used to grant GM plant workers admission to the fair.
The Janesville workers, about 150 in all, staffed a working GM vehicle assembly line exhibited at the fair. They were paid $7 a day, Stumpf said, and each day those workers were issued a new necktie to wear.
Stumpf said one other relic will have a permanent, immortalized place in the credit union's planned development.
"In 1919, the cornerstone was placed at the General Motors plant," Stumpf said. "We have that cornerstone. In 2019, we're going to place it."
The reveal
About 125 people gathered at The Venue in downtown Janesville on Friday afternoon to witness the official announcement of the new development.
Old signs from the GM plant dressed the walls. Relics such as old hubcaps, time clocks and union pins were displayed on tables.
One guest, 85-year-old Harry Harnack, said he started working at the GM plant in 1951, retiring after 36 years.
Harnack was one of the seven founders of Blackhawk Community Credit Union. Today, he's the only one who's still alive.
Harnack said the founders started the credit union to protect working-class people. The new "legacy center" and headquarters will carry on the credit union's mission, he said.
"That's the idea of a credit union—helping people," he said. "You've got to have something that protects the working-class people. These people are going to look after them."
Harnack and his wife, Helen, 83, have endured plenty of tragedy in their lives. The couple lost six children over the years—four to cystic fibrosis and two to accidents.
Without the community and credit union's help, Harnack said he would be a poor man.
"I wouldn't even exist," he said.
UW-Whitewater Chancellor Beverly Kopper said the university is looking at expanding curricula, certificate programs and leadership programs in the new building. Details are still being worked out, but she said classes for both UW-W and its Rock County campus could meet there.
The university primarily will use its space to foster partnerships with businesses and the community, she said.
"That's what we're looking to do," Kopper said. "We're just really excited. This is a wonderful partnership."
Gale Price, Janesville economic development director, said the building will serve as an anchor on the south side of downtown, connecting the Janesville Performing Arts Center to the central area.
He said adding another corporate headquarters downtown could spur even more retail and residential development.
"The momentum in Janesville and the momentum in downtown Janesville is incredible." Price said. "When you think about that mass of people in a corporate headquarters, you're creating demand for retail right there. And that's going to continue to build upon itself."