Morgan Wywialowski enjoyed herself on the Rock County 4-H Fairgrounds on Tuesday, but she wasn't at the fair.
The fair, scheduled for this week, was canceled over coronavirus concerns.
Morgan, a Clinton FFA/Turtle 4-H member, got to show Betty, a lamb she had raised, and win a blue ribbon, and she got to hang out with her fellow 4-H buddies.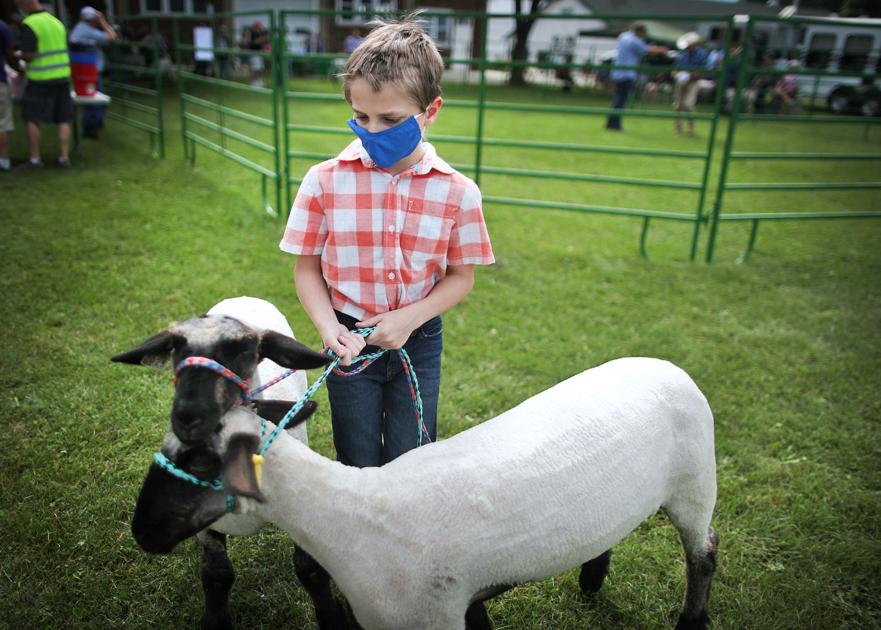 But that's as much fair as she will see this year.
The sheep show, with more than 50 exhibitors and over 100 animals, was the first one ever conducted by the Rock County Sheep Producers, said the organization's Aaron Bennett.
"We do it all for the kids because they might be the future of the Rock County Sheep Producers," Bennett said of the adults' substantial organizational effort.
The local Boer goat raisers were scheduled to have their show Tuesday afternoon. Swine producers are scheduled for Wednesday, beef cattle on Thursday and dairy cows on Saturday. The public is not invited.
The differences from a real fair were readily apparent Tuesday. Half of the fairgrounds was snow-fenced off, preserved for use if the county needs a COVID-19 isolation shelter, which is a major reason the fair was canceled.
There was no music, no food and no midway where teens could stroll and ride the carnival rides.
"The fair is always fun," said Morgan, 15.
"I miss watching all the people walking around and looking at all the animals. … It's not the same," said Baylin Crull, 16, of Evansville 4-H.
Baylin was not showing, but he was there to support his sister, cousins and friends who were. He planned to show swine Wednesday.
The young 4-H'ers were eager to participate in the show, Baylin said. "With all the hard work they put in, they want something out of it."
Despite the lack of fair fun, the show had its positives.
"It seems a lot less stressful" than the fair, said Morgan, who has shown swine and beef cattle at previous fairs. "I'm really happy we had it, so we could all get out and show what we've done with the animals."
Ribbon winners got cash "premiums" at the fair: $8 for first place, maybe $6 for second, Morgan said. This year was different. Kids got T-shirts or sturdy water buckets for their animals, all donated. Morgan won a sheep blanket.
The fair premiums weren't a lot, but they added up with other projects the youths submitted. Morgan could have won more cash with her welding, for example, but those and so many other parts of the fair will not happen this year.
Sheep were driven into the fairgrounds in trailers and stayed there unless their owners were leading them around on leashes. The animals' bleats and hoarse growls filled the grassy area in front of the stock pavilion, where a temporary show ring was set up.
The animal stalls and other buildings remained empty and silent.
In the ring, youths wrestled with their lambs, some of them as heavy as their owners and not interested in being led around like, um, sheep.
The kids stood in front of their animals, grabbed them by the head and pushed back as Judge Mark Johnson inspected them for the qualities that make for good lamb meat.
"You want them to push against you so you can show the muscle in the back," Morgan said.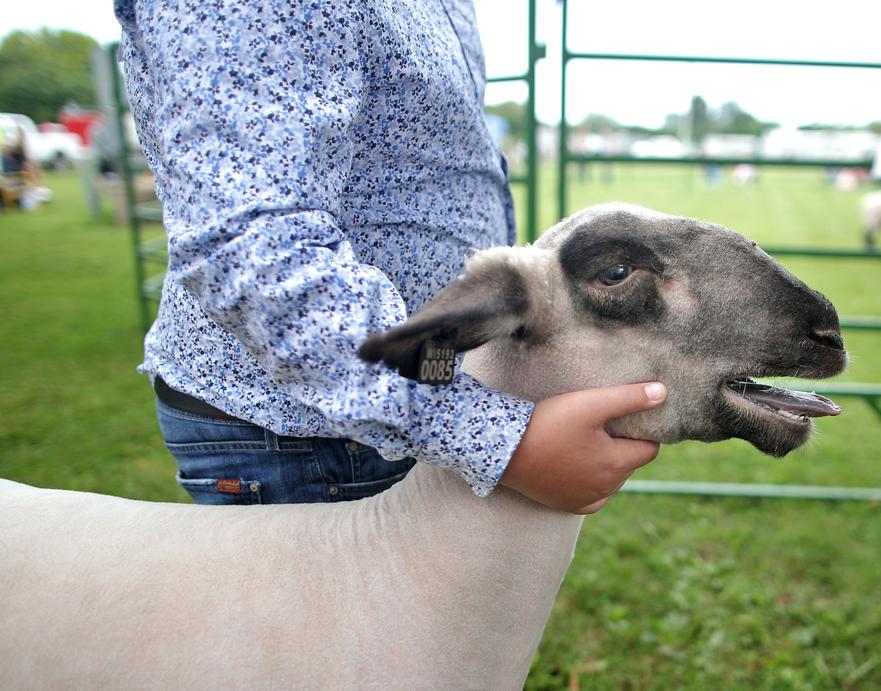 Most attendees did not wear masks, but they were required to sign forms releasing the sheep producers from liability from coronavirus infection. There was plenty of room for folks to keep their distance, though.
Morgan said one thing was like the fair: friends helping friends.
One of her friends was showing for the first time. "She's really nervous. We're all trying to help her calm down. We're telling her it's going to be fine."