Solar power is busting out all over.
Fields of solar collectors are set to spring up across Rock and surrounding counties in the near future, helping reduce reliance on fossil fuels.
Alliant Energy said this week it plans to build two new solar farms, one west of Beloit and one north of Brodhead. They would start producing electricity by the end of 2023.
The Beloit-area site will be about 500 acres. It straddles Highway 213 and is called the Paddock site, named after the substation located about a mile away that will receive its energy, said Ben Lipari, Alliant's director of resource development.
The other site, about 400 acres, is called the Albany site.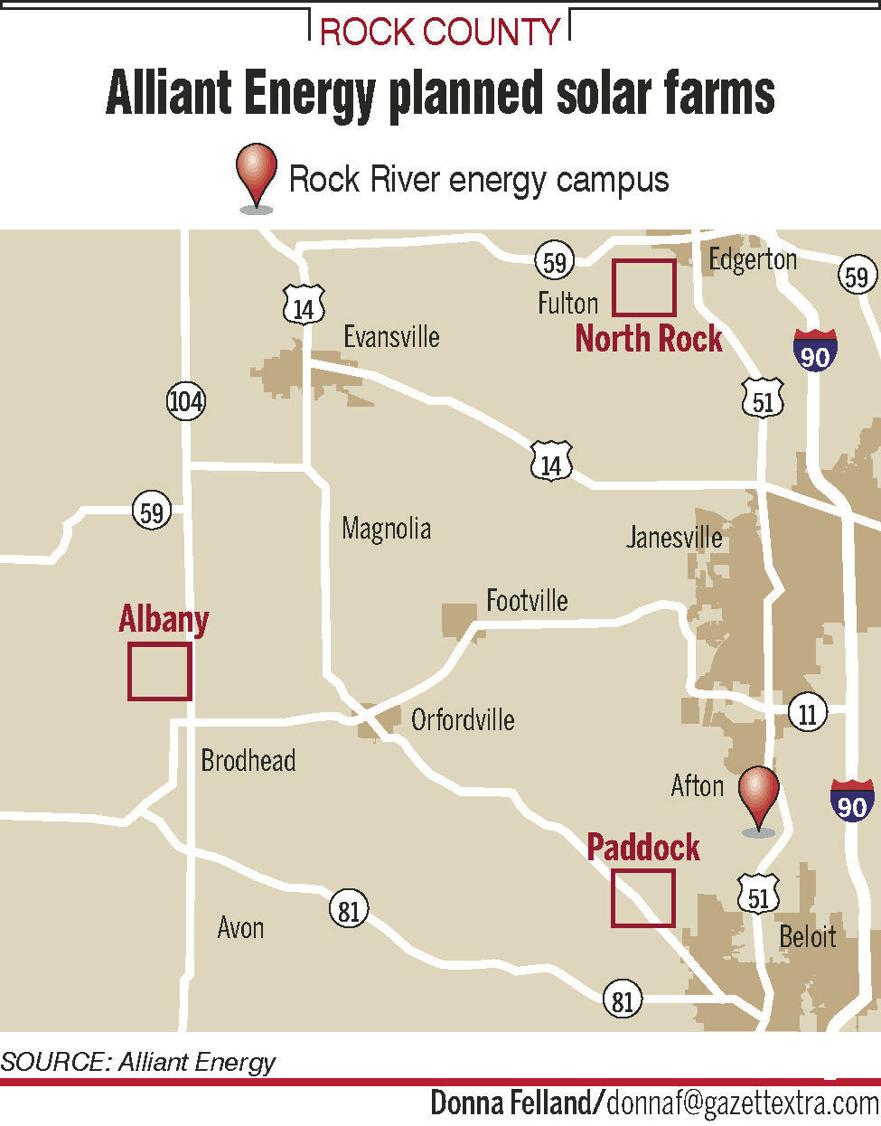 Alliant officials wouldn't give the exact locations because land purchases are not complete.
The utility plans to start building the North Rock site in 2022, Lipari said.
The state Public Service Commission still must approve the North Rock site and the two newly announced projects, but it hasn't turned down any major solar projects in the past 18 months, said Heather Allen, executive director of Renew Wisconsin, which promotes renewable energy.
At the end of 2019, Wisconsin had about 130 megawatts of solar power, including on house rooftops, Allen said. But in the past 18 months, the Public Service Commission has approved 849 megawatts worth of future projects.
"Things are ramping up quite a bit, and there's more in the development pipeline," Allen said.
The price of electric power produced by solar panels is lower than building a new fossil-fuel plant, which is attracting the utilities' interest, according to The Motley Fool.
The cost to install solar is at an all-time low and will likely drop further as more efficient technologies become available, Alliant says.
Federal investment tax credits are another attraction, Allen said.
But those credits are going away. They provided a 30% tax break on investment through 2019 but were reduced to 26% this year and will drop to 22% in 2022, Allen said.
The credits disappear for residential projects in 2023, but commercial projects still will enjoy a 10% credit.
The two sites announced this week were developed by Capital Dynamics, an asset-management firm, and Tenaska, an energy company. They announced the sale to Alliant on Wednesday.
Alliant has been buying solar power from a 2.3-megawatt solar facility run by Hanwha Q Cells USA since 2016, according to the company's website. It's located near the former coal-fueled Rock River Generating Station off Townline Road in the town of Beloit.
Another solar farm, generating 4 megawatts, is being built next to the West Riverside plant and should go online next spring, Alliant spokesman Scott Reigstad said.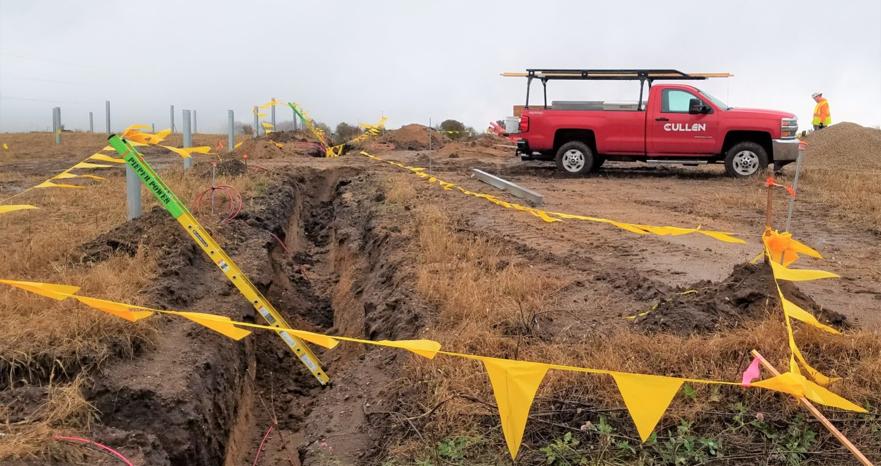 Electric utility power-producing facilities pay taxes to the state, which distributes the money to local governments as revenue.
The state Public Service Commission on Jan. 30 approved a 1,200-acre, 149-megawatt site in Jefferson County, which will mean about $348,000 annually for the county and $248,000 divided between the towns of Jefferson and Oakland, according to Renew Wisconsin.
Alliant has set a goal of 1,000 megawatts from solar by the end of 2023. If that happens, more than 20% of the utility's Wisconsin generating capacity will be solar, Reigstad said.
The utility has already applied to the Public Service Commission for projects that total 675 megawatts, including the 50 megawatts from the North Rock site.
Alliant plans to apply for more sites next year, including the two newly announced sites, Lipari said. The Paddock site would add 65 megawatts to the total, and Albany would add 50, he said. Combined, that's enough to power 30,000 homes, according to Wednesday's announcement.
Objections to solar power include removal of land from agricultural production and the problem of disposal of the equipment after its life ends in 20 to 30 years.
Renew Wisconsin estimates the state would need only 0.3% of its land in solar farms to supply half the state's energy needs.
Solar farms can return to crop production, Allen said, and in the meantime they can be planted with pollinator-friendly plants or grasses that enhance soil quality.
Disposing of used-up solar panels and steel posts are a problem that U.S. producers are just beginning to consider, Allen said. They can be recycled, but the infrastructure to do so is lacking so far.