Fall is in full swing in Rock County, evidenced by people flocking to pumpkin patches and the season attractions built around the crop on some area farms.
At the tail end of a year-long drought, many pumpkin patches and fall-themed businesses have seen varying levels of crop production. Farmers are bracing for a high demand for the orange winter squash bound to be carved into countless jack-o'-lanterns.
At Skelly's Farm Market in Janesville, Scott Skelly reported having a successful fall harvest and anticipates a significant turnout by people visiting his pumpkin patch. This time of the year is key to his bottom line, as October is peak pumpkin-buying season.
"We have a business that revolves around the Halloween holiday," he said. "For us, our primary thing is pumpkins."
Skelly's harvest this year was relatively unaffected by the drought as his irrigation system compensated for rain deficits. But if he hadn't irrigated, dry months are beneficial for growing pumpkins because the lack of standing water keeps disease and rot at bay.
Although it can be expensive to irrigate fields on a regular basis, especially when maintenance costs are factored in, Skelly said he looks at the risk-reward balance of artificial watering.
"It's still in God's hands, but at least you get some control of what you're doing," he said.
The downside of relying upon well water for irrigation is not all crops are created equal. For vegetables such as corn, summertime growing might consist of weekly waterings, whereas pumpkins can go at least a month without needing a significant soaking.
Water management is not the only consideration when preparing for a successful growing season. Other farmers who contribute to local agritourism did not fare as well as Skelly's market and saw significant losses in crop production. To make up for inevitable financial problems, many considered making tough decisions.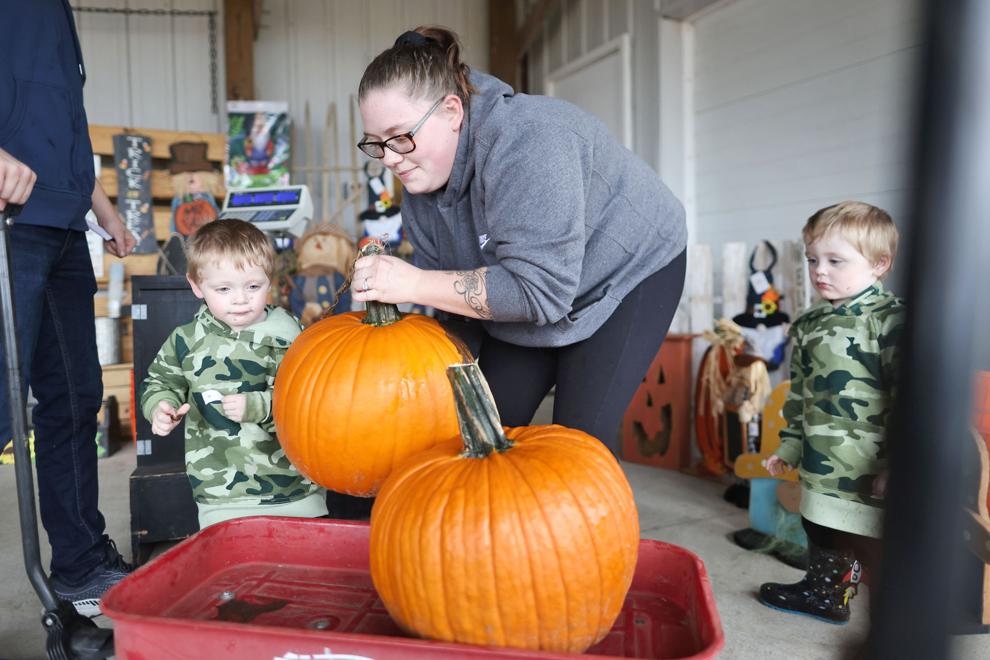 For Bryan Meyer, owner of Meyer's Farm Market in Milton, an interruption in his planting cycle in June left him missing the growing season altogether when it came to some crops.
"We didn't get our colored pumpkins planted this year and didn't get our fall squash planted either," he said.
While Meyer was able to grow "critical items," such as traditional orange pumpkins, he also felt the pinch as the larger varieties were notably absent from the yields.
"We have a large volume of pumpkins, we just don't have the variety because of those difficulties," he said.
As a result of the lackluster yield of certain crops, Meyer said he incurred added costs due to supply shortages and had to cut staff.
"One (factor) is the sheer cost of production in general, which includes seeds and nutrients," he said.
However, Meyer said this year's struggles were not passed along to the customers and prices this year remained unchanged.
Meyer remained confident in his pumpkin output.
"We have a very good product and a large volume," he said.
The next few weekends are when most pumpkins are sold.
"Fall tends to be a family function, so the weekends are important," Meyer said.
Apple orchards affected, too
Another local attraction impacted this year is Lori Jenson's Apple Hut in Beloit, where visitors annually visit to pick their own apples from Jenson's 11-acre orchard. In an average year, the orchard's 2,200 trees produce 17 varieties, including Cortland, Greenings, Jonathan and McIntosh.
This year, Jenson said her orchard had a lower-than-average yield of Jonathan and Cortland apples. Cortland apples took a precipitously sharp hit, dropping production to nearly a tenth.
"We typically pick over 400 bushels of Cortlands and I think we got around 50 bushels (this year)," Jenson said.
As for the Greenings, Jenson said the trees did not produce a single apple.
"They did nothing, absolutely nothing; it was pretty bizarre," she said.
Diversification might be a saving grace for Jenson, as it is with other farmers attempting to regain losses: Apple Hut purchases pumpkins to sell onsite.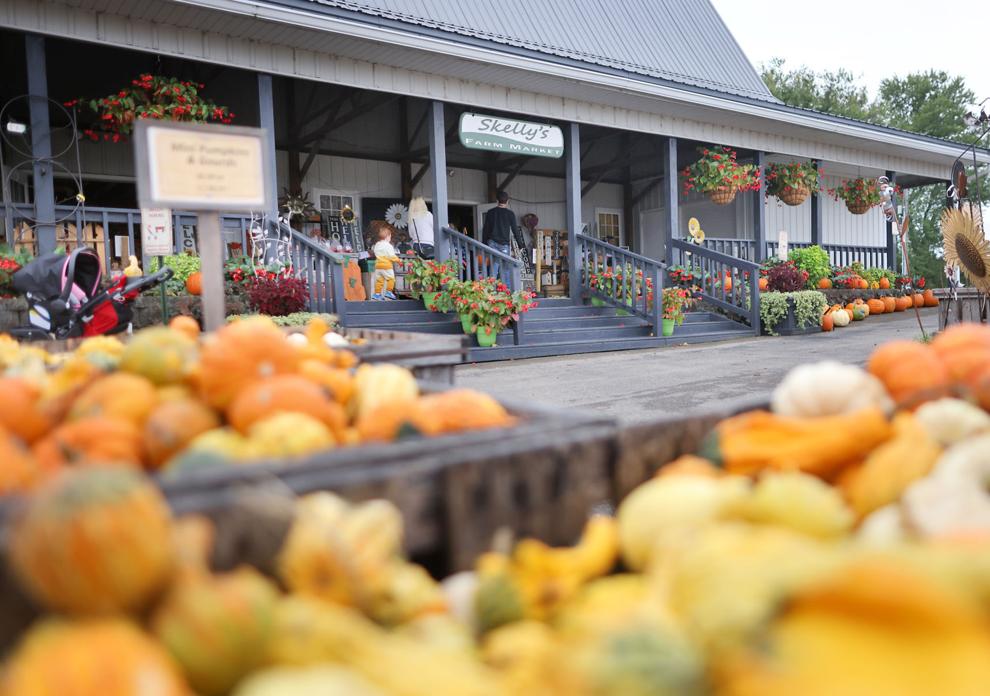 Drought conditions prove persistent
Apple Hut's drop in apple production is also attributed to the statewide drought, with the effects particularly felt during the winter of 2020. Although parts of southeastern Wisconsin recorded higher than average snowfall, the U.S. Drought Monitor last year reported nearly 90% of the state experienced "abnormally dry" conditions.
Rock County this month has experienced more significant rainfall with around 4.7 inches accumulating as of Oct. 12. Even though this accumulation helps replenish the soil and chip away at the overall rain deficit, farmers find precipitation during harvest season to be more of a hindrance than an asset. Since fall crops are no longer in need of moisture, wet fields prevent farmers from getting combines to unharvested crops.
Additionally, rain largely keeps visitors from venturing outside and to the attractions, drastically impacting farmers' bottom lines.
"If it rains on a Saturday, nobody wants to go out to the pumpkin patch and pick out pumpkins," Skelly said. "I'd be happy if it is dry now through Halloween."