WHITEWATER—By day, The Fuzzy Pig country mall resembles a scene from an Old West movie. Likewise, Whiney's Wood Fire Pizza and Wine located closely nearby give off a welcoming rustic vibe ripped from the 1800s.
But come sundown during the month of October, the affectionately-named "Fuzzyville'' dispenses with the nostalgia, and owner Dick Kraus's Shockwave Haunts injects fear and anxiety into the rural destination.
Housed in a 10,000-square-foot barn, the two haunted attractions emit a spine-tingling aura that beckons all who dare enter.
Kraus and his sister, along with his wife, Pam, operate the haunted houses, and Kraus makes it his personal mission each year to scare his guests to the point of wetting their pants.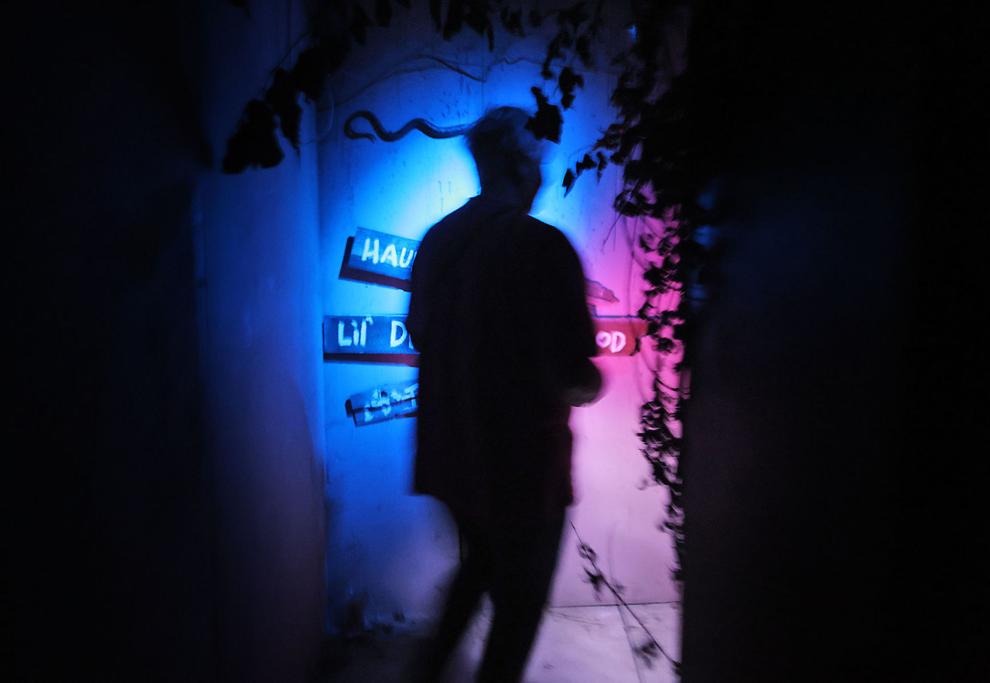 "A lot of people can't handle it, and they go (running) out," Kraus said of the haunts he has hosted for the past 12 years.
With the 2020 event canceled due to the COVID-19 pandemic, Kraus is champing at the bit to frighten unsuspecting victims this year—and he has enlisted an unlikely villain to help accomplish that goal.
In past years, Shockwave Haunts has featured a variety of themes ranging from toxic factories to a deranged circus and a carnival of violent, disgruntled clowns.
"(They've) been a riot; it's just been a ball," Kraus said.
But for this year's haunt, Kraus chose to put a demented spin on the holiday favorite by presenting "The Grinch that Killed Christmas."
In this horrific iteration, the Grinch exists in a world where humans are unwelcome and killed if they enter his realm. As guests navigate the pitch-black maze of death, Kraus and his band of actors devilishly feed on their vulnerabilities and waste no chance to scare the daylights out of them.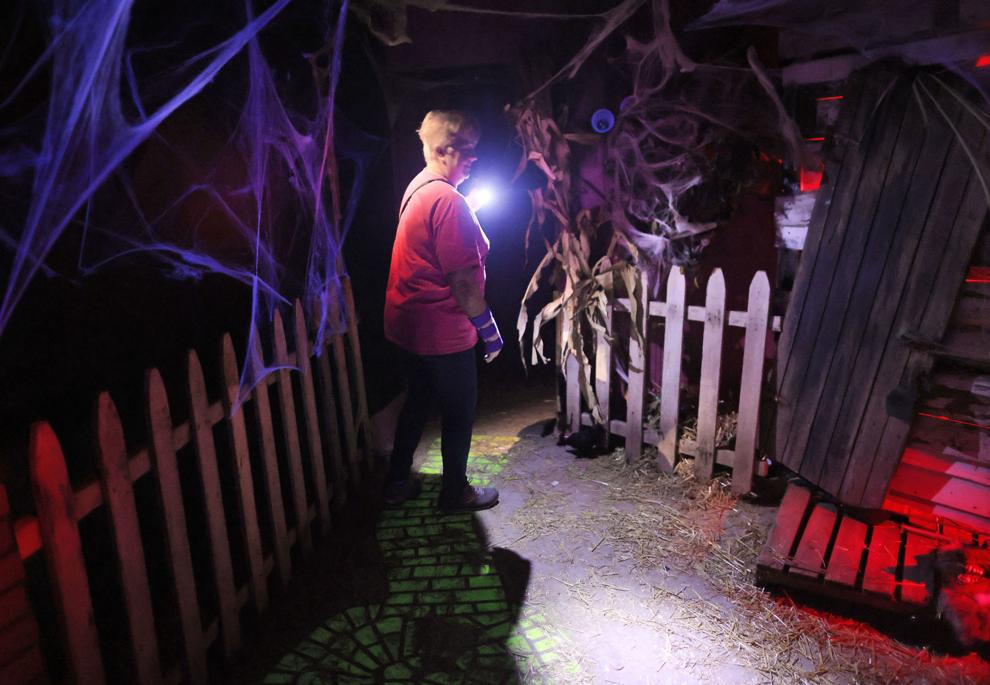 "Men will get on their hands and knees and crawl, because they don't want to go through," Kraus boasted, remarking on the thrill he gets when he "drops" a 30- to 50-year old man. "It's kind of a high."
For the actors who are returning this year, Kraus's philosophy is easy to buy into.
"I get a thrill out of listening to them squealing when they come through," said Donnie Sparks, who has played characters for Shockwave Haunts for six years.
And when visitors scream particularly loudly, Sparks said, "That's when you know you did something right."
The 70-year-old actor also points out a stark difference between Shockwave and most other haunts is the absence of animatronics and over-the-top pyrotechnics.
"It's people; all people," he said. "There's no fancy light shows or robots. The characters are real characters."
One of the secrets to Kraus's haunt is his manipulation of whatever environment he creates. Preferring to keep his themes spartan and dark, he uses the element of surprise and misdirection to catch guests by surprise.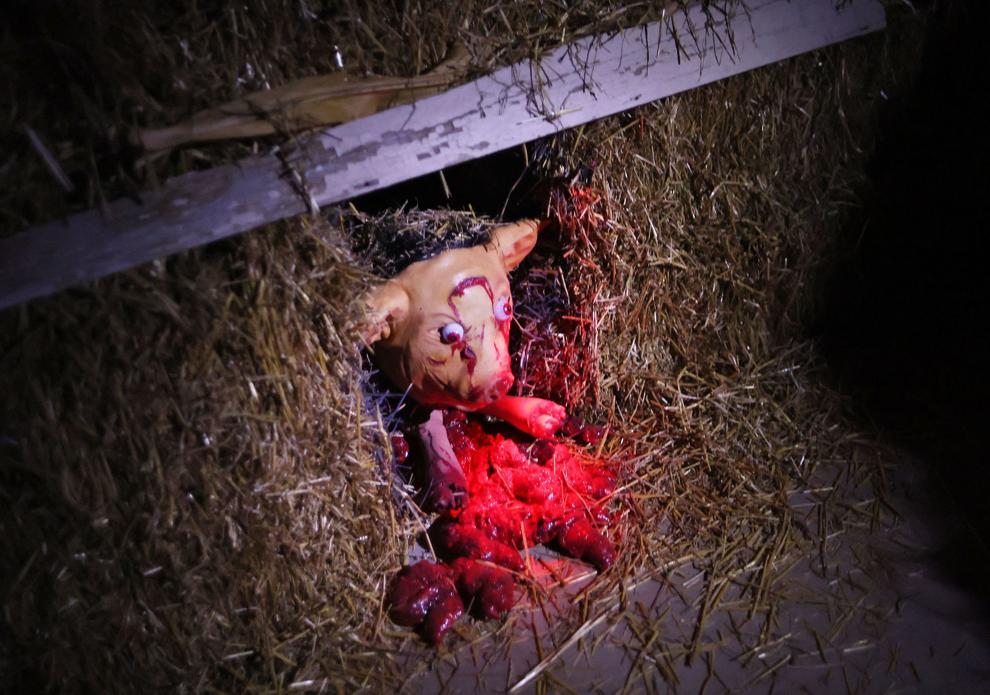 "(Scaring) in the dark, it's just awesome," he said.
Kraus acts as a conductor, of sorts, to ensure each scare is timed correctly. To avoid bottlenecks, he keeps his actors aware of groups moving too quickly or too slowly, waiting in the wings to scare what he calls "human centipedes"—people who duck low and rush through the maze.
Kraus said he is baffled by such people who rush through the attraction, considering they pay upward of $20 to essentially close their eyes.
Once each group makes it through the black abyss of the maze, several scenes break through the darkness and display carnage left behind by The Grinch. Realistic-looking skeleton torsos and dismembered animals—so intricately designed they are almost ornate—grace the walls, and a gallery of tortured souls demonstrate why this isn't your grandfather's Grinch tale.
Kraus describes his scare tactics with such detail and enthusiasm that it's easy to see why he revives his haunts year after year. As morbid as it might sound, he said he gets his kicks conjuring up new methods of causing people to nearly jump out of their skins in fright.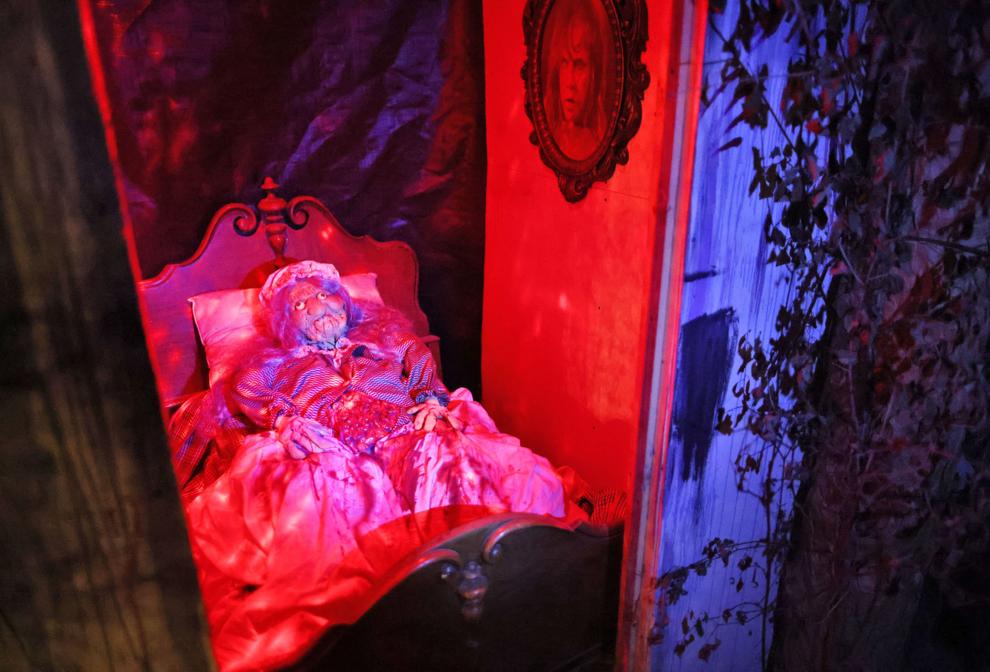 One particular scare Kraus recalled involved a teenage girl who literally trembled with fear after he snuck up behind her. After he checked in with her to see if she was OK, she started laughing.
"Just to have that happen is what keeps me going," he said.
Kraus's sister, Sue Lien, runs the second haunt, which is themed "Twisted Tales" this year. A warped take on classic fairy tales, Sue's sets are the antithesis of her brother's, as each set is colorful and well lit, relying on more visual effects to scare guests.
"I keep everything in black, (but) my sister's sets could be in Hollywood," Kraus said.