Bree Morgan's pets have had enough.
For three months, her dogs, Jenkins, Nugget and Emmitt, and cats, Moustache and Buddy, have watched while she has lounged around in leggings and crop-top hoodies, leisurely sipping iced coffees. While they are certainly appreciative of the increased attention heaped on them in that time, it appears the members of Morgan's animal family are ready for things to get back to normal.
"The cats are definitely over me screwing up their sleep schedules, and I think the dogs are starting to get sick of me, too," Morgan said. "They're like 'Is she ever going to leave?'"
Three months of quarantine have been a mixed bag for Morgan, who makes her living as a full-time musician. While the time off has given her needed opportunities to write several new songs, it has also kept her from doing two things she truly loves: perform in front of a live audience and get paid to do it.
"How do you go from traveling three to four days a week and driving hundreds of miles to having nothing to do?" she asked. "I'm a people person. My job is to entertain. To go from entertaining all the time to sitting at home was hard."
With most restrictions associated with COVID-19 now lifted in Wisconsin, bars and restaurants are slowly reopening. That means Morgan and her fellow musicians can again start penciling gigs onto their calendars.
But do they want to? With the lingering threat posed by the novel coronavirus and worries about a "second wave" in fall, do they want to position themselves near large gatherings that now face safety guidelines rather than regulations?
Those we spoke with said "yes"—in varying degrees. All seemed to prefer the option of performing outdoors rather than indoors, and all agreed that at the venues they have played so far, management has been professional and attentive.
"Personally, I can't wait to get back out and play for people," said Brad Lutton, guitarist for the Janesville band Dem Horny Funkers. "It's been tough not seeing our people and not having the fun we had when we were playing out. It's been a real bummer to miss."
Dem Horny Funkers already have played out since the restrictions were lifted, and more shows have been booked. Lutton said band members have, for the most part, been eager to get back to work.
"We've all been pretty much on the same page, but a couple of guys are a bit more concerned about the virus," he said. "One band member has asthma, so this is a little more worrisome to him than to some of the younger kids who are in good health. As a group, we're all being sure to respect the people who want that 6 feet of separation and want masks."
While advocating for a return to live music, Lutton stressed the need for continued social distancing, for establishments to follow safety guidelines and for patrons to be aware of their personal health. Maintaining responsible behavior also will be important moving forward.
"One time, at a St. Paddy's show, somebody had been drinking all day and was falling into people. We stopped that right away," Lutton said. "Our shows tend to be people having fun and dancing. I'm not going to say there won't be a time where there might be an altercation, but we try to manage that from the stage. We want to promote fun, happy times—not the alternative."
Unfortunately, it's not always the obvious troublemakers bands need to worry about. Sometimes it's the unaware fan who crosses a previously inconsequential line.
"There was this one gal who just walked right up on stage with us," said guitarist Don Cisewski, referring to a recent gig for his band, Banana Wind. "That's usually a no-no unless we invite them up there, but she just came up. We just looked at each other and let it go, because we didn't expect it. That in and of itself doesn't normally happen but, of course, it would happen now."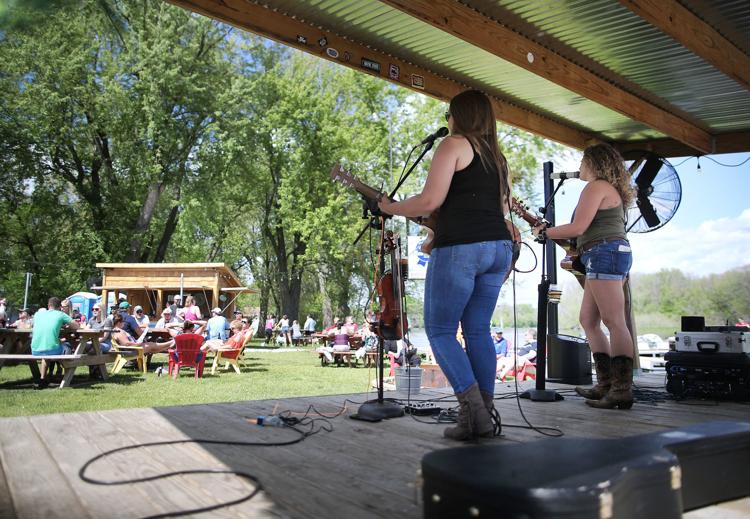 Cisewski understands music fans just want to have fun, but we live in different times. He offers advice to bands that might find themselves in similar situations.
"You don't want to get uppity with the crowd," he said. "Tell them in a nice way (not to approach the stage), and if they cross that line, mention it. Tell them to enjoy the music from back there and, if you have a request, yell it out."
At 62, Cisewski has cause for concern. He and several bandmates are of ages that fall within the COVID-19 danger zone. One member with pre- existing health concerns has yet to rejoin the crew as it ventures out.
Cisewski said the band was initially split on the idea of heading back on the road.
"Me and three other guys were a little leery, but the others wanted to play," he said. "We decided 'Let's be safe, conduct protocol and jump in the deep end a little bit.'
"I told the guys I would like us to have some social distancing, and that I'm going to have a mask on. I try to clean all the equipment before putting it in the car. Maybe that's being overcautious, but you never know."
For Chris Kohn—who calls himself a mix of Phish, Pearl Jam and Jack Johnson—there is an expectation of caution. The 41-year-old husband and father wants to protect his family while still being able to perform.
"I'm itching to get out and play, but I just don't know what that's going to look like," he said. "My main concern would be in spreading the virus. I'm not overly concerned for my own health, but still, it sure doesn't sound like something I'd want to get."
Kohn tends to perform in intimate venues before crowds of 25 to 50 people. He's not too worried about patrons getting out of hand, but he still wants to see precautions in place.
"If I'm going to a restaurant where they are being smart about how they open up, I don't think it's any less harmful than going to the grocery store," he said. "Before I would play somewhere, I would want to talk to management and see what things are like now that they are open; see what their protocol is and how they are handling spacing.
"You can't control everybody as much as you'd like to have good faith that everybody is going to be respectful of each other," he added. "You throw in some X factors, and those are the things I have to weigh out, I guess."
As the only musician interviewed who relies solely on music for her livelihood, Morgan just wants things to get back to the way they were—at least as much as they can.
Despite not having an income, Morgan was able to make it through March, April and May financially. The circumstances, however, were bittersweet.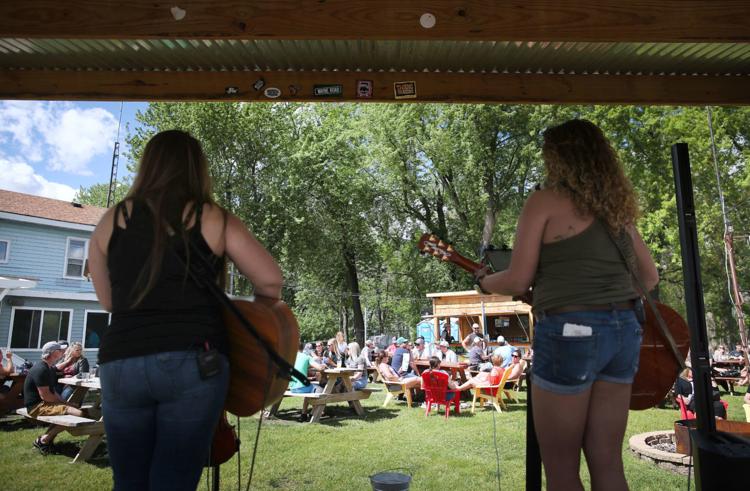 "Kind of a weird silver lining was that my new album, 'Trash' was released April 21, and I was supposed to have a big album release party April 25," she said. "Obviously, I couldn't do that. Luckily, the venue returned my deposit, and I had already been saving a lot for the party, so I just happened to have a decent amount of income saved. I was able to make it through on that."
Since returning to the stage last month, Morgan is slowly getting back to her breakneck pace of performing. She recently put on a pair of four-hour shows across one weekend, driving more than 300 miles in the process.
While things are looking up for Morgan, the same can't be said for some of her regular haunts.
"Some venues have permanently closed," she said. "Those messages are hard to get. I can take a cancellation or someone saying, 'We're not ready to have you back yet'; I can work with that. I can enjoy a Saturday off. But when my venues say, 'We are canceling everything and not opening our doors anymore,' that's super hard. I feel worse for them than I do for myself."
Kohn echoes that sentiment. But as he laments the loss of some regular gigs, he sees new opportunities on the horizon.
"As far as playing goes, hopefully there will be more small gatherings of people who want to see live music," he said. "Even as a lot of venues are canceling or not having music, there might be more opportunities for backyard parties, and there are going to be musicians available for that.
"People still want live music. It just might look a little different and be on a smaller scale."