We are so excited to have the Sandwich Bar here in Janesville. Lark remains one of our top favorites and now, just a few doors down, the owners have given us more to love.
The recent surge in the pandemic once again made us put off going out as a group. Individually, we have been enjoying lunch carryouts here, but it was time to jointly review and get the word out. We didn't get a chance to sample the on-tap brews, but takeout is a safe way to explore the yummy menu. We'll be back later for the beer.
The Sandwich Bar's interior is lively, and the vibe is funky and industrial. Colorful murals by artist Jeff Henriquez spotlighting our favorite foodies, Julia Child and Anthony Bourdain, are perfect, as is the "blurred light" art style. The open duct work and reclaimed tin ceilings give the space an eclectic atmosphere. I feel like I landed in a hip section of a big city every time I walk through the door.
The menu isn't huge, but there are interesting options and they have specials that sound intriguing, like chicken bánh mì or the curry fried chicken po'boy. It's worth a call ahead to see what's available in addition to the menu standards.
Let me tell you about the Balboa ($13). It is made with the best roast pork ever. So juicy, it is sweet with a hint of spice from the pepperoncini. The spinach is cooked down to blend. Served on a toasted long roll with melted fontina, it is filling. I have sampled all their sandwiches but will have trouble ordering anything else—it's that good.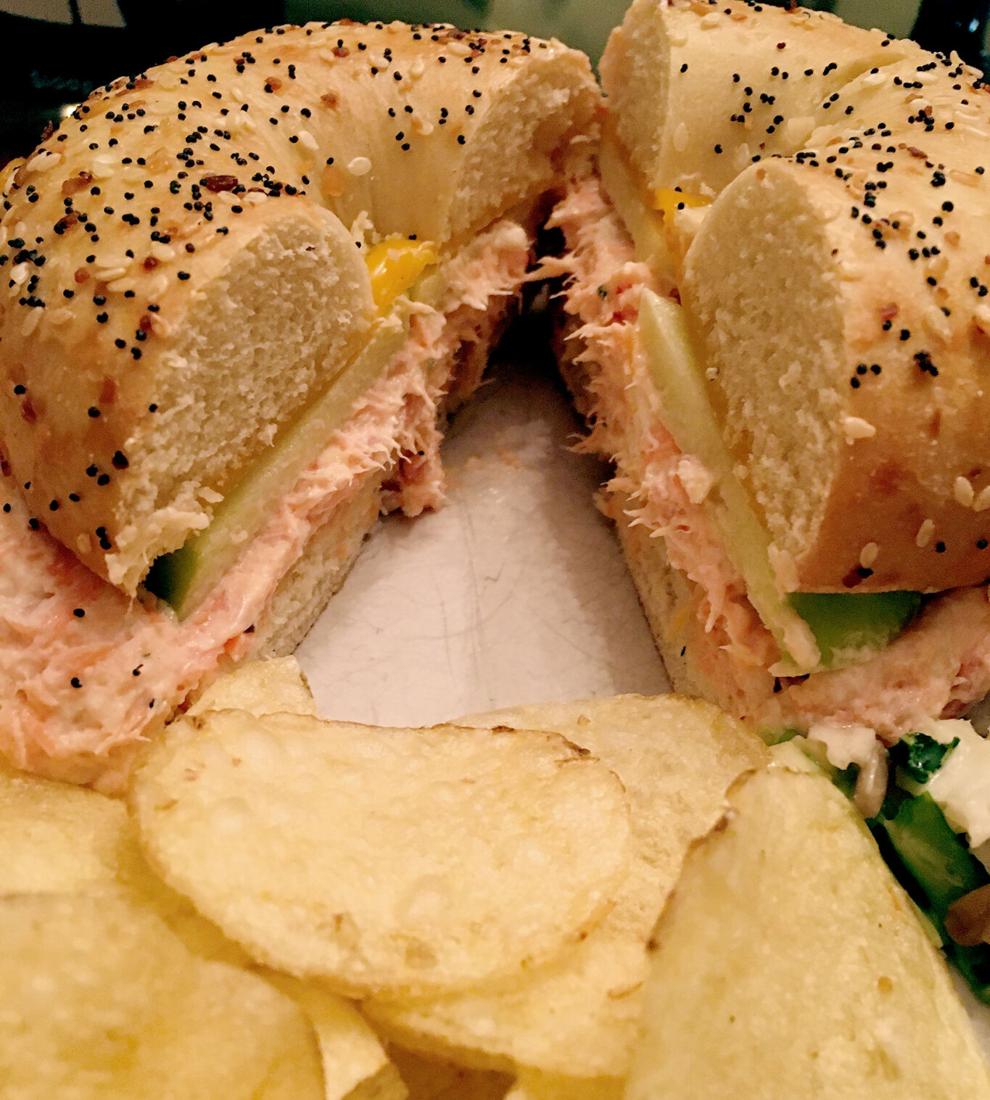 Jennifer decided to try the Eli Schlemieli ($12). She loves seafood and the trout smear sounded intriguing. Served on a fresh everything bagel that was firm, chewy and seasoned with sesame seeds, flaky sea salt, garlic, onion and poppy seeds, it complemented the smoked trout smear perfectly. The non-fishy tasting trout, together with cream cheese, finely chopped chives, dill and lemon juice, was phenomenal, especially with the addition of sliced cheddar and Granny Smith apple slices.
Like me, Nikki has tried many of the regular menu items. Her go-to order is the Cuban salad ($12), featuring big chunks of ham, smoked coconut in lieu of bacon and cheese. Avocado cubes and pickled onions round out the salad. The tangy vinaigrette combines bright and citrusy grapefruit with the traditional mustard. It is a fresh take on the popular Cuban sandwich.
For the review, she decided to mix it up and ordered a turkey triple ($14) instead. The sandwich was huge and featured three different turkey components: brined white meat, braised dark meat and fried skins. Sage aioli gave it definite Thanksgiving dinner leftover vibes, and the layer of onion bacon jam brought a little sweet and smoky flavor.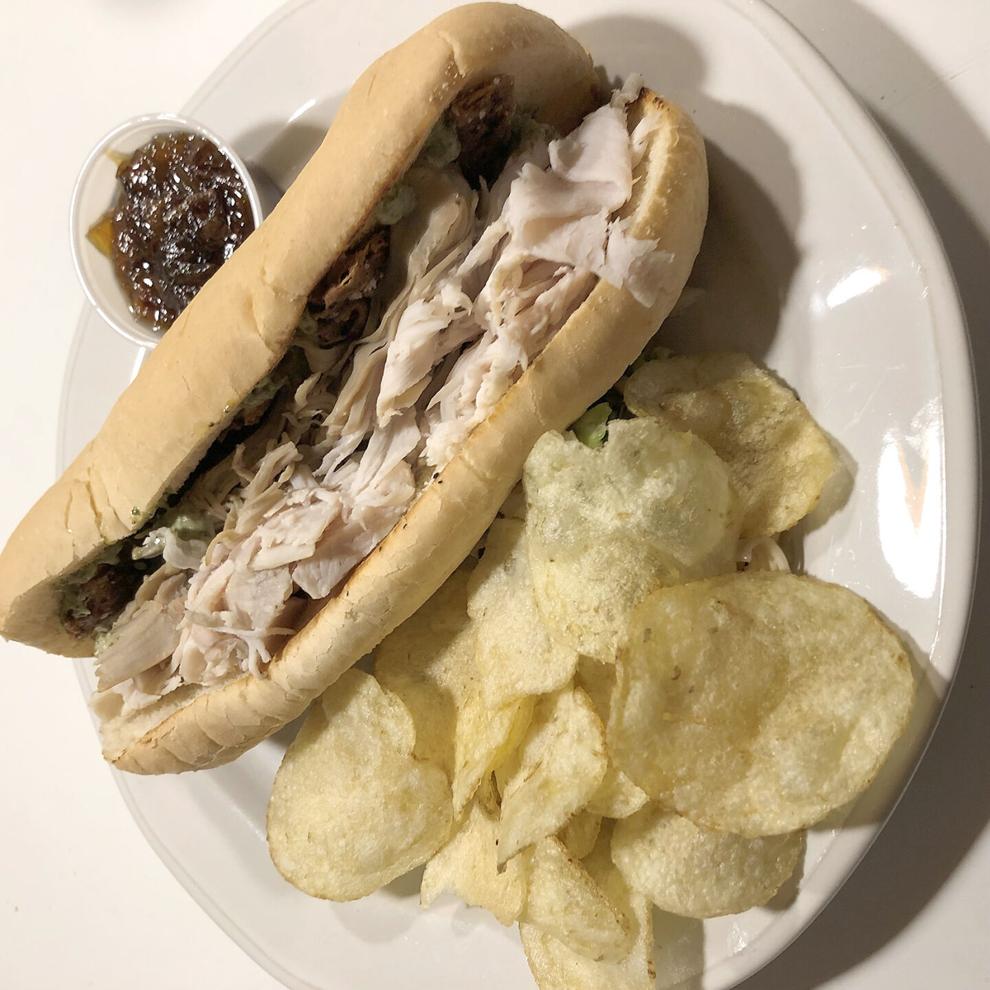 Helene enjoyed the Tommy Salami sandwich ($10). Reminiscent of a good grilled cheese but with so much more, it was filled with two types of meat: fried bologna and salami. It was the utmost in comfort food, with nicely grilled yet soft white bread and creamy, melted butterkäse cheese. The bologna flavor stood out more so than the peppery salami, but the highlight was actually the mustard that sweetened the deal.
Some of the other options we've enjoyed include the red-blooded American ($15), which comes loaded with so much roast beef you might have trouble taking a bite. The hash browns in the sandwich give it a nice crunch. For the vegetarians or those who want to sample something new, there is the jackfruit torta ($10). Some people call jackfruit the "miracle food" both because it is an alternative for meat and because of its sustainability. The pineapple and black beans give this one a unique niche.
We highly recommend adding a side of Sandwich Bar's fries ($4) to your order. They are delicious and come with Parmesan aioli for dipping. The combination is irresistible—garlicky, peppery and salty. If you have room left for sweets, try a chocolate chip cookie ($2) for dessert. If not, you can stop next door on your way out and get a pint of Jeni's ice cream at Lark Market for a late-night snack.
The Sandwich Bar takes sandwich making to the ultimate level, offering a fun, upbeat and unique dining experience with incredible sandwiches.