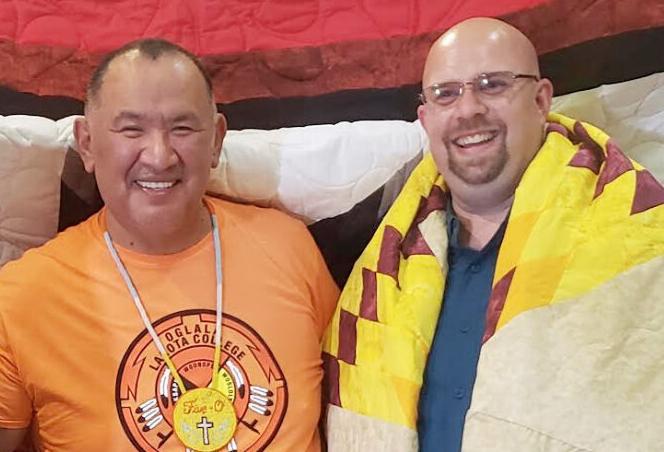 BELOIT
A white man and a member of the Cherokee Nation have joined forces in faith and friendship to travel the Trail of Tears and promote healing and more.
Doug Shaw of Beloit is director of Forthright Ministries International. Jimmy Muskrat is a member of the Keetoowah band of the Cherokee Nation.
In 2019, Forthright Ministries began documenting the testimonies of Native Americans throughout the United States and Canada.
"During these trips, we connected with Jimmy Muskrat. During our multiple conversations, we discussed a revisit to the Trail of Tears where we would document stories of hope along the way," Shaw said.
Muskrat is an evangelist who has traveled the country for the past 21 years as a motivational speaker and someone who has shared the gospel with other tribes.
"I'm excited," said Muskrat about the plan to drive the historic trail Nov. 1-14 from South Carolina to Oklahoma.
The Trail of Tears refers to the U.S. government-forced displacements of roughly 60,000 Native Americans between 1830 and 1850. They were forced to leave their homelands in the Southeastern states for a reservation in Oklahoma. Along the way, many suffered and died from disease, starvation and exposure.
The tribes involved included the Cherokee, Muskogee, Seminole, Chickasaw and Choctaw. Thousands died along the route or shortly after reaching their destination.
After a year of planning, Shaw and Muskrat said they will drive the 1,200-mile route together, interview people along the way and record experience on film.
The trail is not new to Muskrat, who said he traced the route on his bicycle when he was 13 years old.
"I know the trail. I know about the mass graves and the history," he said.
Shaw and Muskrat are well aware of the challenges Indigenous people face such as poverty, joblessness, drug and alcohol abuse, violence and educational needs.
Before he became involved with ministries, Muskrat said his job was being a chicken catcher. He also said he was into drugs and alcohol.
But that changed one day when he was at church and the spirit moved him.
"God changed my life," Muskrat said. "I've been drug-free for 21 years. I gave my life to the lord. The lord set me free."
And in November, he and Shaw plan on sharing the word of God with those they talk to and film.
When the project is finished, "The goal is to put the video on platforms such as YouTube and more," Shaw said.
The endeavor is twofold—first, to show those who are suffering that there is hope and second, to show how others have broken free from poverty and substance abuse, he said.
In the past, the government wanted to wipe out Native American culture, Shaw said. But he said there are traditions they don't have to step away from and that it is possible to blend culture and religion.
Anyone wishing to donate to the project can contact Shaw at contact@forthrightministries.com.