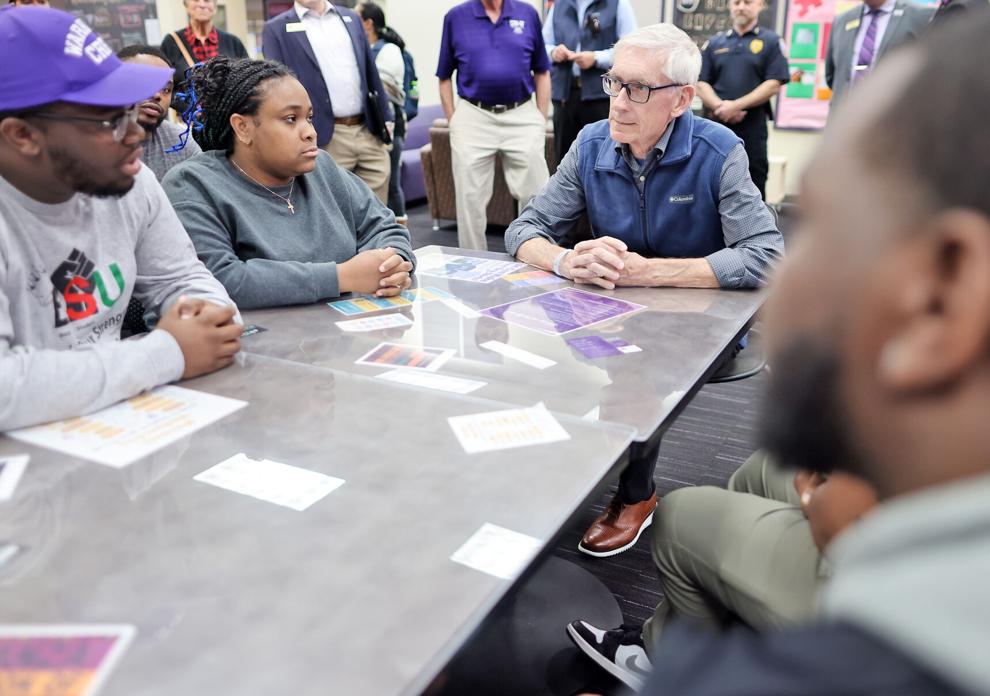 Wisconsin's governor's race has become the most expensive general election in the country, with Democratic Gov. Tony Evers' side outspending Republican businessman Tim Michels and his GOP allies by better than a 2-to-1 ratio.
Overall, the two sides have spent $55 million since the August primary, says AdImpact Politics, which tracks TV advertising spending by major campaigns.
In the U.S. Senate race, however, Republican incumbent Ron Johnson and his supporters have paid out $9 million more than Democratic challenger Mandela Barnes' side, making it the fifth most expensive contest in America.
A total of $89 million has been dropped in that contest since the August primary.
Despite the disparity in spending, both contests are considered tossups, according to recent polling.
"I don't know if it gives us an edge," Evers said. "It's our way of talking about things that we feel we've accomplished over the last four years and also a way to articulate, help articulate, his positions and how they're different than mine. So I think it's important to spend the money and we've worked hard raising it and it's a way to communicate with folks."
Brian Reisinger, a Republican consultant who worked on the 2016 re-election campaign for Johnson and former Gov. Scott Walker's 2018 race against Evers, said the governor's spending advantage reflects a recognition "that he was going to face a stiff challenge given the Republican environment and given the level of candidates that are running."
"A lot of this is the natural evolution of things after a primary," Reisinger said. "Tim Michels and Rebecca Kleefisch are both formidable. And I think it's clear that Tony Evers was prepared from a resource standpoint and from how he needed to position. Now, that said, after all of that, this is a neck-and-neck race."
"For Tim Michels to be essentially neck and neck after facing the attacks that he has, and preparing to be able to leverage more resources coming into the final stretch, he's in a good position."
Joe Zepecki, a Democratic consultant, said Evers was able to build his advantage while Republicans were deciding who was going to win the primary.
"Gov. Evers and his allies didn't know who the Republican nominee would be until mid-August, allowing them to marshal their resources for the final stretch," Zepecki said in an email. "It's clear that there was (and remains) confusion about how committed Michels is to the contest financially, which could be why outside groups have committed resources elsewhere."
A spokeswoman for Michels campaign did not respond to questions about the campaign's spending.
Michels' campaign officials pitched primary voters on Michels' ability to self-fund a general election campaign in an effort to persuade them to pick him over former Lt. Gov. Rebecca Kleefisch. He gave nearly $12 million from his own pocket to his campaign before the August primary.
Between the end of July and the end of August, Michels had put about $5 million into his campaign and raised less than $500,000 from other donors. Evers had raised $4.6 million over the same period with $1.6 million coming from the state Democratic Party.
After the primary, Michels campaign put out the word that it would then be accepting donations up to $20,000 per individual, the maximum permitted by law, breaking his earlier pledge.
Among Michels' supporters who gave the maximum amount were Louis Gentine, the retired CEO of Sargento Foods Inc.; Michele Gentine, Louis Gentine's wife; Dan Ariens, CEO of the Ariens Co.; David Charles, president Cash Depot; John Dykema, president of Campbell Wrapper Corp. in De Pere; and Madison developer Terrance Wall.
In all, Michels had 10 individuals donate the maximum sum, and three chipped in $10,000.
Reisinger said he expects Michels to put in more of his own money in the final weeks of the race.
Evers entered the final two months of the race with about $5 million more in cash than Michels.
The first-term governor received $20,000 donations from 10 individuals, including Andrea Soros, daughter of liberal billionaire George Soros. Others who maxed out were Abigail Dow, an instructional coach in New York City; Joseph Kaempfer, a real estate agent in Virginia; Stephen Clearman of Valatie, New York; Eileen Stauss, a Washington attorney; and Los Angeles billionaire Lynda Resnick.
Richard Gephardt, the former House minority leader and presidential candidate, gave $5,000 to Evers, bringing him to a total of $20,000 for the year.
According to AdImpact Politics, two Democratic groups—Alliance for Common Sense and a Better Wisconsin Together—have poured $25.5 million into the governor's contest since the primary in addition to the $12.3 million spent by Evers' campaign.
That brings the total Democratic outlay in the general election to $37.8 million.
On the Republican side, Right Direction Wisconsin and State Solutions have spent a total of $13.2 million on TV during the general election, while Michels' campaign has spent $3.6 million.
That means Republicans have spent a total of $16.8 million, less than half what Democrats have paid out.
The total spending by both sides outpaces that of other hotly contested races in Nevada and Michigan.
Sen. Johnson's edge over Lt. Gov. Barnes
In the U.S. Senate race, Barnes said he doesn't expect being outspent to predict the outcome of his race against Johnson.
"We certainly are going to have a fully funded and a well-rounded campaign, a campaign that's going to meet voters wherever they are. That's the most important thing," Barnes said. "That's how we came out of the primary with as much momentum as we had. Remember, we were outspent. We certainly were not outworked."
Johnson senior adviser Ben Voelkel said the senator's message is resonating with voters, "but this is Wisconsin and it will be a fight to the finish."
"National Democrats are dumping millions and millions of dollars into Wisconsin to try and prop up Lt. Gov. Barnes and fundamentally transform America by defunding the police and continuing awful policies that are hurting families with 40-year high inflation," he said in a statement.
Barry Burden, director of UW-Madison's Elections Research Center, said the spending dynamics are, in part, a result of Evers and Johnson being free from real primary challengers. For Michels and Barnes, Wisconsin's August primary meant a later start to get their general election campaigns off the ground.
"The spending between incumbents and challengers might level out as election day approaches," Burden said. "It is striking that outside groups are spending more than the candidates themselves. Only Wisconsin residents get to decide who wins, but there is clearly tremendous interest from donors and party leaders across the country in what happens here."
Overall, Republicans have spent a total of $49 million on TV ads since the general election, according to AdImpact Politics. That compares with $40 million paid out by Democrats during the same period.
AdImpact Politics reports that the U.S. Senate race in Wisconsin is the fifth most expensive in the country.
"This race is going down to the wire, could still go either way," said Zepecki, the Democratic consultant. "My fear is that as the national map has expanded Democratic donors, and groups have been distracted by larger, more expensive states where Democratic campaigns might have a shot (Ohio and Florida, for example)—but are in no way as well positioned to win as Barnes is."
Kaul's edge over Toney
In the race for attorney general, the incumbent candidate also has a wide financial advantage.
Democratic incumbent Attorney General Josh Kaul raised $481,131 in the most recent campaign finance reporting period, more than twice what the Kaul campaign reported raising during the corresponding period in 2018 and more than three times what his Republican opponent, Eric Toney, has raised.
The Toney campaign has reported raising $136,633 over the last reporting period. Toney has $120,749 cash on hand. The Kaul campaign has more than $2.1 million cash on hand.
Toney's campaign released a statement after the release of the campaign finance report saying the money advantage doesn't equate to a win, citing Toney's victory in the primary election against former state Rep. Adam Jarchow despite being outspent by more than $1 million.
"There is no amount of money Josh Kaul could raise that can rescue his failed record," Toney campaign spokeswoman Courtney Mullen said.