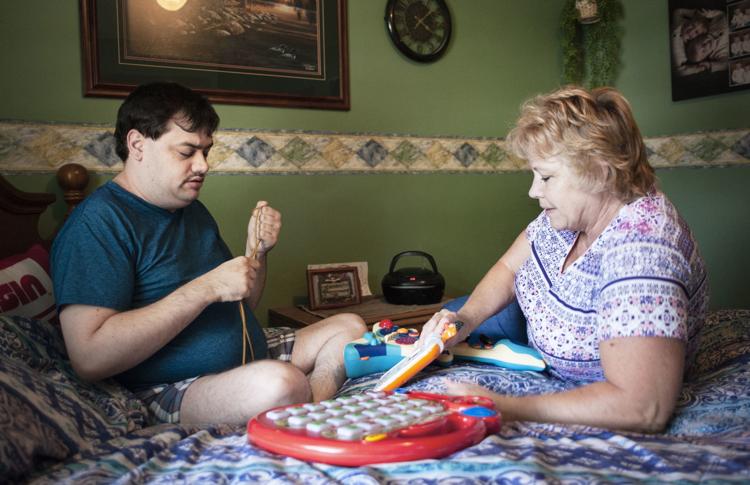 JANESVILLE
Talking with a group of friends and family about her plans, it's clear Milton resident Sara Knutson is a taskmaster.
Sitting at a table in the community room at Janesville's First Lutheran Church, Knutson works to pin down facts, numbers and ideas that arise from chit-chat, and she resets conversations, steering the focus back to the core issue the group has come to meet about.
Knutson and a group of six are trying to launch Camden's Hope Center, a proposed nonprofit daytime activity center for local adults who have developmental and cognitive disabilities.
Knutson said some local adults with disabilities might not be living lives as full as possible because local day centers are increasingly crowded or are geared toward services for the elderly.
One of those Camden's Hope would serve is Knutson's son, Camden.
Knutson and her mother, Dorothy Knutson, helped a local nonprofit group launch CAMDEN Playground at Palmer Park in Janesville. It's specially designed for use by physically and cognitively disabled children.
CAMDEN Playground has been in operation since 1993, and it's named after Sara Knutson's son, Camden. The proposed day center, Camden's Hope, also would be named after Camden.
When CAMDEN Playground was built, Camden was a boy.
Now, Camden is a 36-year-old man who is fully ambulatory but who has autism.
In some ways, Camden's outward behaviors haven't progressed much beyond his childhood years, and he lives at home with Knutson.
Camden is mostly nonverbal, but his mother said he comes alive when he hears country music.
"He sings every word," she said.
Knutson works during the day at a local retail store, and when she goes to work, Camden goes to a daytime activity center in Janesville from 10 a.m. to 3 p.m.
Because Knutson's work hours don't jibe with the hours her son's day center runs, Camden needs wraparound services at home early in the day.
Now, Camden gets bused to and from the activity center. The center costs about $21 an hour, although Knutson said Camden's services are paid through the state's Family Care program.
Cost is not the issue, Knutson said. Services are.
Knutson said one of the three or four local daytime centers available for adults with disabilities is geared toward daytime work programs. Some of the others are increasingly geared toward serving disabled senior citizens who have a high demand for physical care and feeding. Others, she said, have waiting lists or are "crowded," their staff outnumbered by clients "six to one."
Because of the shift in client demographics and the logistical demands her son's center seems to face, Knutson said Camden is seeing less of the kind of activities she thinks would best benefit the social health and well being of people in Camden's age category—20 to 64.
Knutson declined to name the center Camden uses, but she said because of circumstances there, Camden's day consists mainly of eating lunch and being bused to and from the center, Knutson said.
"He doesn't have a very productive or enriched day," Knutson said. "So we want to open a center for him and others like him."
Camden's Hope would be a faith-based center staffed by three or four people. It would be dedicated to daytime social activities for up to 10 ambulatory adults with "moderate" developmental or cognitive disabilities.
Organizers envision a center that could have three to four staff, including an educational and activities coordinator.
The center would focus largely on getting clients out into the community for daily activities—something she said isn't happening often enough for Camden.
Examples could include excursions for bowling, movies, dining or shopping, said Becky Saterback, a Camden Hope organizer who said she has a background in public education.
Jennifer Thompson, division manager of the Rock County Aging and Disability Resource Center, said estimates through the U.S. Census Bureau show about 8 percent of the adult population in Wisconsin between ages 18 and 64 is considered disabled to some degree.
In Rock County, that would put the population of adults with disabilities at about 7,800.
Thompson said last year the county resource center had 3,286 contacts with adults with developmental disabilities such as autism. That accounts for about 16 percent of contacts the center had overall.
Thompson said it's hard to know how many people locally face circumstances like Camden and his family, but she indicated his age group is underserved by day services. She's glad to hear organizers through Camden's Hope are focusing on day activities for young to middle-aged adults with disabilities.
"That would be awesome because we do see that area of programming as being really limited," she said.
Camden's Hope is early in development. Among other things, it's looking for commercial space in a location to serve the Janesville and Milton areas.
Organizers are trying to identify costs and are researching funding sources. The group is meeting with a lawyer this week to discuss incorporating Camden's Hope as a nonprofit entity.
Todd Long, Camden's stepfather, said he, Knutson and other organizers of Camden's Hope have a lot to learn about running a day center, but most involved have life experience caring for family members with developmental disabilities.
"We're early in the process of what we're looking at, but we are veterans in the process of this whole situation," he said.
CLARIFICATION:
An earlier version of this story did not clearly explain Sara Knutson's connection to the CAMDEN Foundation, the nonprofit group that founded the CAMDEN Playground in Janesville. Knutson was an early board member for the CAMDEN Foundation, and helped raise funding to build CAMDEN Playground. Sherry Kuelz and Todd Long originally founded the Camden Foundation, and filed for nonprofit status for the foundation in 1990, Sherry Kuelz said.