JANESVILLE
The Rock County Sheriff's Office is keeping its patrol shifts fully staffed as it works to fill 10 vacant positions and pays overtime exceeding $1 million a year.
The overtime and the vacancies aren't necessarily related, Chief Deputy Barb Tillman said, but the sheriff's office has found it harder in recent years to recruit new deputies.
Tillman said she sees no ill effects such as burnout from the overtime or from handling duties represented by those vacant positions.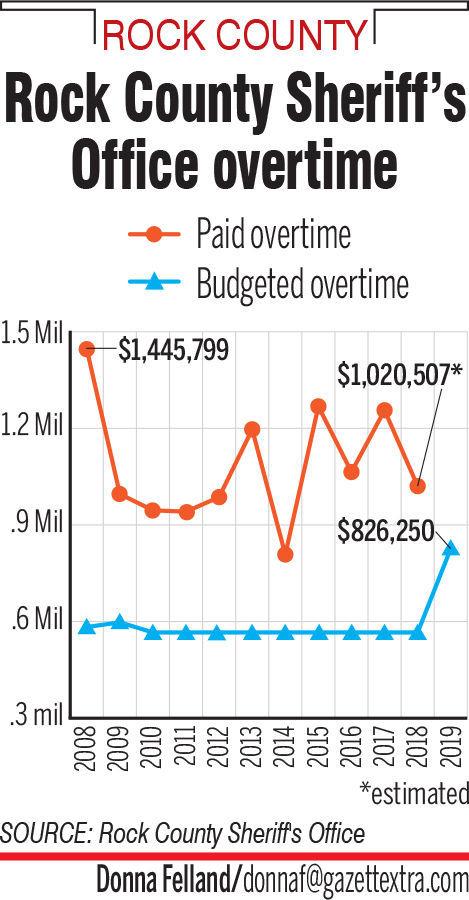 Six of the vacancies are end-of-the-year retirements. The other four are in court services, the ID bureau and a recreational safety deputy.
People are not being transferred into those positions to keep the patrol shifts staffed, Tillman said.
As of Friday, the 14 first-shift patrol positions were filled, as were the 15 on second shift.
Third shift, which normally has 12 deputies, has 11, but one new deputy now in field training will likely fill that slot, Tillman said.
Meanwhile, three recruits started police academy training at Blackhawk Technical College today, and another—and maybe a few more—will join the academy Jan. 28.
Recruits go through 17 weeks of academy and then 15 weeks of field training before they can patrol on their own, so Tillman said they won't help with staffing before Labor Day.
Several new recruits won't need the training. They are already certified law enforcement officers.
A recent change in the union contract allows the hiring of already-certified officers at pay steps reflecting two to four years of experience, Tillman said.
"We have lined people up to fill the slots," Tillman said.
But law enforcement agencies everywhere are seeing fewer candidates, Tillman said, which has made it difficult to keep up with losses to retirement or employees taking jobs elsewhere.
The strong job market is one reason, Tillman said. She remembers 100s of applicants for positions many years ago. Just 25 applied in the sheriff's office last go-around, she said.
And Tillman suspects the image of law enforcement, tarnished in recent years by highly publicized events around the country, could be keeping young people from choosing law enforcement as a career.
Tillman said the sheriff's office is reaching out with its new Explorer scouting program to expose young people to the profession, and she encourages deputies to put in a good word with young people they know.
Deputies, meanwhile, have for years been working hours that exceed the overtime budget approved by the county board. Dollars allotted to vacant positions have paid for the overtime, and in some years the sheriff's office has exceeded its overall budget, now about $22 million, Tillman said.
This year, the county board authorized an increase in overtime expenses. At the same time, the county administration is asking for more information about the reasons for overtime.
County Administrator Josh Smith said the sheriff's office is not the only department where this adjustment was made to more accurately reflect how money is being spent—both for budget planners and for the public.
Tillman said one big use of overtime is for guarding inmates or just-arrested people at local hospitals. The inmate population has many more medical problems than in the past, some caused by drug abuse, sometimes because of the need for dialysis or chemotherapy or treatments for other ailments, Tillman said.
Waiting at the emergency room for injured people who are arrested can take hours, Tillman said. The same goes for people in severe mental health crises who must be medically evaluated before being placed in jail or a mental-health facilities.
Those needing mental-health treatment and facing charges are often taken to Winnebago Mental Health, a five-hour round trip that requires two deputies, Tillman said.
Deputies are regularly asked to volunteer for hospital guard duty or mental-health transports, Tillman said.
Also pushing up the overtime numbers are officers out sick, taking family and medical leave or whose work injuries keep them at home or on light duty, Tillman said.
As for the vacant positions, supervisors are doing more hands-on work until those positions are filled. A captain and sergeant in court services are transporting inmates to and from the courthouse, for example.
"We've kind of adopted an all-hands-on-deck philosophy to get us through" until more recruits can complete training and end the short-term vacancy problem, she said.
Tillman said as more is asked of supervisors, it's her job to keep communications open to make sure that all that needs to be done is getting done.
A long-term solution to overtime might be more deputies and more correctional officers because overtime at the jail has been high. But Tillman said it's too early to talk about that.
The county last year compared staffing levels to six comparable counties. They found Rock County near average in staffing, both for deputies and correctional officers.
Decision-makers need better data on the reasons for overtime, Tillman said. Until now, it's been impossible for administrators to know that overtime was for a mental-health transport or hospital guard duty, for example.
Tillman has just approved a new overtime-reporting form that will require more specific reasons.
"In the future, we can take this new overtime information and see if we need to discuss staffing at budget time," Tillman said.
With all this going on, Tillman is adamant that public safety is not affected.
"When you call and you need a deputy sheriff to respond for an emergency or call for service, we have the personnel to do that," Tillman said.
But she also said it's common for a deputy to handle an emergency mental-health case at 7 p.m. and sit at the hospital until 2 a.m., even though the shift ends at 11 p.m. Then it's another five hours if the person needs to be taken to Winnebago Mental Health, and the deputy finally goes home at 7 a.m.
That deputy has enough time to sleep and get to the start of the next shift at 2:30 p.m.