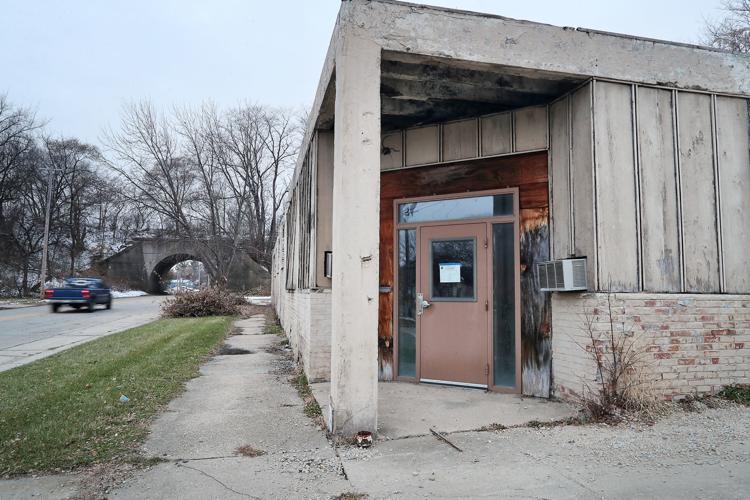 JANESVILLE
The photo depicted a dilapidated building with graffiti-covered walls and a roof that had sprouted weeds and a gaping hole.
Objectively, it is an eyesore on Janesville's near south side. But for some Gazette readers, the photo that graced the Nov. 15 front page conjured memories of better times.
Long before 1102 Rockport Road became the face of a story about Janesville's vacant buildings, it was Swanson's grocery store.
City officials weren't entirely sure what the property had been, but they thought it had served as storage space and possibly a print shop in recent years. A flurry of readers contacted The Gazette after the story ran to identify the building as Swanson's.
"They had the best meat in town at the time when they were down there. They were very friendly people to get along with," Ken Vogel said. "They did enjoy their business and enjoyed their customers. It was always a pleasure to go down there.
"I hate to see the thing in the shape it's in, but bygones be bygones."
An Aug. 8, 1940, article in The Gazette shared details of the store's grand opening at the corner of Washington Street and Rockport Road, then known as Western Avenue. The building was the former Jaeger Bakery garage.
This wasn't the first Swanson's location. It operated from 1922 to 1927 in Footville and opened a second store in 1926 at 16 E. Racine St. in Janesville. Another Swanson's at the corner of Center and Western (Rockport) avenues opened in 1930 before closing and moving one block west to the currently vacant property, according to the 1940 Gazette story.
That story also refers to a credit payment system, which Carolyn Peterson remembers well.
Her family lived on a farm west of Janesville. Her mom called in her grocery order, and Peterson drove into town to fetch the food. Workers boxed up the order and placed it in her trunk, she said.
She signed a slip, and her mom paid the bill when she could.
Peterson's sister, Barb Curtis, was the daughter-in-law of Irma Curtis, one of the store's owners.
Brothers Harold and Henry Swanson operated the store in its early days. Both later served on Janesville City Council and then retired to Clearwater, Florida. They sold the store to their cousin Wally Swenson (yes, that's the spelling) in 1945, according to Gazette archives.
Reader Richard Williams said while the building now would be considered a "little, dinky store," it was one of Janesville's most modern groceries when he shopped there as a boy in the late 1940s and early 1950s.
Alice Hessenauer raved about Swanson's meat department, which had a butcher who gave shoppers the cut of meat they wanted. If the store didn't have the kind of meat someone was looking for, staffers would alert the customer once it arrived, she said.
Most readers who spoke to The Gazette on Monday thought Swanson's had closed sometime in the late 1960s or early 1970s. But the grocery store placed an ad in The Gazette as late as March 1980.
In October of that year, a family took out an ad in the newspaper, thanking several employees by name "for their courteous assistance over these many years." In May 1981, the building was listed for sale in the paper for $90,000.
Peterson said she loves shopping at Woodman's nowadays and called Swanson's "Woodman's before it was Woodman's." But Woodman's, Festival and other big-box grocers don't know the average shopper by name.
"You can never go back and get that kind of atmosphere. I'm sure there are some little towns that have stores like that," Peterson said. "But in today's world, they're pretty rare. Swanson's was a wonderful place to be.
"Everybody knew your name."