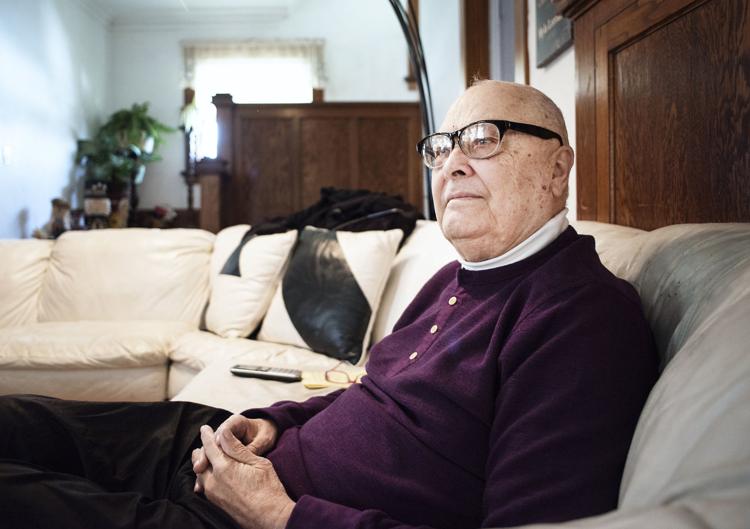 WHITEWATER
J.P. Fisher can't squeeze a stapler with his right hand, a lingering effect of contracting polio when he was 2 years old.
The 81-year-old Whitewater resident has little muscle development in his right arm.
Despite the disease and its weakening effects, Fisher went on to be an All-American basketball and baseball player for UW-Whitewater and has been inducted into the Wisconsin Intercollegiate Athletics Conference Hall of Fame, UW-Whitewater Atheltics Hall of Fame and Elkhorn High School's Athletics Hall of Fame.
But the disease that killed thousands of people in the first half of the 20th century affected Fisher throughout his life, even after he was cured.
Decades later, Fisher is concerned about a disease some describe as "polio-like" that has become more common in recent years.
Acute flaccid myelitis is a rare condition. The chance of getting it is less than one in a million people, and since 2014 there have been 386 confirmed cases, the Associated Press has reported.
The condition affects a person's nervous system and can cause weakness in the limbs, according to the Centers for Disease Control and Prevention.
The cause of the disease has not been confirmed, but it is believed to be linked to viruses that attack the spinal cord, according to the Centers for Disease Control and Prevention.
Like polio, the disease can cause weakness or dysfunction in limbs and typically effects children.
Local health officials say they have not seen acute flaccid myelitis in the area but are keeping eyes out for it, as they do with other emerging diseases.
Fisher said one of his only regrets is not properly thanking his parents for helping him when he had polio, he said.
His parents rubbed his limbs every day to improve blood flow, which Fisher believes prevented him from becoming paralyzed.
Fisher said bringing awareness to diseases and prevention can help parents save their children's lives.
Life after polio
Polio caused Fisher to use a wheelchair for some time before progressing to crutches and then braces on his legs and back, he said.
Doctors told his parents he would never use his arms and legs again, Fisher said.
Fisher didn't grow at a normal pace until he was a senior in high school. He had no strength in his right arm and was mediocre on his Whitewater High School basketball and baseball teams, he said.
But after taking a few years to work after high school, Fisher returned to UW-Whitewater and lettered for four years in basketball and baseball and was the all-time leading scorer on the basketball team, he said.
While he garnered athletic accolades, he still felt repercussions of polio. His right arm was visibly smaller than most, and members of opposing teams would taunt him, he said.
Fisher still is weak in his right arm and has back problems he thinks comes from polio.
Preventing an outbreak
The Centers for Disease Control and Prevention reported 62 cases of acute flaccid myelitis across 22 states this year as of October. Two of those cases were reported in Wisconsin.
Brenda Klahn, infection preventionist at SSM Health St. Mary's Hospital-Janesville, said the hospital staff always is looking for emerging pathogens and communicable diseases.
She has not seen any cases of acute flaccid myelitis locally, Klahn said.
Disease outbreaks can be prevented by building herd immunity through vaccinations for preventable diseases, Klahn said.
In recent years, diseases such as mumps and measles have trickled back into the mainstream as more people choose not to vaccinate children, Klahn said.
Rock County historically has had low numbers of childhood vaccinations because of people who oppose them and people who are uninsured and don't have access to affordable health care, Klahn said.
Vaccinations will not help all people, such as the very young and those whose immune systems are compromised. Vaccinating children who can be vaccinated will prevent diseases from coming back and spreading, Klahn said.
The idea that vaccines cause autism is false and has been debunked by the medical community, Klahn said. Traces of mercury have greatly been reduced in vaccines to the point where mercury is nearly non-existent, she said.
Younger people don't remember diseases such as polio and rubella because they have been eradicated in many parts of the world by vaccines, Klahn said.
As Fisher sat on his couch Thursday talking to a reporter about the challenges in his childhood, he said he hoped nobody would forget what he and others went through because of polio.