JANESVILLE
City officials said a seemingly never-ending spell of rainy weather the last several weeks has hampered crews trying to finish converting part of South River Street to a festival street in downtown Janesville.
Since this spring, the city has been reworking a block-long stretch of South River Street the city can cordon off temporarily to host festivals. The original goal was to wrap up work and reopen the street this Friday.
City Engineer Mike Payne said Tuesday a spate of rain over the last week has slowed finishing work and streetscaping. Payne said he hopes crews can cap off the project and reopen the street by the middle of next week.
Recent rains have pushed river levels high, and rainy weather also delayed crews finishing work installing curbs, pavers, benches and other features. The street won't reopen until that work is complete.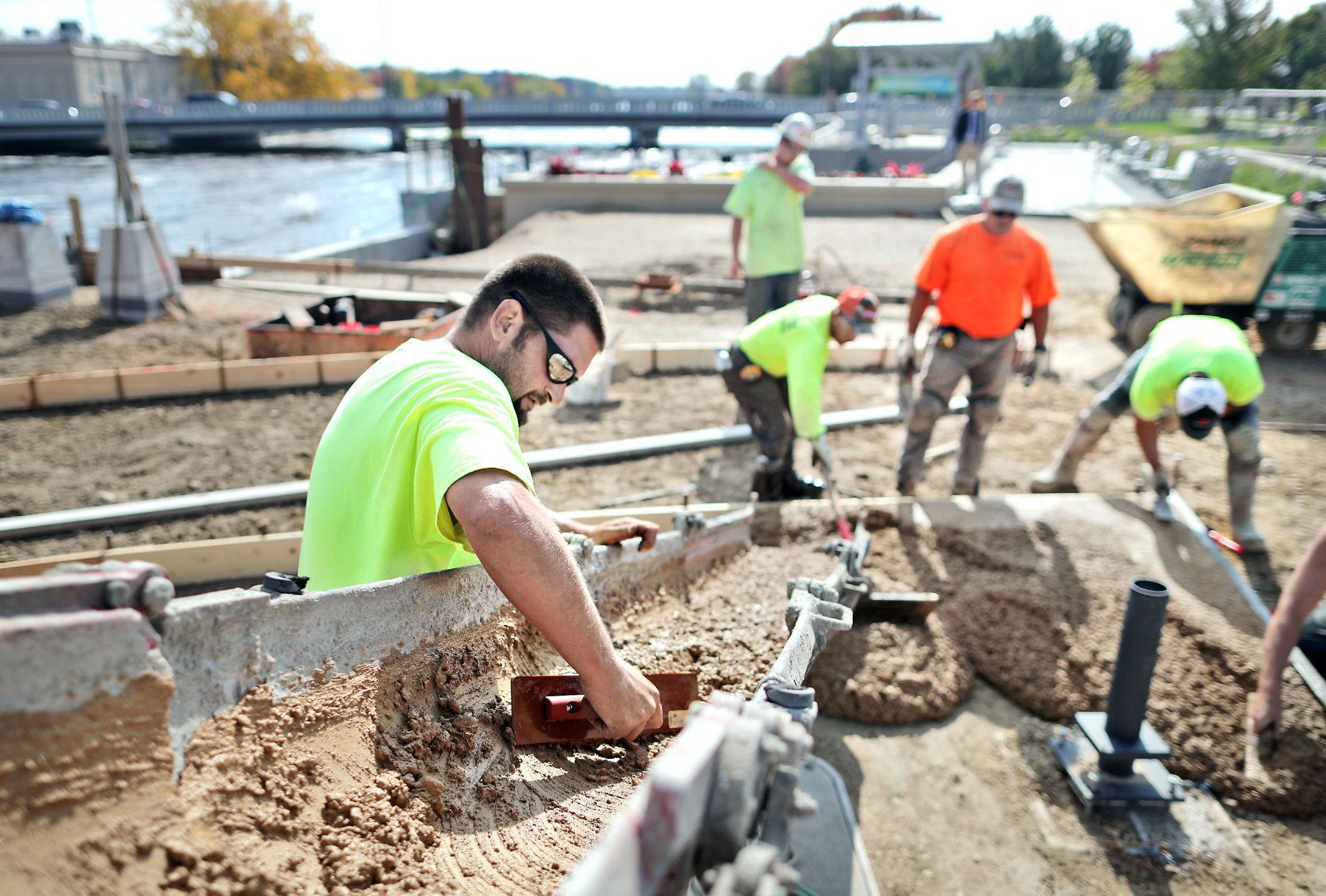 The street should be open in time for the city to roll ahead with Fun on Festival Street, a planned community block party Friday, Oct. 26, showcasing the new street and completed portions of the adjacent town square along the west side of the Rock River.
Molly Nolte, management information specialist for the city, said the city's block party might come before completion of all work the city had hoped to finish by mid-fall in the town square area.
Parts of a concrete bike path suspended over the river and intended to tie into the north end of the town square can't yet be completed because a gravel access road crews had built in the river is underwater. The water is flowing too fast to put large construction equipment into the river, Payne said.
Nolte said it's likely the block party Oct. 26 could be the first and last major event hosted this year along the new festival street.
"We might be kind of kicking off festival street season and closing it down all in the same day this year," Nolte said.
Nolte said the block party will happen rain or shine. She said a live band plans to play at the event, which will feature food trucks, locally made beer and events for kids.
Payne said the reopening of the festival street by the middle of next week is weather-dependent. Rain has to hold off long enough for crews to complete finishing work.
Adjacent to the South River Street project, the state Department of Transportation is now rolling ahead on the removal of the West Milwaukee Street bridge.
Although street closures along West Milwaukee Street and River Street have temporarily knocked out motorists' normal access to the first block of the downtown business corridor west of the river, crews working on the two projects can complete scheduled work without being in each other's way, Payne said.