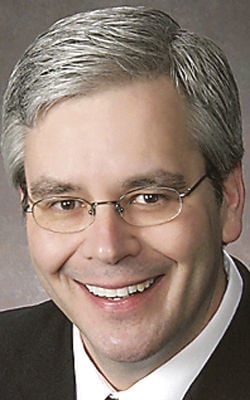 The public shouldn't buy Rock County Sheriff Robert Spoden's claim that he did nothing wrong by trying to derail a Janesville Police Department investigation involving his son.
While a state review found no criminal wrongdoing in Spoden's conduct, the finding in no way exonerates Spoden. If not criminal, his behavior was highly unethical.
District Attorney David O'Leary deserves credit for intervening and alerting the state attorney general's office to Spoden's actions. O'Leary, who routinely works with the sheriff's office in prosecuting cases, showed integrity by refusing to look the other way and requesting an impartial investigation.
Spoden made matters worse this week by defending his reaction to the Janesville Police Department's inquiry into an August underage drinking party, which Spoden's son had attended and where someone was seriously injured after falling into a pool.
"It was compassion. It was caring, and, honestly, I was just trying to be a nice guy," Spoden told Gazette reporter Frank Schultz.
It doesn't look that way to us. In our view, Spoden's actions were self-serving and highlighted a dismissive attitude some people have toward underage drinking, though that's a subject for another editorial.
Spoden said he was acting as a concerned parent, but he is no ordinary parent. He is the chief law enforcer for Rock County, and he should have recognized his status required him to distance himself from the investigation. Instead, he used his position to try to impede the investigation.
Police records indicate Spoden advised his son, Joseph Spoden, not to speak with police. That may be his constitutional right, but it slowed the police's progress as other party-goers also clammed up.
More concerning, Spoden attempted to intimidate Janesville officer Brian Foster, who tried to speak with Joseph and then contacted the sheriff. Foster stated in a report that the sheriff "suggested I excuse myself from the case because of the prominent people involved and the problems it could cause for me and my family."
If that's not abuse of power, it's right on the edge.
Spoden made several remarks portraying an attitude of special privilege. In a text exchange with Spoden, Foster said he had concerns with Spoden's "role ethically in what is going on." To which Spoden replied that he didn't need to explain himself to Foster. "But as Chief Law Enforcement officer of this county I am obliged to respond," Spoden continued. "I have parents upset by your actions. So again, what is your goal? Also I am offended by you questioning the sheriff of Rock County."
Spoden also complained to Police Chief Dave Moore, who documented his conversations with Spoden for state investigators.
"He explained that all of the kids involved come from good families and there was no need for an investigation," Moore wrote.
Good families?
Was Spoden implying investigations should only focus on "bad families"? And who are these bad families, the ones without sheriffs for dads? "Good families" is code for the well-to-do, for people who think they should get a free pass.
Another ridiculous notion is that the police should have stopped the investigation because it was upsetting the teens and their parents. If law enforcement operated by this standard, the majority of crimes would never be investigated. We sure hope Spoden doesn't run his office this way.
To their credit, Janesville police pursued the case to the extent possible and issued three citations related to underage drinking.
Spoden seems to be in denial over his culpability in this ordeal. He told The Gazette, "It's despicable that people will try to turn this into some kind of a scandal when the tragedy speaks for itself."
But the only thing despicable here is Spoden's conduct.