JANESVILLE
An aging population.
A top-rated nursing program.
A city's economic and cultural evolution.
Those three Rock County realities are now linked by one bond: A $1 million scholarship program designed to increase prosperity—and not just for its participants.
At the center of it all is Blackhawk Technical College's nursing program, which has gained a reputation for its rigor and the quality of its graduates.
In the past three testing periods, 100 percent of Blackhawk Technical College's nursing students passed the nursing boards, more commonly known as the National Council Licensure Examination, or NCLEX.
That feat gave the college a No. 1 ranking, which it shared with other two- and four- year programs with a 100 percent pass rate.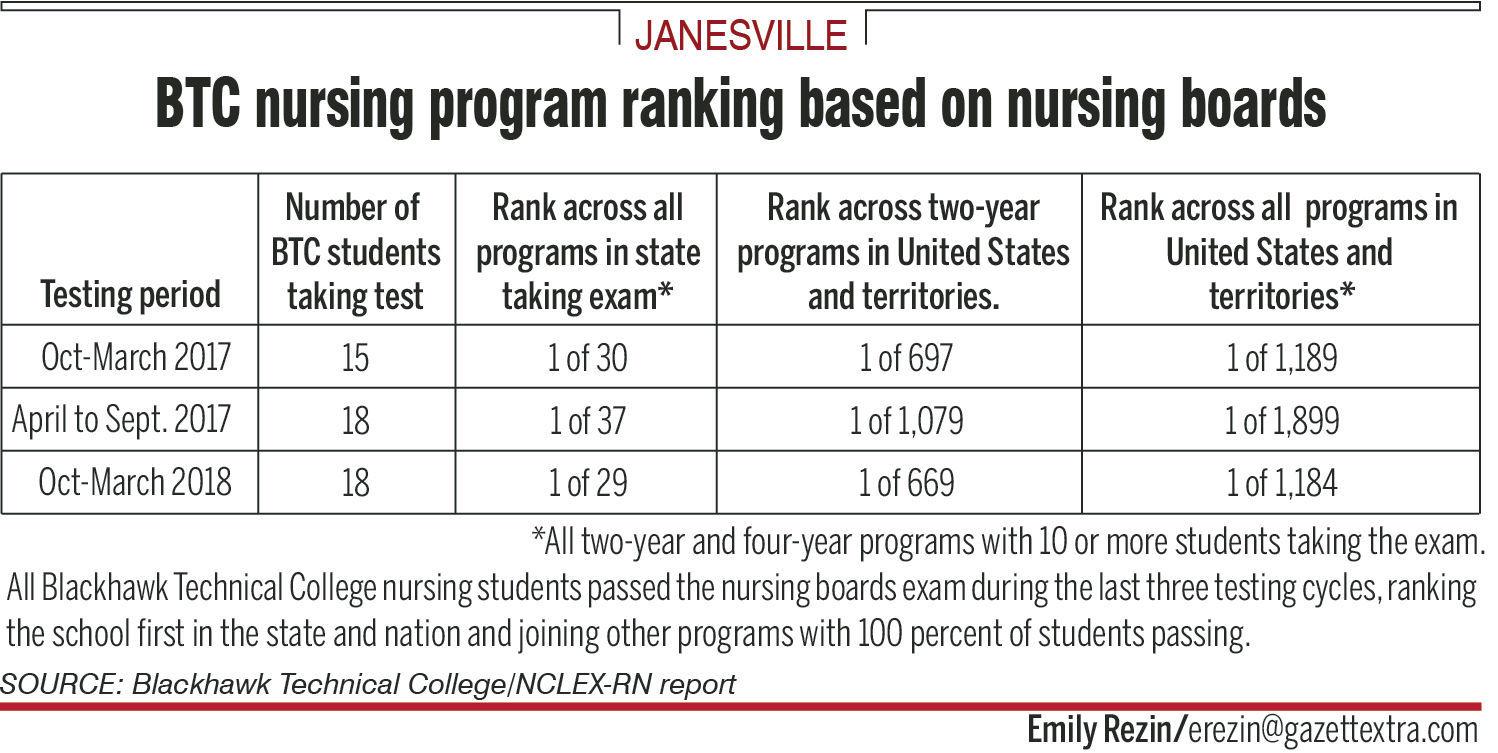 BTC President Tracy Pierner can hardly contain himself when he talks about the numbers. If the listener doesn't appear suitably impressed, Pierner will point to the numbers and say, "That's No. 1 with the Stanfords and the UW-Madisons."
That's true. Although Blackhawk shares the No. 1 spot, it's impressive when you consider that the ranking means the local program is:
First among 29 two-year and four-year nursing programs in the state.
First among 699 two-year programs in the country.
First among 1,184 two-year and four-year programs in the United States
High standards
It's not just test results.
"We hear from our community partners that hire our graduates that our students are well-prepared when they enter the workplace," said Deborah Pessoa, chairwoman of BTC's nursing department. "Because we are a rigorous program, they have the skills and critical thinking abilities."
It's more complex than having students memorize anatomy and disease pathways.
"We can teach them the pathophysiology, but we know that people are very complex," Pessoa said. "It's not just the disease process that's going on. It's who do they have in their family that depends on them? What is their role outside of the health care setting?"
Meredith Aarud, vice president of clinical services at Cedar Crest, said she "absolutely" agrees that Blackhawk's students are well-qualified.
She's pleased with their "standards and skills," their professionalism and their critical thinking.
Many of the students start work at Cedar Crest after taking nursing assistant courses and continue to work there as they pursue additional degrees.
"We have them for the entire journey," Aarud said. "We know what we're getting."
About 75 percent of nursing staff come from Blackhawk Technical College, she said.
It's telling that Cedar Crest has received five-star ratings from consumer websites and a rank of "high performing" from U.S. News and World Report.
Such ratings depend heavily on the skills, behavior and patient interaction of nursing staff.
"You have to have quality front-line staff," Aarud said.
Rigorous process
Many of Blackhawk's nursing courses use the "flipped classroom" model of teaching, which requires students to tackle new material first through readings, videos and other homework. Then, when they are in the classroom, the new material is reinforced and integrated into what they already know.
In Beth Strauss' nursing pharmacology course, students must complete an online quiz to show they have read the material before getting a "pass to class."
"It might be an open book test, but they only have 10 minutes to answer five questions, so they better know where that material is and be able to find it fast," Strauss said with a grin.
It's a system that seems to work.
On a recent Monday, Strauss' students were able to answer her questions and give reasons for those answers.
"I always ask for reasons," Strauss said. "It might not be the right reason, but they've got to have a reason."
It's all about developing critical thinking skills and considering all the facts about the patient and the situation.
The program's reputation is such that community members have complained its standards are too high. Complaints include the low completion rate, high testing standards and the limited number of reentry options.
"Any nursing program that produces quality graduates is going to be difficult," Pessoa said.
Most nursing programs have similar rules and outcomes, Pessoa said. Nationwide, about 50 percent of students make it through nursing programs. The completion rate at BTC is between 50 percent and 60 percent. Most programs require students to pass exams with an average of 75 percent or higher. BTC requires average test scores of 80 percent or higher.
It is rigorous, and it should be, Strauss said.
"Sure, if we set the bar here, students will reach it," said Strauss putting her hand at shoulder height.
Then she raises her hand above her head.
"We've found that if we put the bar here, students will also reach it," she said. "That's what we want."
Many of Blackhawk's students are first-generation college students and face additional challenges that range from lack of income to lack of family support. Staff try to give these students the extra practical and academic support they need.
"The students here have everything riding on this," Strauss said. "There's a lot at stake."
It's heartbreaking, she said, but not everyone is cut out to be a nurse, she said.
Making the cut
In July, the Parker Foundation announced that it was donating $250,000 over a five-year period to help start the Nancy B. Parker Nursing Scholars Program.
The program was named after Nancy B. Parker for her lifelong contributions to and involvement with nursing activities, including serving on the board of trustees for what was then simply called Mercy Hospital.
During the next five years, Blackhawk Technical College officials will ask businesses and local health care systems to help raise another $500,000. If they can meet that goal, the Parker Foundation will donate an additional $250,000 to make it $1 million, thus creating a perpetual scholarship fund.
This fall, the first group of Nancy B. Parker Scholars started school.
Anna Swanson, 39, is one of 14 students picked for the honor.
Swanson first worked as a cosmetologist. But as a single mother of two, she needed additional part-time work to make ends meet.
She started working in the kitchen of Riverview Terrace, an assisted living facility in Beloit.
"The people who were training me for the job were high school friends of my son's," Swanson said. "It was sort of like, 'Oh, how low can you get.'"
But she liked the job and the residents and decided to become a nursing assistant.
She took courses at Blackhawk and passed the certification exam.
Swanson has worked in other health care settings, but long-term care is where her heart is.
"When I was gone, I really missed the Terrace and its residents," Swanson said. "Being there doesn't feel like being at work."
Now she's pursuing a nursing degree.
When asked what the scholarship meant to her, she gave a huge sigh and said, "Oh, it helps so much."
That was the universal response from scholarship students. Most are working. Many have families. And everyone is in a position where a single speed bump—failure of child care, lack of money for books, an unexpected medical bill, a car that needs repairs—could completely derail their plans.
Community impact
The Parker Foundation designed the scholarship to do more than help nurses get through school, said George S. Parker, son of the late Nancy B. Parker.
Scholarship criteria include work or a paid internship in long-term or hospice care and—this is crucial—a commitment to look for work in Green and Rock counties.
When skilled nursing professionals make Rock and Green counties their homes, the quality of health care services in the local area improve and the whole area benefits economically, Parker wrote in an email to The Gazette.
Could such a formula work?
Certainly, said Russ Kashian, UW-Whitewater professor of economics.
"…These are developments that positively improve the quality of life in a community," Kashian wrote in an email to the Gazette. "Where people choose to live is based on many factors, one of which is opportunity."
This kind of scholarship is a statement about the community commitment—and attitude—about the future, Kashian said.
"If people see a vibrant community that offers hospitals, clinics and other services, they will have a positive view of the region," Kashian wrote. "This will hold the dollars in the community for two reasons. One, they will reside in that community, and, two, they will spend their health care dollars in the community."
And quality health care is going to be an increasingly important factor in where people chose to live. There are now more Americans over 65 than any other time in history, according to the U.S. Census Bureau.
Janesville Economic Development Director Gale Price echoed Kashin's comments and said the scholarships could help retain talent in the community.
"Many young professionals can go wherever they want because that's what the market allows them to do," said Price.
Many graduates will start their professional lives in the community.
"Once people get settled in, they may decide that this is the place where they want to be," Price said. "It allows us to start to diminish or eliminate the out migration of talent."