There's really nothing like seeing the drivers of the Verizon IndyCar Series muscle their cars around Elkhart Lake's Road America. If you're a race fan, and more precisely an IndyCar fan, Road America is the place to be.
The sound of 2.2-liter twin turbo V-6 engines with over 10,000 rpm echoing around the 4.048-mile, 14-turn track and throughout the 640-acre grounds is enough to excite any race fan. The smell of burning rubber and ethanol fuel mixed with the smell of charcoal grills in the fresh air is addictive. It gets in your blood and it never leaves.
Points leader Scott Dixon won Sunday's Kohler Grand Prix at Road America in a race that was looking to be dominated by Team Penske. The four Penske drivers qualified in the top four spots Saturday, including Helio Castroneves winning his 50th career pole, setting up what looked like to be a sure win Sunday.
Of course, if you know anything about IndyCar at all, you know to never count out Dixon, who won for the first time this season. Dixon also extends his points lead to 32 points over defending series champion Simon Pagenaud.
The race had plenty of on track action and even a few penalties for Graham Rahal and Will Power for blocking on track. Castroneves led from the green flag before being passed by teammate Josef Newgarden around lap 20. Newgarden eventually finished second while Castroneves came home third. Pagenaud and Power, the other Penske drivers, finished fourth and fifth, respectively.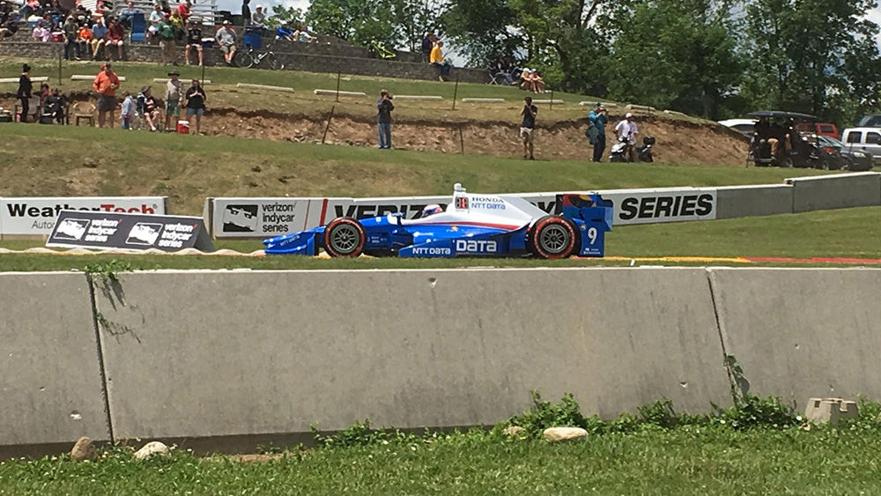 Dixon, who started fifth, led 24 of the 55 laps, taking the lead on a restart by pulling off a daring outside move on Josef Newgarden on lap 31. The win was Dixon's 41st career win, putting him one win away from tying Michael Andretti for third all-time. Surprisingly, Dixon had never led a lap in three previous starts at Road America.
Dixon's teammate Tony Kanaan did not fare as well, making contact with the wall while trying to pull off a pass on Alexander Rossi exiting the Carousel. After finishing a season-best second at Texas two weeks ago, Kanaan's finish of 21st was his worst of the season.
Dixon raced at Road America while competing in the CART IndyCar Series from 2001-2002, but then left for the rival Indy Racing League with his Chip Ganassi Racing team. That series never raced here, so it wasn't until last year when IndyCar returned after an eight year absence that Dixon was able to take to the picturesque track again.
I was at the race with my dad and son and while it was a little breezy, it was much better than the 90-degree temperatures we experienced last year. It was only the third IndyCar race my son has been to, but it was the seventh IndyCar race my dad and I have attended at Road America and our 32nd IndyCar race overall.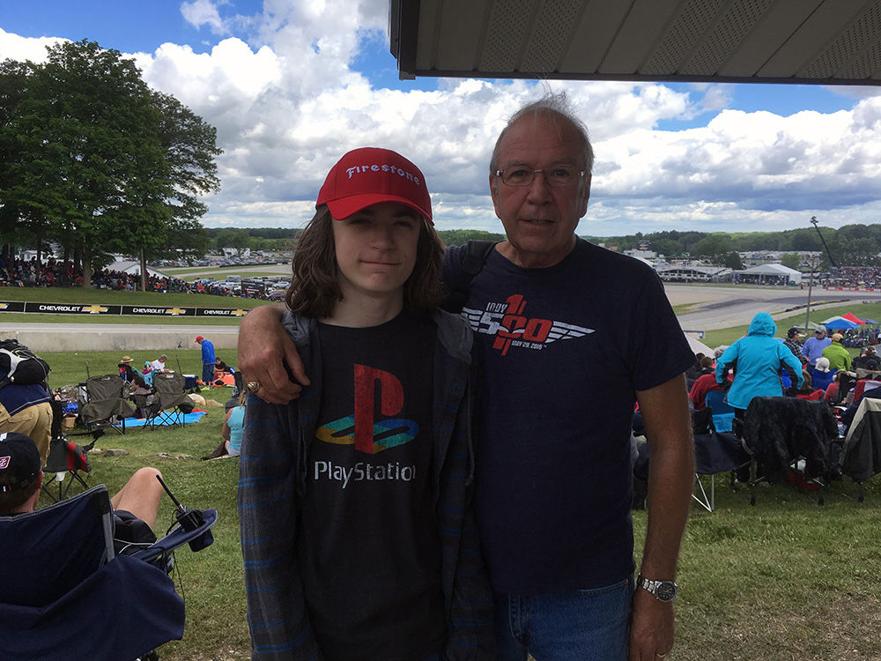 My dad and I made the annual trek to the Milwaukee Mile from 1991 until the last race the series ran there in 2015. In 2005 and 2006, we attended both the CART/Champ Car and Indy Racing League races there, before the two series reunified in 2008. Needless to say, we're pretty big fans of IndyCar and yesterday's race just reinforced our love of the series.
We watched the start of the race from the Corvette bridge between turns five and six, then headed down towards turn seven and were able to get really close to the track. Then we got a bite to eat and sat on the bleachers at Perl's on the Hill, overlooking the Hurry Downs heading into turn eight.
It was from the Sargento bridge that we caught the last half-dozen laps of the race, watching the cars come around turn three and into the Moraine Sweep before braking hard for turn five. One of the things that makes Road America so great is you can watch from so many different vantage points. We'll certainly be back next year.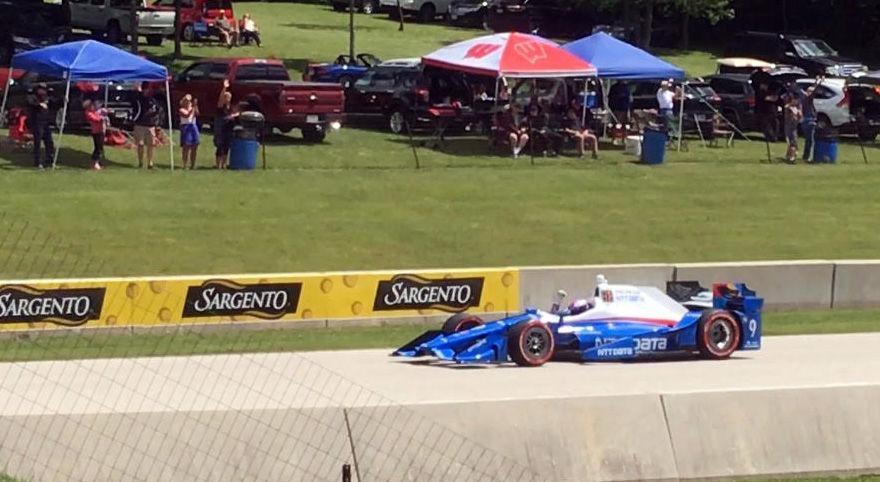 The series heads to Iowa Speedway for the Iowa Corn 300 on Sunday, July 9.