JANESVILLE
A candidate for Rock County sheriff who was reprimanded for using photos of himself during official duties for political purposes is being accused of doing the same thing again.
Gary Groelle responded to the accusation Thursday that he posted photos to his political-campaign Facebook page that showed on-duty sheriff's office employees posing with Groelle while on duty.
Groelle asked why, if this is a violation, Sheriff Robert Spoden was able to post of photos of Spoden in his official duties on Spoden's campaign Facebook page, during Spoden's 2014 election campaign.
Spoden was not at work Thursday and could not be reached for comment, but The Gazette found such photos and other official business posted to Spoden's campaign Facebook page.
Chief Deputy Barbara Tillman, whose photo appears on Spoden's campaign Facebook page, said Spoden is in a different category from Groelle.
"He is an elected official, a constitutional officer, and the policies (banning political activity in uniform and while on duty) don't necessarily apply to the sheriff," Tillman said.
"How he (Spoden) chooses to portray himself in his uniform, that's his decision," unlike county employees, who work for the county administrator, Tillman said.
Tillman said she wanted to make a point when Groelle violated the policy in March, and she warned him not to do it again.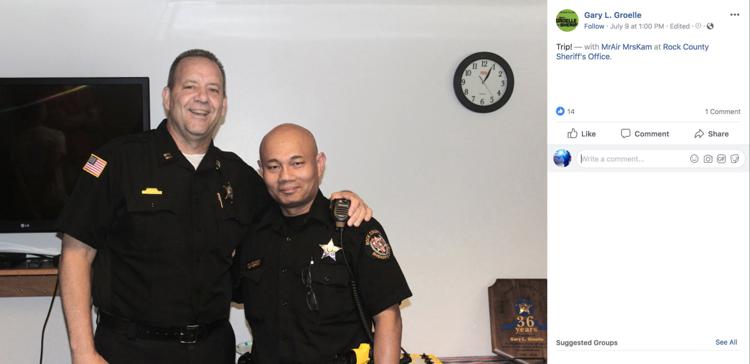 She also warned the other two candidates, who are also sheriff's deputies, Cmdr. Troy Knudson and Capt. Jude Maurer, and those two have committed no such violations, Tillman said.
The latest incident started with Groelle's retirement party at the sheriff's office Monday, his last day of work.
Groelle said the sheriff's office has arranged similar parties for retiring employees, with cake, coffee and a photographer from the sheriff's office ID Bureau who takes photos and presents them to the retiree on a disc or flash drive.
Tillman confirmed the practice and said if Groelle had put the photos on his personal Facebook page, there would have been no problem.
But some of those photos showed up on Groelle's campaign Facebook page.
Tillman issued a memo Wednesday, warning the employees who attended the party and whose pictures showed up on Groelle's campaign page.
The "fair warning directive" is not a disciplinary measure, and the employees did not knowingly do anything wrong, Tillman said.
The names of the approximately 11 employees receiving the memo were redacted.
The memo says the posting on Groelle's page violates sheriff's office and county personnel policies, and the employees are "directed to contact Mr. Groelle today and demand that he remove your photograph or name from his campaign Facebook page."
Photos were still posted on the page Thursday.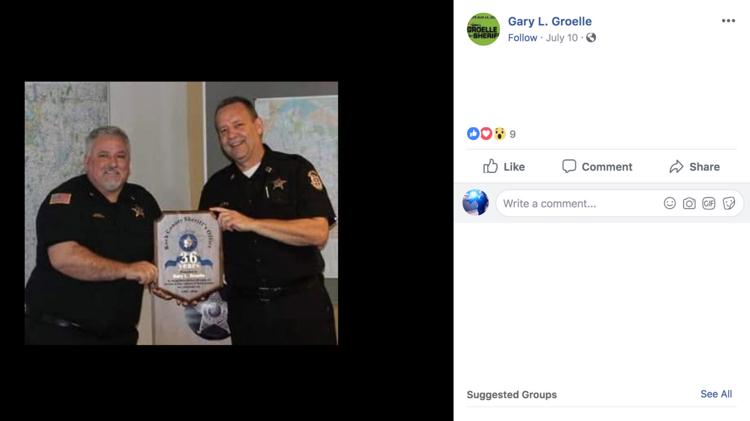 Policies violated include this: "No employee shall engage in any political activity, except voting, while in uniform or on duty. No employee shall knowingly use the influence of their position in any manner for political purposes."
The memo says it "serves as a fair warning to you that your future violation of any of these policies will result in disciplinary action."
It also states: "The intent of the above-stated policies express that Rock County taxpayers do not expect to pay any Rock County employee to engage in any activity that is used to potentially benefit any political candidate."
The employees were required to submit reports stating whether they had given Groelle permission to use photos of them on his campaign page.
They all said they did not, Tillman wrote in a report.
Tillman wrote that the photos were taken by an on-duty deputy and presented to Groelle, as is customary for retirement parties, but the deputy did not know that Groelle would use them for political purposes, in possible violation of the federal and state Hatch acts.
Groelle rejected the idea that he has done anything wrong.
Groelle points out the photos of his retirement party were given to him as a gift, as is common practice, and he posted them to his page when he was no longer a county employee.
"I'm just astounded that I was given these pictures, like everybody else," he said. "They had this party like they have for other people. ... It was a celebration of my 36-plus years of my excellent service to the community. ... And now they're telling me I can't use these pictures, and I don't know what to say. I don't understand it. I feel badly for the individuals involved."
Tillman's report states the incident was Groelle's third violation of the same policies. The Gazette reported on these offenses earlier.
As a result of an investigative interview about the earlier offenses, Groelle "was facing serious disciplinary charges that could have resulted in his termination from RCSO employment," Tillman wrote, and Groelle submitted his retirement letter the day after the interview.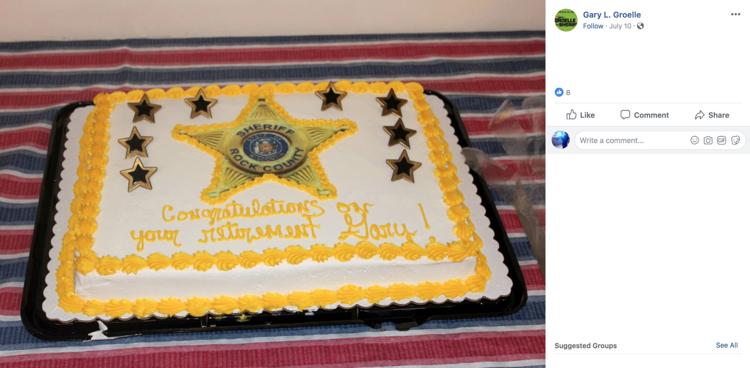 Tillman wrote that she ordered Cmdr. Erik Chellevold, one of the employees in the photos, to contact Groelle and ask him to take the photos off the page, but Groelle was "resistive."
Groelle said he would consider the request and call Chellevold back, but he did not, and the photos remained on the page, Tillman wrote.
Groelle said Thursday he is "disappointed" that these problems keep getting brought up, while his positions about how he would run the sheriff's office are neglected.
---
NOTE: This story was modified at 10:47 a.m. July 13, 2018, to reflect the below correction:
A story on Page 7A on Friday about accusations against Rock County sheriff candidate Gary Groelle mischaracterized a June 7 letter Groelle sent to Sheriff Robert Spoden.
The letter from Groelle announced his impending retirement.
This paragraph also was added:
Groelle points out the photos of his retirement party were given to him as a gift, as is common practice, and he posted them to his page when he was no longer a county employee.