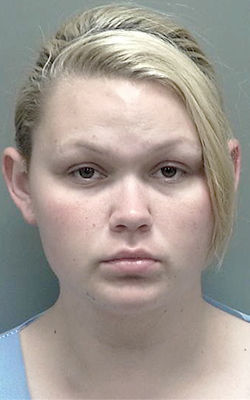 JANESVILLE
A police dog apprehended a suspect in the basement of a bar early Monday and held her arm so tight that he punctured her skin.
That's what the dog was supposed to do, said Janesville police Sgt. Dean Sukus, who oversees the department's K-9 program.
Officers had responded to an alarm around 5 a.m. They saw a woman retreat into the Drunken Monkey, 1802 Center Ave., but they didn't know where she was, Sukus said.
Officers repeatedly ordered her to come out, Sukus said.
So the dog, Fred, was sent into the basement, where he jumped onto a pile of bags of empty cans and an old grill, Sukus said.
Fred uncovered the woman underneath and latched on until he was ordered to release her, Sukus said.
Officers didn't know whether the woman was armed, so sending in Fred kept them safe from potential harm, he said.
It appears the woman was no threat. Police later arrested her on charges that included nine burglaries, most to bars, as well as warrants from Walworth County.
Amanda M. Rodden-Clawson, 25, of N2496 Main St., Darien, told officers she entered through the roof. Then she cried because she had not seen her boyfriend in a few days and said she is homeless and has no steady income, according to a criminal complaint filed in Rock County Court on Tuesday.
Rodden-Clawson was charged with two counts of burglary and one count of theft, but Assistant District Attorney Gwanny Tjoa said at least seven more burglary charges are pending, along with bench warrants for failing to appear in Walworth County Court on charges of misappropriation of identity, forgery and bail jumping.
Rodden-Clawson was treated for puncture wounds to her right forearm at Mercy Hospital and Trauma Center and released, police said.
Police said they linked her to these burglaries and other incidents:
Two burglaries at Bad Brad's bar, 11 Rockport Road, in July.
Three burglaries to the Drunken Monkey in July and August.
Burglary of Game Day Sports Bar & Grill, 966 S. Jackson St., Aug. 8.
Two burglaries and thefts of motor vehicles at Best Events Catering, 2030 Center Ave., this month.
Burglary to Down the Street Bar & Grill, 967 S. Jackson St., on Monday.
Criminal damage and trespass to Alt Financial, 1101 Joliet St., Aug. 13.
Retail theft and obstructing at Kohl's Department Store, 2500 Milton Ave., Aug. 8.
Rodden-Clawson was held at the Rock County Jail on a $5,000 cash bond. Her next court appearance is Aug. 24.