As technology has advanced and more people carry cameras in their pockets, police departments have increasingly equipped their officers with cameras of their own.
Milton Police Chief Scott Marquardt said when he arrived in July 2015, body cameras were a "major thing" his community wanted.
"The public has a greater expectation of accountability," he said.
Most law enforcement agencies in Rock and Walworth counties have body cameras, squad-car cameras or both.
All but four of the 28 departments surveyed by The Gazette equip officers with some form of camera. Seven departments use both.
The departments who have neither—the Walworth County Sheriff's Office, Clinton Police Department, Delavan Police Department and Orfordville Police Department—are researching the idea or actively piloting cameras. Some cited cost limitations or concerns over how they can handle storage.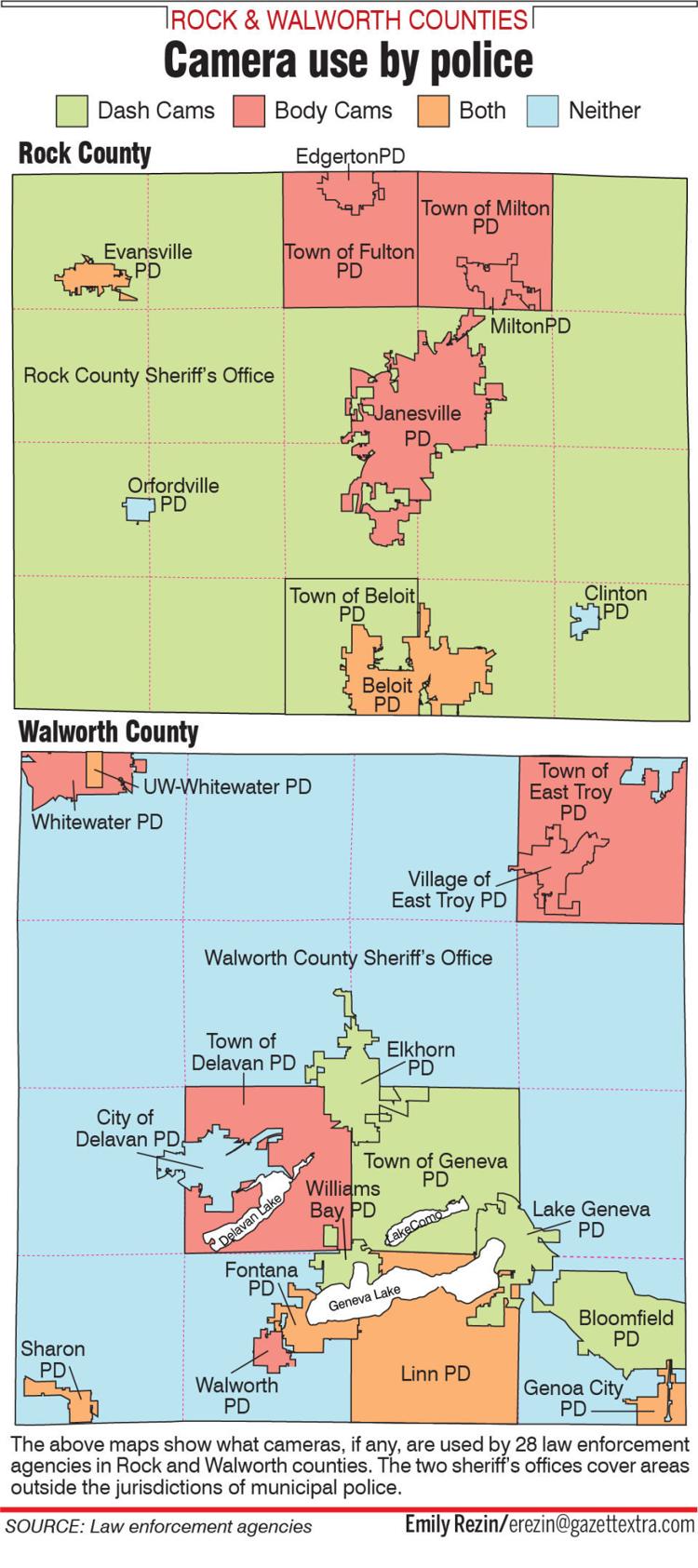 How it works in Janesville
Janesville Police Chief Dave Moore said his department, which has used body cameras for "well over a decade," was one of the early adopters in the state. The department does not use squad-car cameras.
"This organization has been built upon the premise of being as open and transparent as we can," he said. "This is a very good way to show without question what actually has happened out in the field."
Janesville police officers' body cameras can be worn on a few different spots on the body, including mounts on the shoulder or on glasses, Sgt. Todd Kleisner said. A wire connects the camera to a battery pack, which is worn somewhere on the officer's uniform.
Whenever officers are in contact with the public—no matter how minor the incident—cameras should be on, Kleisner said.
Pushing a button on the battery pack activates the camera's video and audio recording. The camera also records about 30 seconds of video—but not audio—before the button is pushed, Kleisner said.
Officers preserve the videos using cloud storage linked with Taser International. At the end of a shift, they put the cameras in a docking station, and the videos are uploaded to the cloud.
Officers cannot edit or delete videos, he said, although they can review them when writing reports.
Officers label recordings as "general," which are kept for 121 days, or "evidence," which are kept for seven years.
Complaints against officers
Recently, a man claimed Janesville police officers stole items from his car, which Moore called "a pretty serious allegation."
After reviewing the body camera video, however, Moore said it was clear the items were never in the car.
Police arrested the man for filing a false report.
"Absent the body cam video, it would just be the officer says one thing and the citizen says another," he said. "It would be hard to conclusively show what happened."
Many departments said cameras help protect them from false claims.
Cameras cut down on complaints against officers, said Walworth Police Chief Andy Long. Once subjects know they are being video recorded, it "changes their tune real quick," he said.
UW-Whitewater Police Chief Matthew Kiederlen said the video almost always exonerates the officers because people in emotionally stressful situations can remember things incorrectly. He said when people who make complaints see the video, they say, "Oh, I guess it didn't happen like that."
Police chiefs and officers interviewed by The Gazette also said cameras help when documenting evidence that can be used at jury trials, as well as when training new officers.
"It's another set of eyes," said Edgerton Police Chief Tom Klubertanz.
Sharon Police Chief Brad Buchholz said having the cameras "keeps everybody honest." When people know the cameras are on, that might help the truth to get out, he said.
Why not?
Sharon's devices cost about $1,200 each, according to a 2013 news release announcing their purchase. Local businesses donated the necessary money.
Various departments listed cost as one of the primary reasons they didn't have one or both kinds of cameras.
Last year, the Beloit town administrator asked the police department to study body cameras, Police Chief Ron Northrop said in an email.
"The cost of the equipment was reasonable for an agency our size," he said, "but data storage is costly."
Rock County sheriff's Capt. Jude Maurer, who said cost was a factor, also raised technical questions that come with managing body cameras. Who is in control of cloud storage? Who has access? Who is responsible for retrieving records?
He said some agencies had to hire someone full time to handle the records responsibilities related to videos.
The Rock County Sheriff's Office uses squad-car cameras only.
Maurer also raised questions of privacy. When an officer goes into a home, how does he or she redact sensitive, personal footage?
Moore, Janesville's police chief, said officers capture what they see in their reports.
"A body camera in a sense does the same thing," he said. "One way or another, that officer is already in that home documenting activities in front of him or her."
Information that wouldn't be released to the public in a report wouldn't be released in a video, Moore said.
Some departments said they don't need both types of cameras because one captures everything they need.
Long, from the village of Walworth department, said officers used to have squad-car cameras and then added body cameras. They saw there was no need for both, so they got rid of the squad-car cameras to cut costs.
Evansville police have had squad-car cameras since 2013 and body cameras since 2017. Police Chief Scott McElroy said in an email the cameras created more work to maintain records, but the benefits outweighed the costs.
"It's well worth the investment," he said.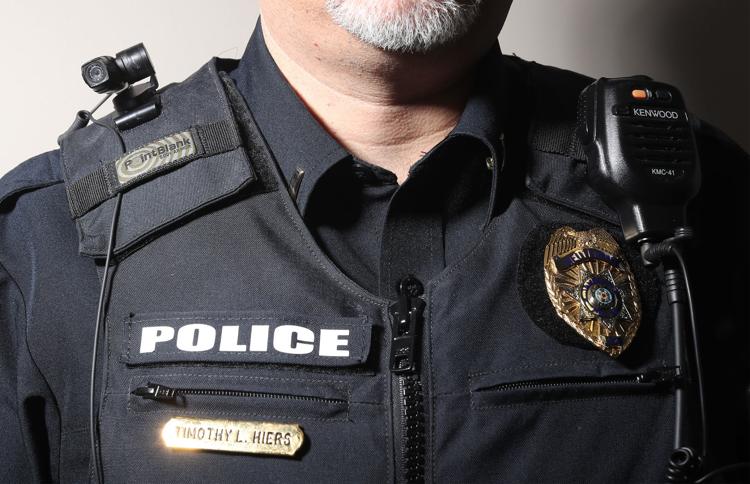 Officer response
Moore said early on the department didn't have enough cameras for every field officer. It didn't take long for officers to tell him they wanted their own cameras, he said.
"I think the officers very quickly saw the need and advantages of body cameras," Moore said.
The Whitewater Police Department had a similar experience when it tested body cameras in 2010. Police Chief Lisa Otterbacher, who is retiring in a few months, included in an email to The Gazette some excerpts from emails officers sent her when they tried out the cameras.
"The first night with the Axon (body camera) went very well. The sales rep was right: The first few hours with it on are uncomfortable, but so is wearing a vest. I soon forgot it was there," one email said. "The hassle with wearing it (equipment), operating it, and the follow-up with evidence storage will smooth out as we get familiar with it."
Moore said each department must decide what its capabilities are and how to manage them. If a department decides to use body cameras, he emphasized that it should make sure it has an "easy and efficient" way to download data.
He said police departments should realize it's still expensive to store all the data.
Overall, he recommends body cameras.
"We clearly believe in them."