JANESVILLE
"Loud Pipes Save Lives"
To the dismay of those with sensitive ears, that old saw remains popular with motorcyclists. Intended as a reference to safety, the idea is that if other motorists hear you, they know to keep an eye out for you.
Of course to some riders, that chrome-rattling roar is the truest form of leather-clad cool. And when it comes to putting on a power show, there's nothing quite like the deafening squeal of escaping emissions.
On Saturday, June 16, the emphasis will definitely be on "save lives" as hundreds of motorcycles hit the mean streets of Janesville for the 24th annual Muscular Dystrophy Association Tub Run at Boardtracker Harley-Davidson, 3223 N. Pontiac Drive.
For 23 years, riders have come together with the goal of helping kids stricken with muscular dystrophy attend summer camp. Since the event launched, more than $2.1 million has been raised.
"The people I've encountered in the motorcycle industry as co-workers, customers or as part of our H.O.G. (Harley Owners Group) chapter are some of the most giving people I've ever met," said Valerie Harris, marketing and events manager at Boardtracker. "They've been willing to provide help and pitch in for these good causes as much as they can."
That starts with local H.O.G. Chapter 3588. Each year, members donate countless hours to make sure the event comes off without a hitch. For example, it takes between 80 and 120 people serving as road guards just to make sure riders get through intersections safely, said chapter director Jeff Robbins.
"There are a lot of people who volunteer and look forward to this every year, and they really put their hearts and souls into it," he said. "And after the ride ends that Saturday, within a month, we're back to planning the next ride. It's a year-long process, and it takes a lot of people to get it done."
This year's event kicks off Friday, June 15. Early registration is open from 1-5 p.m. at the dealership at a cost of $25 per person. A special pre-ride party starts at 5:30 p.m. at Whiskey Ranch, W9002 Highway 11, Delavan, and those who register before 5 p.m. that day get wristbands for food and drink specials at the bar that evening.
On Saturday, June 16, registration increases to $30 per person and runs from 8-11 a.m. at Boardtracker. At noon sharp, bikes of all makes and models will start rolling down Pontiac Drive in Janesville, passing crowds of wavers and well-wishers as they head out on the highway.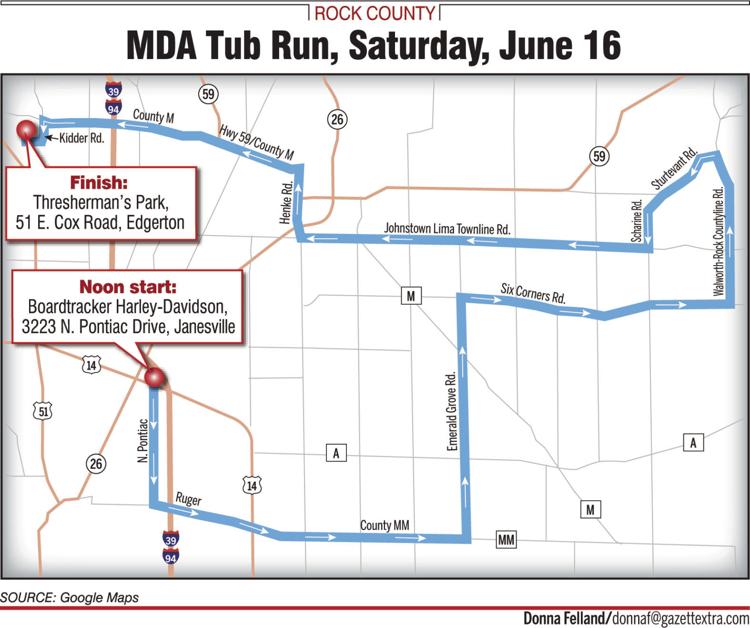 The ride winds down country roads around Janesville and Milton before finishing up with a party, food and live music by Audiodrive and Dem Horny Funkers at Thresherman's Park, 51 E. Cox Road, Edgerton.
The wrap-up party also features a car show hosted by The Cruisin' Group, a club of automobile enthusiasts from Janesville. Organizers expect around 45 cars, but more would be welcome.
"We like to get involved with any sort of charity, and MDA is a good one to be involved in," said Fred Miller, a founding member of The Cruisin' Group. "And we like to get the kids involved. They had a blast walking around last year looking at all the cars, and they picked a nice one as the winner."
Cost to register for the car show is $10 at Thresherman's Park, or $25 per person before 5 p.m. Friday, June 15, at Boardtracker. Those registering early at the dealership will have the option of riding along at the tail end of the Tub Run.
Proceeds from the Tub Run pay for kids with muscular dystrophy to attend one week of summer camp at Wonderland Camp in Kenosha County. The facility is equipped for children with special needs and offers recreational opportunities they might not otherwise have.
"We're trying to raise at least $38,000 from sponsors, and anything above and beyond that certainly helps," Robbins said. "It costs roughly $2,000 for each kid to go to camp, and that covers counselors, medications and the other stuff they need. Plus, they get a little more freedom than they would at some other places."
Funds raised through the Tub Run remain in southern Wisconsin, so local children benefit.
"For one week in their lives, they get to go and have fun and do what they want to do, and it gives their parents some much needed rest and relaxation, too," Robbins said.
"But it's always been about the kids," he said. "I'm always impressed by them. They don't let muscular dystrophy slow them down."