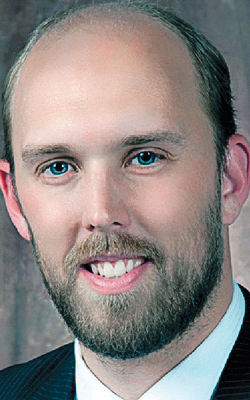 BELOIT
Local humane society and law enforcement officials say that Sunny, an 11-month-old golden retriever, so far has survived severe burns after a Beloit resident left the dog under a bathroom shower with the water's heat turned up to boiling.
They also say the dog, a female, now faces months of surgeries and recovery before its body might heal from the mistreatment police said Cody Allan Sholes, 26, Beloit, inflicted on it earlier this month.
Sunny's skin and tissue was so severely scalded by boiling water that, in spots, the burns reached into the muscle. About 20 percent of her surface skin was either gone or so damaged it has since been surgically removed, humane society officials said.
Sholes faces a felony charge of animal mistreatment for putting Sunny in a tub at an apartment at 1728 1/2 Porter Ave., Beloit, and leaving the dog under a shower that was spewing scalding water, according to a criminal complaint filed Friday at the Rock County District Attorney's office.
The incident happened Dec. 8, after which Sholes said he had earlier turned the temperature of the apartment's water heater up as hot as it would go because he said the apartment's faucets would run only cold water, according to the complaint.
He told police he was cleaning the dog after it had urinated and defecated inside the apartment, and he hadn't realized how hot the water was before he left Sunny unattended to care for a child in another room in the apartment.
A veterinarian for the Humane Society of Southern Wisconsin told authorities that "in her three years as a veterinarian for the humane society, she had never seen such severe injuries caused by hot water on an animal."
Humane Society of Southern Wisconsin Director Brett Frazier said Sunny already has undergone a set of surgeries to remove singed skin and fur from burns he said are considered "thermo-injury." It means the skin was so heated that its cells were killed almost immediately.
Frazier said the dog could face more surgeries this week, and in the coming weeks, and that skin grafts might be needed to repair some of its deepest burns. He said in his five years with the humane society, he's seen dogs with illness from severe neglect, but never had he known of a dog brought in with "acute injuries" as severe as Sunny's.
"We are a long, long way from being out of the woods with Sunny," Frazier said Sunday.
Frazier said a local veterinarian had stabilized the dog and brought it to the humane society for ongoing care Wednesday after Beloit police had taken the dog. The complaint said Sunny's injuries had gone unattended for days before they were reported to police.
A woman who lives with Sholes had brought the dog to her sister's home three days after the injury because she said she couldn't afford a vet bill, according to the complaint.
Neither the woman or her sister initially were aware of the extent of the dog's injuries, but Sholes eventually told them about the hot water. The sister reported the incident to police, and the woman who lives with Sholes told police Sholes had complained about a different dog she had brought home and that he had been trying to get rid of it.
Sholes later told Beloit police the shower's water was so hot it burned his hand when he tried to shut it off. He said the dog was crying and trying to tear down the shower curtain to get out of the tub, which is how Sholes said he realized the water was so hot.
Police later reported they found no burns on Sholes's hands. He told police he didn't think the dog had serious injuries, claiming that, for a few days after the shower, he'd seen the dog "eating and playing." The complaint said a veterinarian compared Sunny's burns to "oil or engine burns."
Frazier on Sunday said he hadn't seen police reports or the complaint that detail how the dog was burned.
"I'm just not sure it matters to a humane society why something like this happened. What we know right now is that it happened, and it's not acceptable," he said.
Frazier said he's confident Rock County authorities will handle the case appropriately.
"It's now our job as a foster organization to help her recover and support her however we can to make sure Sunny is never exposed to anything like this again," he said.
Because several days passed before police learned of her injuries, Sunny developed infections from the burns, including on her head. Police said when they found Sunny, the dog had large patches of fur and skin peeling away from burns with visible signs of infection.
Frazier said Sunny now is staying at the home of a Janesville veterinary technician and is being given antibiotics. The vet tech has handled volunteer foster care for the humane society in the past, he said.
Sunny will continue to be treated by the humane society's veterinarian, and the dog was scheduled for another checkup Monday, and potentially more surgery, Frazier said.
Frazier said Sunny is being given pain medication and seems to be in less pain than she was in a few days ago. Earlier, the dog was in so much pain she wouldn't allow people to touch her, he said.
Frazier said Sunny might bear scars for the rest of her life, but he said the humane society hopes it can continue to help the dog heal.
"She's 11 months old. This is a trauma that for sure is as much emotionally damaging to a dog as it is physical," he said. "But dogs will surprise the heck out of you and bounce back from things—a lot more so than people often can.
"Dogs can bounce back and trust again," Frazier said. "That's what we're hoping for Sunny."