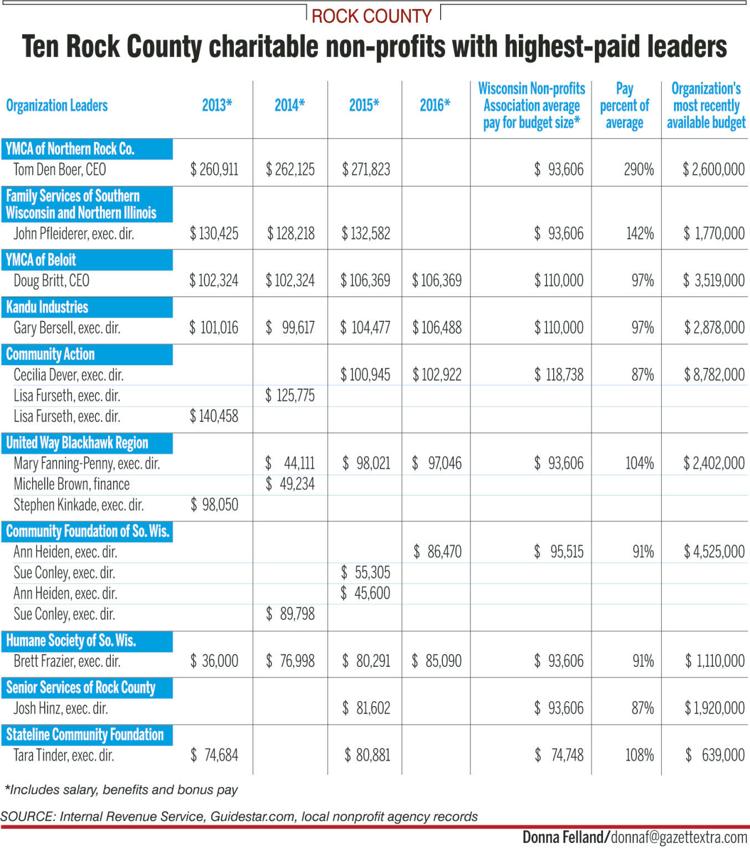 JANESVILLE
Tom Den Boer's pay as CEO of the YMCA of Northern Rock County is more than twice that of any other Rock County nonprofit director because of a heavier workload, the president of the YMCA Board of Directors said.
Den Boer's 2015 pay of $271,823 equated to roughly 10 percent of the Y's $2.6 million spending for 2015, according to the YMCA's most recent available tax filing.
Den Boer is not the only leader who earns a six-figure income as the head of a Rock County nonprofit or social service agency.
A Gazette inventory of local nonprofit leader salaries shows that in 2015 and 2016, five of the top 10 earners in the nonprofit sector were paid at least $100,000 in total compensation.
Based on a 2015 compensation survey released by the Wisconsin Nonprofits Association, a statewide nonprofit trade group, four of the 10 highest-paid nonprofit leaders in Rock County appear to have earned compensation packages that surpass average pay for executives of similar-sized nonprofits.
Den Boer's pay, for instance, was almost three times higher than the average pay for a nonprofit leader with a similar budget, according to the survey.
The Gazette reviewed pay for executives of dozens of local nonprofits with budgets ranging from $500,000 up to nearly $10 million. The results show a wide range of pay for those nonprofit leaders.
Based on IRS form 990 filings—which nonprofits are required to file annually—The Gazette identified nonprofit executive directors whose pay ranged from the low to mid-$40,000 range up to $100,000 or slightly above.
Most nonprofits operate as grant and donor-supported agencies and in many cases have tax-exempt status. The agencies The Gazette reviewed were primarily community and social service agencies whose programs serve impoverished families or people with disabilities.
Most of the nonprofit leaders reviewed appeared to receive what the survey indicated was average nonprofit leadership pay.
The Gazette's review also showed that some of the highest-paid nonprofit directors in Rock County—even those who showed total earnings of about $100,000—were paid less than the average for nonprofits with similar budget sizes, according to the Wisconsin Nonprofits Association's survey, which polled about 780 nonprofit officials.
The association did not respond to an inquiry from The Gazette on the survey.
The survey showed median pay for all nonprofit leaders statewide was about $80,000—an amount that's roughly in line with median pay for the nonprofits The Gazette reviewed.
Except for the outliers.
According to the statewide survey, Den Boer's pay would be at the top end of the spectrum for all nonprofit leaders surveyed. It's more than twice the $106,000 Beloit YMCA Director Doug Britt was paid in 2016. The Beloit Y and YMCA of Northern Rock County have a similar budget size, according to tax filings.
In an email to The Gazette, YMCA Board President Jason Engledow wrote that Den Boer earns comparatively higher-than-average pay because the Y's board, which determines his compensation, considers his workload heavier than that of the average nonprofit CEO.
Engledow wrote that after the Great Recession, the Y implemented a cost-cutting, "synergistic, performance-based salary system" that combined the Y's CEO position with other leadership roles.
He said Den Boer's role as CEO includes "the responsibilities of vice president of operations, vice president of financial/resource development director and chief financial officer and vice president of finance."
"Tom's combined CEO position wears the hat of all four positions for two YMCA locations, for the downtown Janesville YMCA facility and the Parker YMCA facility in Milton," Engledow said.
He called Den Boer's performance of multiple executive jobs "outstanding" and said the Y is "fortunate" to employ Den Boer as CEO.
"Tom could run any organization, profit or nonprofit. He would be a very valuable acquisition for any YMCA or nonprofit looking for a new CEO," Engledow said.
Review of pay
Some local nonprofit leaders reached by The Gazette defended their earnings, and a few suggested The Gazette should profile executive pay for similar jobs in the private sector.
Others explained their agencies' protocols for determining and vetting leadership pay to ensure directors receive pay that's in line with their agencies' budget sizes and scope of services.
Mary Fanning-Penny, executive director of United Way Blackhawk Region, in 2016 earned $97,000 in total pay, an amount that ranked about 4 percent above the statewide average for directors of similar-sized nonprofits, according to the survey.
Fanning-Penny's agency channels grant funding and charitable donations it receives to dozens of local nonprofits to help those agencies pay for their social services programs.
Fanning-Penny told The Gazette she was unfamiliar with the Wisconsin Nonprofits Association survey, but she said her agency's executive committee and volunteer board of directors review her pay annually.
She said local nonprofits don't have a "universal benchmarking" system to analyze pay. Those groups use an analysis by United Way's national organization that draws from a wage survey focused on United Way agencies in the Midwest.
She said median pay for directors like her is about $97,000 for all United Way organizations, and for the Midwest region the median is about $100,000.
Cecilia Dever, director of Community Action of Rock and Walworth Counties, a Beloit-based nonprofit, was paid a total compensation package of about $103,000 in 2016, fifth-highest of all the agencies The Gazette reviewed. She received about a 2 percent raise from the prior year.
Dever's agency, which employs more than 80 paid staff plus volunteers, handles a broad range of family services, including day care and youth housing and employment services. Tax records show its 2016 spending totaled $8.8 million, ranking it as one of the largest nonprofits in the region.
Dever's pay, while higher than most director salaries The Gazette reviewed, appears to be about 13 percent less than average for the organization's size, according to the statewide survey. One of Dever's predecessors at Community Action was paid a total package of $140,000 in 2013, according to tax records.
Like Fanning-Penny, Dever said her executive committee and board look at national nonprofit pay surveys and review local pay trends.
"For me, they'd look at agencies for Rock and Walworth County that are comparable in size," Dever said. "My board really does a thorough job in making sure that my compensation is in line with benchmark compensation information they review."
A watchful eye
Dever said "it doesn't feel good" to have her pay scrutinized publicly. She declined to comment on the pay other Rock County agency directors receive.
She believes the same scrutiny isn't given to private-sector executive salaries. Unlike with nonprofits, private-sector salary information often is not available to the public. Nonprofits are required by law to supply such information to donors, other agencies, government officials or anyone who asks.
Rick Cohen, a spokesman for the National Council of Nonprofits, said nonprofit leaders have grown accustomed to scrutiny of their pay and how agencies handle their finances, in part because technology has expanded the average person's access to public information.
Nonprofit tax filings are available on several website databases, and watchdog groups such as Guidestar have websites that allow anyone with internet access to peruse thousands of nonprofits' financial reports and tax records.
"The big difference is that nonprofits are so transparent," Cohen said. "It's a badge of honor, but it also leads to these kind of stories where you hear about a nonprofit director making $100,000. And some people will just look at the number and say, 'This is outrageous.'"
Cohen said a popular misconception is that nonprofit employees are "all volunteers."
"In reality, nonprofits employ 10 percent of the workforce in some regions. It's a major driver," he said.
The IRS doesn't set a threshold for "reasonable" pay for nonprofit employees, although it does ask in tax forms that nonprofits indicate whether they have set protocols their boards rely on to determine leadership pay.
Most agencies reviewed by The Gazette indicated in tax records that they have such protocols in place.
Cohen acknowledged scrutiny is "important," given that many nonprofits pay "at least portions" of their leadership salaries with charitable donations and in some cases with taxpayer-funded grants.
But he pointed out that a professional with a similar title and duties in private industry, "doing the exact same thing," might get paid $125,000 a year instead of $100,000. And he said the nonprofit sector competes with itself—and with the private sector—for talent.
Apples to apples
Gary Bersell, executive director of KANDU Industries, ranks as the fourth-highest paid nonprofit executive in The Gazette's review.
Bersell said his $106,000 salary in 2016 was "in line" with regional nonprofit industry averages, according to his board's annual reviews.
Bersell pointed out that KANDU, which provides employment opportunities to people with disabilities, has commercial operations and pays property taxes. He believes that puts his agency in a different class from other Rock County nonprofits.
He said comparing his pay to other local nonprofit leaders is not an "apples-to-apples" comparison.
"Perhaps it would be appropriate and important to consider what commercial leadership is paid for similar commercial operations and then apply percentages to leadership compensation: not-for-profit versus commercial, like what the city does for determining real estate and personal property taxes," Bersell wrote in an email.
John Pfleiderer, executive director of Family Services of Southern Wisconsin and Northern Illinois, said financial transparency is useful to donors researching local nonprofits. But he said examination of just leadership salaries can create misunderstanding if people don't take a comprehensive view of the scope of the agencies' services.
Pfleiderer, who in 2015 earned total compensation of $132,000, has led his Beloit-based family counseling and advocacy organization for 17 years.
He said his 40-employee agency and its leadership offer more than half a dozen services, and the group is among few that have resources for victims of sexual assault and violence.
Family Services manages a nearly $2 million annual budget for what Pfleiderer called a "cluster of services"—some of which he said his agency created or picked up when programs were dropped by other agencies or local governments. They all require oversight, he said.
"I would worry about some sort of formulaic response (to leadership pay), that if it costs someone 10 cents per dollar cheaper, it's better because cheaper is better," he said. "Maybe that's not the best way of looking at that. There's no necessary correlation between cost and quality. It can work both ways."
Pfleiderer said he's seen nonprofits founder after leadership turnover or have difficulty attracting leadership staff. As in the private sector, he said, that's a problem that can be rooted in what agencies pay leaders.
"If you're frequently going through an executive transition, you're not as able to respond to emerging community needs," he said. "The recession showed that. Those who were in the middle of focusing on an executive search at that time were hamstrung on developing programs."